Sales Territory Management is an important part of the sales strategy for any size business. With proper distribution of territories and effective Microsoft Dynamics 365 CRM sales territory management by respective sales teams, organizations can make sure that the sales reps are capable of investing their energy to get most out of it. The operation includes productively segmenting prospects and customers.
With Maplytics Aug release, Maplytics takes the native Sales Territories feature within Microsoft Dynamics 365 CRM. This Maplytics native feature makes it easier for sales reps and managers to increase productivity by managing and mapping a sales territory on a map. It ensures that all market areas are covered to generate maximum revenue enhancing Microsoft Dynamics CRM sales territory management.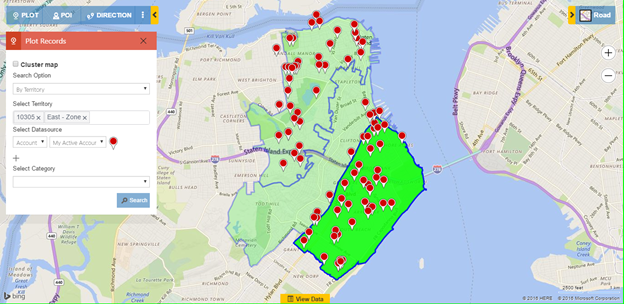 Maplytics has added a geographical aspect to Territory, giving you the competitive edge with Dynamics CRM territory mapping. At the start, Maplytics helps you define and manage a territory geographically on the map and using the geo-coordinates in standard or custom entities, it assigns territory to all the Dynamics CRM data. All this is done with a native solution build inside MS Dynamics CRM environment, a familiar interface such that your data never leaves secured Dynamics CRM environment.
Let us see how Maplytics will help in effective territory management in Dynamics 365 CRM;
It helps in visualizing territories on the map to give better insights of prospects and customers to significantly improve sales, divide the workload between Sales Reps, reduce drive time, improve client service.
Maplytics has inbuilt territory assign workflow for Account entity which can be used to assign territories to records automatically instead of assigning it individually.
Users can also assign territory to other entities by building Territory relationship and workflow.
Multiple territories can be added and worked upon for better understanding of all territories on a map at one place.
Maplytics also allows better data segregation by segmenting data through various filters.
Maplytics helps you to visualize the territories on the more interactive platform and that is Maps where more insightful actions can be taken!