With a continuous zeal and pursuit of acquiring the best for our customers and partners, we have come up with new advancements in our flagship product Dynamics 365 CRM Bing Maps integration – Maplytics August Release. With this release, our mission is to reinvent business strategies and productivity to unlock locational intelligence within Dynamics CRM using features like Territory management, Route optimization & management with saving and sharing options, etc.
Maplytics August Release Power-packed Features:
Territory Management: Territory alignment and analysis within Dynamics CRM to take appropriate actions to increase the revenue for particular territory.
Save & Share Route: Your scheduled and optimized routes can be saved as Dynamics CRM activity or it can be shared through email.
Save Dynamics CRM POI Data: Search POI like coffee shops using Maplytics solution or use it to locate prospects by seeking Pharmacies or Pharma companies and adding them as Leads, Accounts or any custom build entity.
Save Plotted Records as Marketing List: Plotted records can be saved as marketing list directly from the map screen for future reference.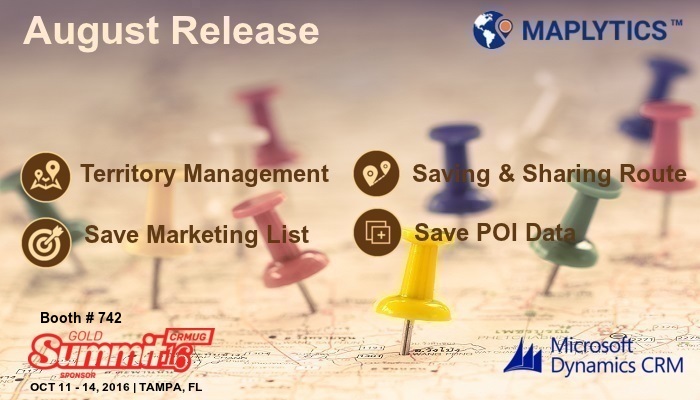 Get a full-fledged experience on this new Maplytics August release
Maplytics August release means much more!!! More features, more benefits, more productivity!
Try it today on our Demo Environment
URL: https://inogicdemo.crm8.dynamics.com
Username: william@inogicdemo.onmicrosoft.com
Password: pass@word1
Note: These credentials will be valid till 15th October.
Get a Test Drive of our Dynamics CRM Bing Maps integration solution – Maplytics on your own Dynamics CRM environment. Download free Maplytics Trial Today!
As promised, we are not stopping here and working on some more enhancements in features like Child records plotting and much more, keep following us for latest updates.
CRMUG Summit Calling – Locate us at Booth # 742!