Introduction:
Earlier it was possible to edit sitemap only for developers through Site Map editor or editing the Sitemap XML. But with new features added in the Sitemap designer, it is easily editable for any user even for a non-technical person to edit Sitemap. For this please refer our earlier blog.
In this blog, we will talk about Privileges feature. This is an interesting feature added in the Sitemap Designer under Advance Tab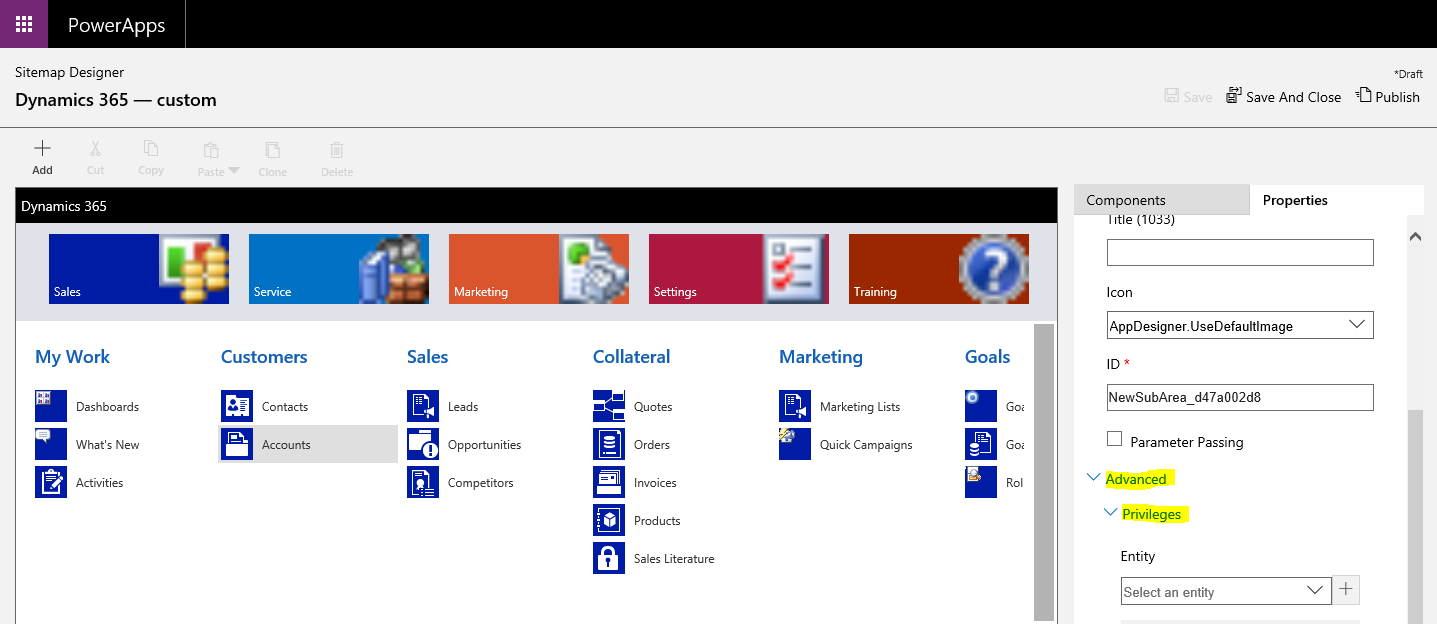 Using this we can give privilege to a particular sub-area under a particular area.
There are different privileges that we can give to a particular entity in a particular area.

In the above case under Sales area for Account entity, the privilege is of write. So the Account entity under Sales area will be visible to the user who has the write privilege of Account entity. But under the Service or Marketing Area, the Account entity does not have any such restrictions.
For example, Sam user has security role as Salesperson.
Salesperson does not have write privilege but has read privilege as shown below

So Sam won't be able to see the Account entity under the Sales area but is able to see under Marketing or Services as it has the read privilege (security role) as shown below.


Conclusion:
This feature is useful if we want to hide unnecessary entities in a particular area.
Also, this Sitemap editing makes it easier for Dynamics CRM users to edit the Site Map as per the organization need.
Marketing4Dynamics

– Mailchimp and Dynamics 365 CRM integration to plan effective sales strategies, increase sales and improve ROI
Sync Audiences, Members and Tags from Mailchimp to CRM
Sync CRM Marketing List (Contacts/Leads) to Mailchimp
Sync Campaigns and Member activities from Mailchimp to CRM
Monitor and analyze Mailchimp campaign statistics through Dashboards in CRM