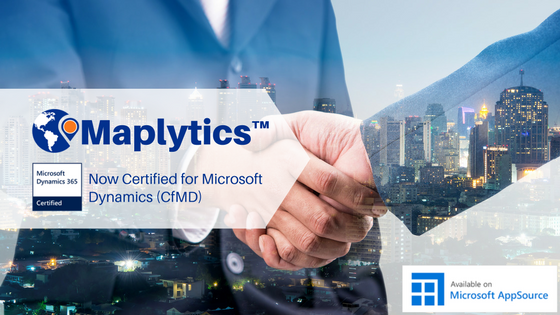 We are pleased to announce that Maplytics™ is now one of the first geo-analytical mapping solutions to be Certified for Microsoft Dynamics (CfMD) by meeting Microsoft Corp.'s highest standard for partner-developed software.
Maplytics can now carry the distinct Certified for Microsoft Dynamics logo
Solutions that are Certified for Microsoft Dynamics have demonstrated development quality and compatibility with the Microsoft Dynamics product on which it runs by passing rigorous VeriTest software solution testing for Microsoft Dynamics and are profiled in the Microsoft Partner Solution Profiler tool. Also, the Microsoft Dynamics partner must have customers who are successfully using the certified solution and are willing to recommend it, be enrolled in a Partner Service Plan with Microsoft, and be a Gold Certified Partner in the Microsoft Partner Program.
By requiring both Maplytics and Inogic to meet Microsoft Corp.'s highest standards, Microsoft is assuring customers that certified solutions like Maplytics work with their investments in Microsoft Dynamics.
Maplytics is a robust multi-language geo-analytical mapping solution powered by Bing Maps and designed to work seamlessly within Microsoft Dynamics 365. With powerful features like Territory Management, Radius Search, Appointment Planner, Route Optimization, Heat Maps, Nearby Places, Analytical Dashboards, and more, Maplytics empowers organizations to visualize their MS Dynamics CRM data on a map and get location intelligence within Dynamics 365.
Try Maplytics from the Website or Microsoft AppSource.