Dynamics 365 users come across several such situations where they need to clone records or copy records. It can be done pro-grammatically or manually but the whole process is time-consuming, and you will end up spending your productive time and efforts for cloning/copying Dynamics 365 CRM records.
Click2Clone comes to rescue in such situations and helps to clone/copy Dynamics 365 CRM record and relationship particularly when there is a requirement of the large volume of repetitive data entry. You can create template records with the required data and use these templates quickly to copy and create new records with same data.
The Click2Clone solution is now a part of best business apps available on AppSource – a business app store by Microsoft!
How to perform record cloning?
It is easy, quick, and efficient! 'Click2Clone' is easy to access from the ribbon on the form or entity home page. All you have to do is select the record(s) you want to copy and click on 'Click2Clone' avoiding any repetitive data entry for same Order, Invoice or Quotation.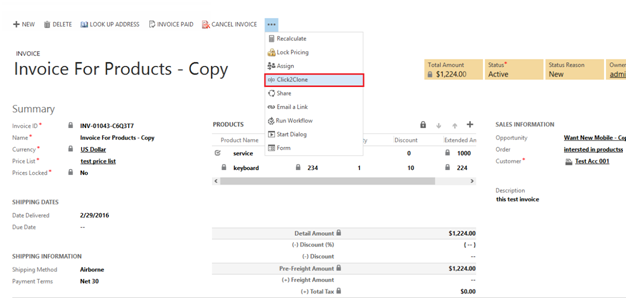 While cloning records, the default template is used. However, the user can create multiple templates for an entity and add a new ribbon button (Click2Clone custom button) specifying the template to be used.
Which are CRM entities cloned?
Click2Clone works for both system as well as custom entities and supports cloning functionality for most of the entities such as; Invoice, Quote, Order, Opportunity, Lead, Account, Contact, etc. Not only this, the cloning solution is easy to configure, and you can select the fields that you want to be cloned.
Note: Some of the entities are not supported for cloning across different Dynamics CRM versions.
Does it support cloning records of the custom entity and its related entities?
It copies existing Dynamics CRM records along with the child records and carries over related records supporting 1: N and N: N relationships.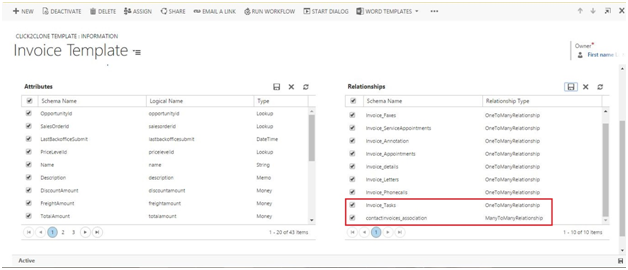 Click2Clone is a powerful productivity app for Dynamics 365 CRM, which makes you stay ahead of your deadlines by quickly cloning/copying the data of existing Dynamics 365 CRM records to new records. It improves the whole user experience and boosts productivity thereby saving time and efforts.
Click2Clone for Dynamics 365 can be downloaded from our website, and you can also try it from "AppSource"! So when are you getting your first trial?