Every business is unique and Maplytics caters to all user personas of Sales, Marketing and Managers providing them with analytical Power of Maps from within your Dynamics CRM on-premises or online.
To map your requirements with Maplytics you need to configure the default values best suited for your business need.
How to Configure Default Values:
To change these go to Settingsà Configuration Details
Note – Only users in the Maplytics Team with the Maplytics admin role will be able to see and edit this option.

Click on Maplytics from Product Name list:

Configuration Screen is as shown below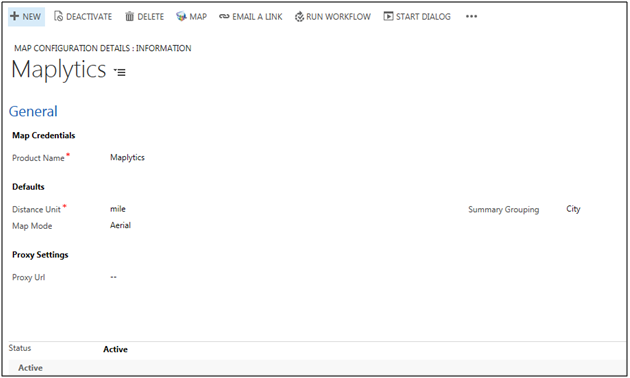 Here you can set Default values:
Distance Unit: unit in which you want to calculate distance.

Map Mode: You can set the default Map mode for the map, i.e Road View or Aerial view.

Summary Grouping: Here you can set the Summary Grouping options. i.e whether you want to group by City, State, County, Country. These details are used in Heat Map.

Proxy Settings: If you access internet through a proxy server, you should set the proxy URL from here.

Need to find a Starbucks or hotel while planning your meetings. Use the Maplytics Proximity Search from within your Dynamics CRM to plan your meetings in a better way.