After adding users to the Maplytics Team it is important to assign a secutity role to the user. This post will cover more about Maplytics Security roles and how you can assign them to your CRM users.
Steps to Assign Maplytics Security Roles:
Two new security roles specific to Maplytics would be installed along with the solution.
1. Maplytics Admin: Assign this security role to Administrator/s of Maplytics.
Admin role should be assigned to individual who would be involved in configuring and creating Entity Maps and Dashboards for Maplytics. You can assign Maplytics Admin role to more than one user.
2. Maplytics Users: Assign this security role to all other users who would only be using Maplytics.
After your have added users to the Maplytics Team. To assign role to say Jonathan, click on the particular user name,

Click on Manage Roles to assign the role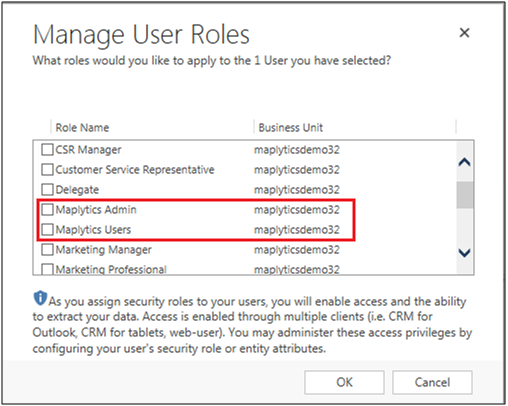 With Maplytics your Business Analytics is now from within Dynamics CRM. Check out two of the most often used features Build a Marketing List through Proximity Search using Maplytics for the Marketing persona and the Sales Team Proximity Search Feature in Maplytics.
Your Sales team is out on field without finding an optimized route? Time to Evaluate Maplytics.