Now ADFS is in built feature of windows server 2012. You do not need to install by using exe. You just need to add ADFS from add/remove feature.
When we try to configure the IFD with ADFS 3.0 in windows server and CRM 2015, all goes smoothly without any issue but when we tried to access the IFD then we got the below error.
Here is error we got error in event viewer Requested Authentication Method is not supported on the STS.
To resolve this issue you need to enable Forms Authentication that introduced in ADFS 3.0 and the forms authentication is not enabled by default in ADFS in Windows Server 2012 R2.
Please follow the steps to enable Forms Authentication.
Open ADFS server as an administrator.
Open the ADFS management and then clicks on Authentication Policies.
Under Primary Authentication, Global Settings, Authentication Methods, click Edit.
Then Under Intranet, enable (check) Forms Authentication.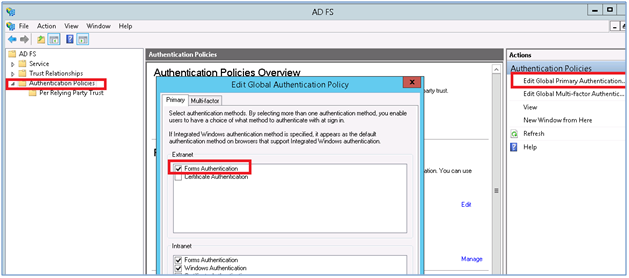 Then do the IIS reset after that you can able to access the IFD as shown in below screenshot.

Get more from your Dynamics CRM..Dynamics CRM & QuickBooks Integration. For more details get in touch on crm@inogic.com.