It's not about accountability but adaptability. Your Microsoft Dynamics CRM application is successfully implemented and set up for your business needs with the best user adoption methods. What's next? How do you know if your users are really getting the most from Dynamics CRM? User Adoption Tracker is a key to your successful Dynamics CRM implementation.
What is User Adoption Tracker?
User Adoption Tracker is an add-on developed jointly by Inogic (headed by MVP Roohi Shaikh) and Elev8 Solutions (headed by MVP Gus Gonzalez)
It enables administrators to monitor and track user's activities carried out in Dynamics CRM/365 for their day to day operation and not with the intent of monitoring what exact data was entered by the user.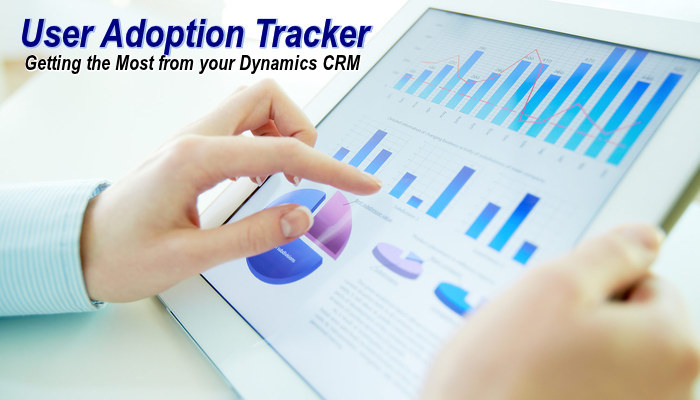 Let's have a look at its key features:
Configure entities and actions to monitor: User Adoption Tracker allows tracking the usages of Dynamics CRM on the daily, weekly or monthly basis.
 Support for tracking on OOB & Custom entities: Specify the entity and actions to track along with the frequency. Track the Custom entities and OOB fields.
 The leaderboard on Dashboards: User Adoption Tracker stores the Data in a format that is easy to report on. The reports can also be exported in required file format. You can also get utilization Report of the Dynamics CRM and the tabular representation of the counts per user in a matrix.
With user Adoption Tracker you can monitor updates and actions. User Adoption Tracker doesn't focus on the data entry; it is mainly designed to monitor updates and actions undertaken by the users in the CRM system.
Product Page – http://inogic.com/Product/100/Add-Ons/User-Adoption-Tracker
Microsoft Pinpoint – https://pinpoint.microsoft.com/en-IN/Applications/12884987443
Pricing: User Adoption Tracker is available on a per user per month basis pricing. Special offers and volume discounting is available. Email us on crm@inogic.com.
Ready to Deploy: User Adoption Tracker is available for Microsoft Dynamics CRM 2011 and above. It supports all Dynamics CRM deployment models namely on-premise, on-line and partner-hosted.
Try Today: Email us on crm@inogic.com for a trial or if you would like to see a live demo.
Get the most today!
There's much more. For any assistance in implementation, customization, migration or upgradations of Dynamics CRM, get in touch with us on crm@inogic.com.