In a Customer – Vendor relationship, customer service is the most important aspect. With Microsoft Dynamics CRM 2013 Service Pack 1 or Microsoft Dynamics CRM Online Spring '14, there have been many enhancements around service and we have discussed them in various articles on this blog. We can setup SLA's for our customer service management, but there are some days or downtime when our service representative will not be available to provide support. So here comes the concept of defining support availability and holidays. In this blog post we have covered calendars, holiday schedules and customer service schedules.
Now there was already Business closures definition in previous release and available even now, but that is only limited to restricting resource scheduling on particular service activity. But with the introduction of SLA, holiday and customer service schedule has been introduced to that the SLA does not get elapsed during holidays.
For this purpose, a new Calendar Type called "Customer Service" and "Holiday Schedule" has been exclusively introduced for scheduling customer services. Due to this new calendar type, we can now create Holiday schedule and Customer Service Schedule and define time/ time of/ Work hours at which the customer's Questions/ Requests/ Problems can be handled by users. This calendar entity is used by the system to store data for customer service and holiday scheduling.
You can find the holiday schedule and customer service schedule under Settings –> Service Management –> Service Terms section as shown below: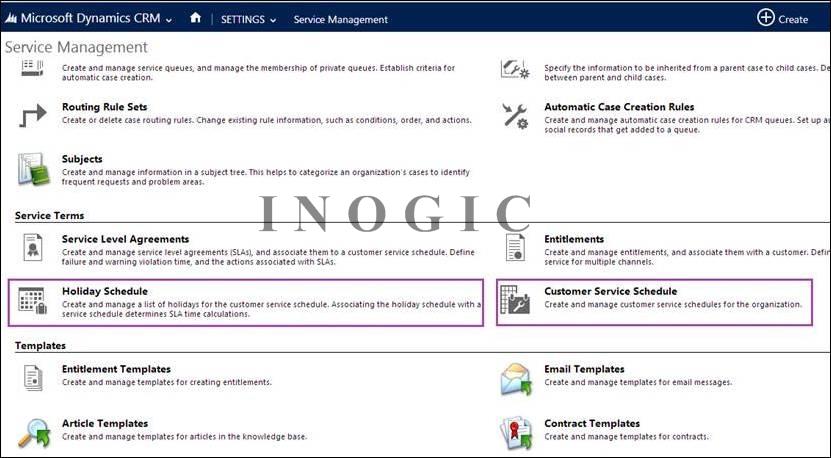 Holiday schedule:
We can define our organization level holidays in the Holidays schedules. This predefined holiday schedule can be used in the Customer service schedule which helps to manage customer service. If a service rep responsible for a case support that needs to be attended within a day is on holiday then we schedule to support that case on the next day. Same thing can be defined in CRM by creating Holiday schedule records. For same example, if we create the holiday schedule record for that day, then the SLA timer will be increased to response time + holiday duration. And on case record the Timer control will be set to + 1 day as you can see in below screenshot:

How to create and setup Holiday Schedule:
Navigate to –> Settings –> Service Management ->  Service Terms -> Holiday schedule.
Click "New" and specify the Name and description of the Holiday schedule and click on "Create".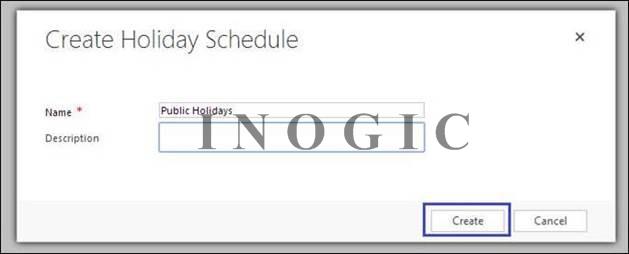 Here we have created a 'Public Holiday' schedule, and under we added all the holidays for the year 2014 that has been declared and would be business closure days. So here we need to specify the Days/ no. of day's for each holiday record: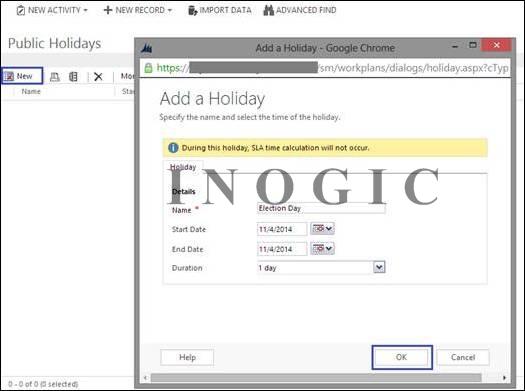 On holiday record, start and end time has to be specified. You can also set the duration holidays from the start Date and it will automatically calculate and set the End Date accordingly.
Customer Service Schedule:
Here we can define when and which days/ times our service or support team is available for providing support to customers. Setting the customer service schedule is same as setting the Work hours for a resource or facility which we used to define in pre-SP1.
How to create and setup Customer Schedule:
Navigate to Settings –> Service Management -> Service Terms -> Customer Service schedule.
 Click on New and specify the Name and description of the Customer service schedule and click on "Create".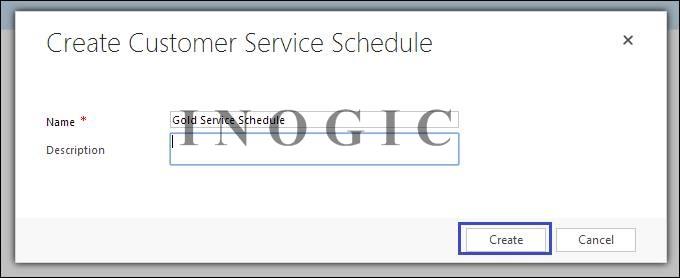 This open up a dialog to set the availability as shown in below screenshot and you will notice two major sections "Set the recurring weekly schedule" and "Select the time zone".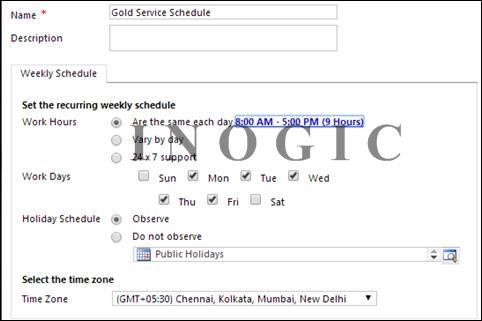 Set the recurring weekly schedule -> Work Hours
o   Are the same each day: If the work hours are the same each working day of the week, then select this option and click on Set Work Hours order to setup working hours including break for a day.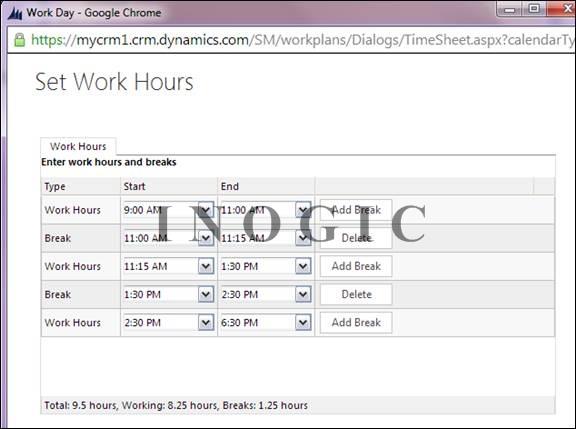 o   Vary by day: If the working hours is not the same every day, then select this option and define the work hours for each day specifically as shown in below screenshot. For Work Days, select the check box for each day that the customer support resources will be available and working.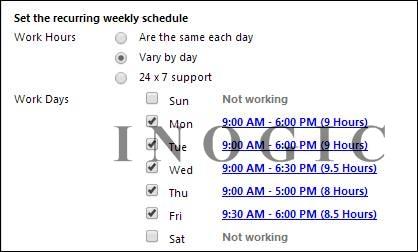 o   24 x 7 support – Selecting this option specifies that the customer support is available 24 hours a day and all days of week.
Set the recurring weekly schedule -> Work Days
o   Here specify the days by selecting check boxes as to when the support staff are working:

Set the recurring weekly schedule -> Holiday Schedule
o   If you want that, just created customer service schedule setup should take care of the holiday schedule as well then select "Observe" specify the appropriate holiday schedule from the lookup:

o   But otherwise if you select "Do not observe" then lookup to select holiday schedule will not be available.

Select the time zone
o    Select the time zone in which your customer support resources would work.

Note: If you want these Holiday and work hours setup to be observed while tracking SLA then you need to associate this customer service schedule to the SLA record (as shown below) after adding a holiday schedule to the customer service schedule (shown above).
So after creating Customer service schedule, set it in SLA's to set the availability of service reps and determine the SLA time calculations to care of holidays.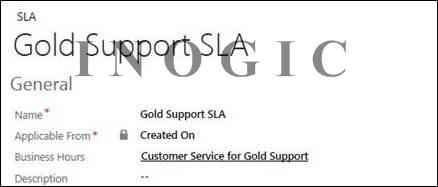 Note: Business closure setup will not effect for the Customer Service Schedule if you select the Holiday Schedule= "Do not obverse". If Business closure is created for holidays then also it will not take effect in the SLA tracking.
In SP1, calendar entity is modified to support additional types of calendars in CRM, new Type picklist is added in calendar entity which has below options.
| | | |
| --- | --- | --- |
| 0 | Default | Business closure calendars for service scheduling. |
| 1 | Customer Service | Service calendars for customer service. |
| 2 | Holiday Schedule | Holiday schedule calendars for customer service. |
| -1 | Inner Calendar type | Inner Calendars are used by other calendars to build a graph of time slots available for customer service or service scheduling to be performed. |
Conclusion:
This feature provide flexibility of managing SLA times because if time is elapsed due to off hours or holidays, the failure actions would take place which may include an email to customer or service manager notifying the delay in handling the allocated work.