Businesses maintaining inventory need to make sure their Sales Team has an accurate view of their stock in hand so that they can take up orders and commit deliveries accordingly. Getting the right inventory balances in MS Dynamics CRM can be challenging.
An inaccurate inventory may lead to a lot of irregularities across your business and to avoid this, you can use InoLink which helps integrate Dynamics CRM with QuickBooks.
It is evident that QuickBooks allows viewing Inventory balance but from within Intuit QuickBooks only. Usually, the Sales Reps does not have access to Accounting Systems. However, Dynamics CRM/365 users or sales force using MS Dynamics CRM for their order entry may require referring these stock details. If your Sales people wish to see these inventory details through Dynamics CRM/365, then InoLink is an option that syncs all inventory balance details from Intuit QuickBooks to Microsoft Dynamics CRM.
InoLink is a bi-directional integration solution for Dynamics CRM(On-Premises, Online, and Partner-hosted) and Intuit QuickBooks. It enables complete access to accounting details to authorized sales reps from within Dynamics 365.
If your Dynamics 365 sales person knows what is available in stock, then it will be easier for them to provide Quotes and Orders regarding the available stock. By going through the inventory balances, sales people can quickly see the quantity of available stock. This also helps them to identify, what is the best selling item.
Inventory Balance will provide a quick way to look at what inventory is the Quantity on hand, what is the Quantity on Sales Order, Quantity on Purchase Order and Reorder point of Inventory; using InoLink as shown below.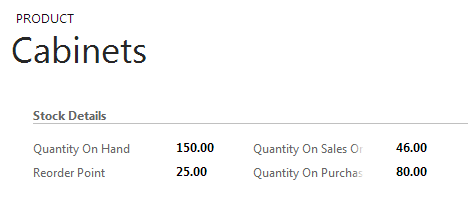 When InoLink syncs inventory balance from QuickBooks to Dynamics CRM(On-Premises, Online, and Partner-hosted), it also syncs Quantity details and reorders point details. InoLink reads inventory details from QuickBooks using Inventory stock status report.
This way InoLink would let you maintain the accurate stock details in Microsoft Dynamics CRM which helps you to run your business efficiently.
Get a free 15 days trial of InoLink. Contact us on crm@inogic.com