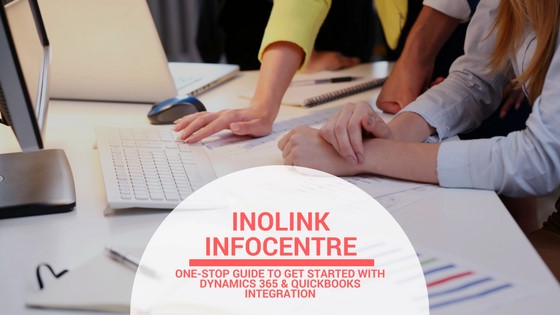 We live in a fast-paced digital world. Technology is evolving by the minute and software are updated more frequently than ever! To keep up with the pace, the information related to the software should be updated regularly, organized, and available in one place.
We believe that innovation and information are the building blocks of great products.
InoLink is a bi-directional integration solution designed to help organizations that want to integrate Intuit QuickBooks and Microsoft Dynamics 365. We recently extended the capabilities of InoLink by introducing support for QuickBooks Online and extending the supported countries to UK and Canada!
Today, we launch the InoLink InfoCentre, your one-stop guide for everything you need to get started with InoLink!
InoLink InfoCentre is designed to provide all the information you need about our integration solution for Intuit QuickBooks and Dynamics CRM/365.
By integrating Intuit QuickBooks with Microsoft Dynamics CRM/365, an Organization can;
Promote and link Customers to get consistent data in both the systems by avoiding data entry errors and data duplication.
Synchronize Accounts, Contacts, Products, and Prices between the two systems and keep their teams up to date with the latest data.
Ease their Sales Team's recovery follow-ups by synchronizing complete Customer Aging Details, Sales Transactions, & Payment Information from QuickBooks to MS Dynamics CRM/365.
Get insights about Recent Transactions, Top Customers, Pending Invoices, and more with Accounting Dashboards in Dynamics CRM/365.
Harmonize Sales and Accounts Team with the power to promote Quotes/Orders/Invoices from MS Dynamics CRM/365 to QuickBooks.
InoLink is available for Microsoft Dynamics CRM (2013 and above, Dynamics 365) and QuickBooks Online as well as QuickBooks Desktop.
Every information about InoLink is now a click away at InoLink InfoCentre!
To get a free 15 days trial copy or to schedule a personalized demo, write to us on crm@inogic.com