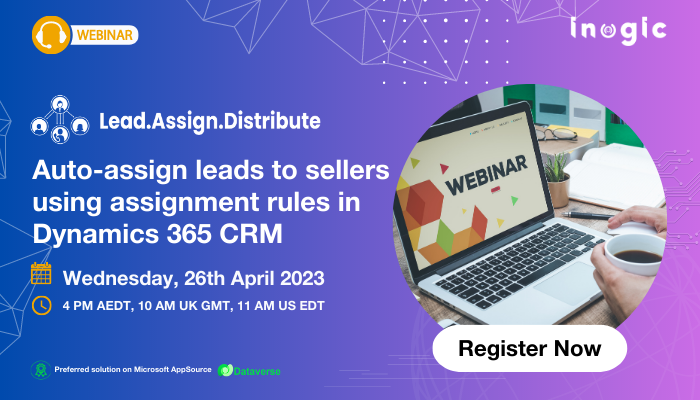 Did you know that the time and quality of your response to a lead can significantly affect your sales cycle and closure rates?
Imagine being able to assign leads to your sales team without lifting a finger. With Lead Assignment and Distribution Automation, a Microsoft AppSource preferred app, you can set up business-specific assignment rules and criteria for automatic distribution of leads. This solution ensures that leads are promptly and efficiently handled by your sales team, leading to faster lead conversion and better sales performance.
Join us for an informative webinar where we'll explore how Lead Assignment and Distribution Automation can streamline your sales process and improve customer satisfaction.
Say goodbye to the manual assignment process and hello to a more efficient and effective sales cycle!
Webinar: Auto-assign leads to sellers using assignment rules in Microsoft Dynamics 365 CRM 
Wednesday 26th April 2023
10 AM GMT, 11 AM EDT, and 4 PM AEDT
In this webinar, you will learn about the following benefits of Lead Assignment and Distribution Automation App:
Improved Lead Management: By using a lead assignment and distribution system, sales managers can better manage the flow of leads and ensure that they are being worked on by the right sales representative.
Increased Sales Efficiency: Automated lead assignment eliminates the manual process of assigning leads, freeing up time for Sales Managers to focus on other strategic activities.
Improved Lead Conversion: By promptly assigning leads to the right sales representative, organizations can increase their chances of converting those leads into sales.
Fair Lead Distribution: It uses predefined criteria to distribute leads equitably and evenly among sales representatives, avoiding any potential conflicts over lead distribution.
Lead Tracking: The tool provides visibility into lead distribution and assignment, allowing organizations to track and monitor the assigned leads.
Improved Sales Team Collaboration: By using a centralized lead assignment and distribution system, sales teams can work together more effectively and efficiently, leading to improved collaboration and teamwork.
Enhanced Customer Experience: Automated lead distribution leads to a faster response time, which can improve the overall customer experience.
Found this useful? Register now to save your seat.
To read more about Lead Assignment and Distribution Automation App, go through our online help file or check out our product video.
If you're interested in trying the app for your business needs, you can download it for a 15-day free trial from our website or Microsoft AppSource.
To get familiar with the app and its features, feel free to mail us at crm@inogic.com for a personalized product demo or to ask any questions related to implementing an automated lead assignment solution in Microsoft Dynamics 365 CRM for your business.
Every minute counts in sales, and with Lead Assignment and Distribution Automation App, you can ensure that your sales team can quickly jump into action and start working on leads as soon as they're created. So, stop overthinking and register right away!
Bid farewell to manual work distribution!