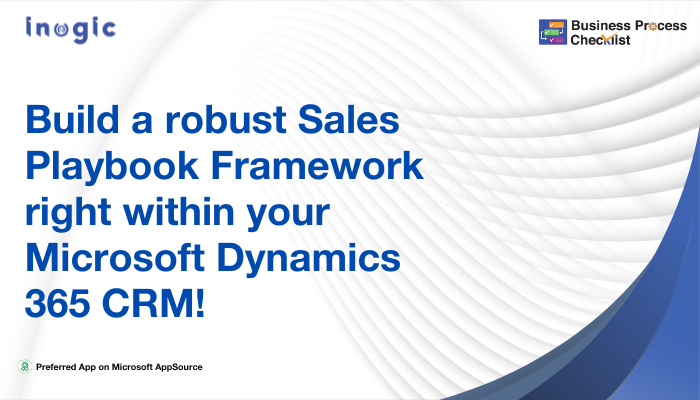 Effective sales process management is one of the crucial factors for ensuring your business's success. Streamlining processes can help managers and reps maximize sales efficiency, deliver quality customer experiences, and boost ROI.
Furthermore, organizations that equip their sales managers with methods to standardize and streamline sales processes grow 10x faster than those with unorganized processes.
Meet Tim! Sales manager at Monroy Tech, who wanted to build a sales playbook to standardize sales activities, track progress of sales process, and much more within Microsoft Dynamics 365 CRM with a robust framework.
When Tim was looking for solutions to automate and standardize repeatable sales activities he came across Inogic's Business Process Checklist, a Microsoft AppSource preferred app for creation and enforcement of business-specific playbooks/plans incorporating guidelines and policies reflecting the organization's best practices to perform at every stage of the business process.
This Business Process Management App lets managers create an online replica of successful offline processes to ensure proven tactics are integrated within Microsoft Dynamics 365 CRM system and are followed by sales reps.
Once the sales manager creates a playbook/plan, it will automatically connect to records or Business Process Flows (Custom or OOB) when set criteria are met.
Here are some scenarios where sales managers like Tim could benefit from the use of Business Process Checklist in Microsoft Dynamics 365 CRM:
Bring Consistency to the sales Process
With Business Process Checklist Tim can create a playbook/plan incorporating a standard set of best practices for each stage of the sales process. Thereby making sure that the proven tactics are followed by sales reps without fail driving consistent results.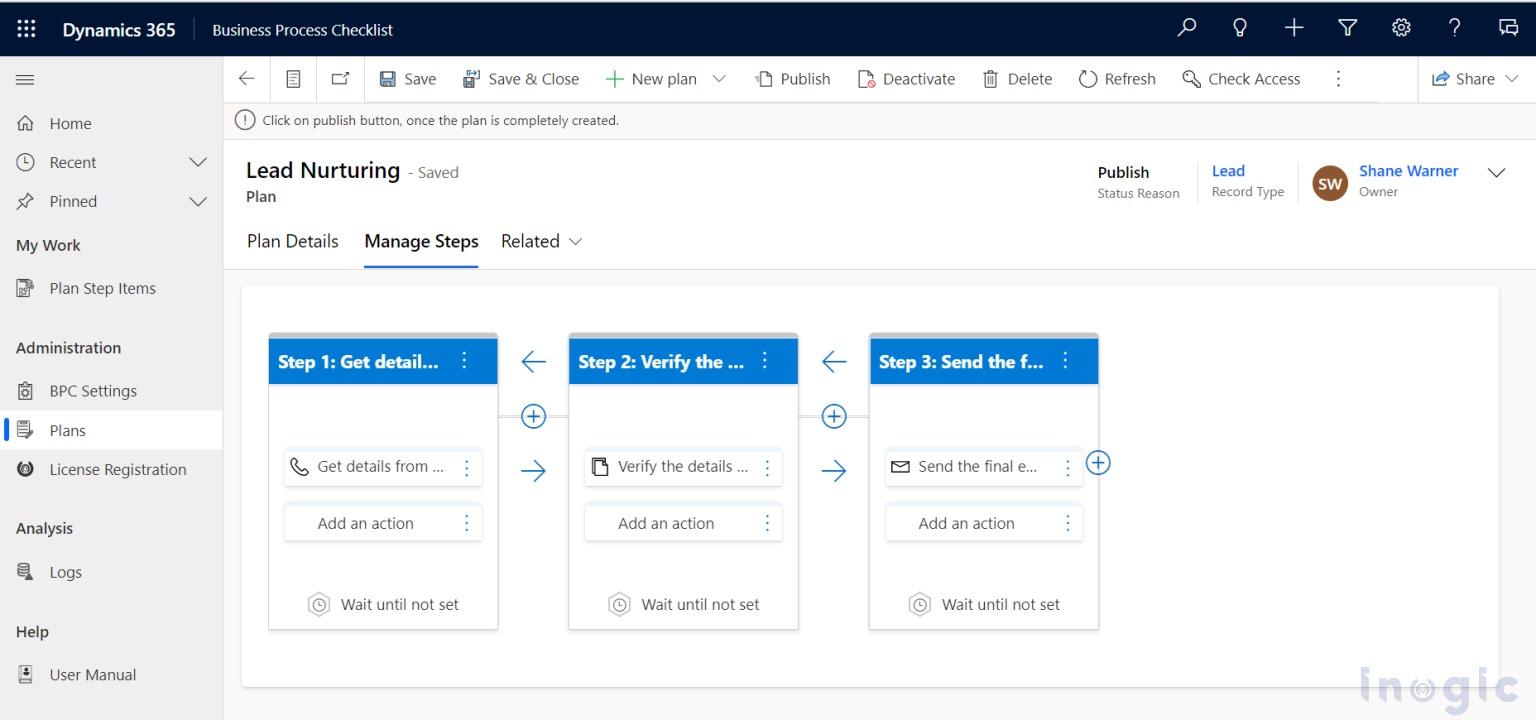 Enforce Best Practices in Business Process Flows
Sales Managers can create a playbook/plan to provide a detailed summary of best practices to perform at a specific stage of the Business Process Flow. For example, "Qualify" stage of the "Lead to Opportunity sales process". The plan steps will automatically be displayed to the sales reps for the said stage for guided selling.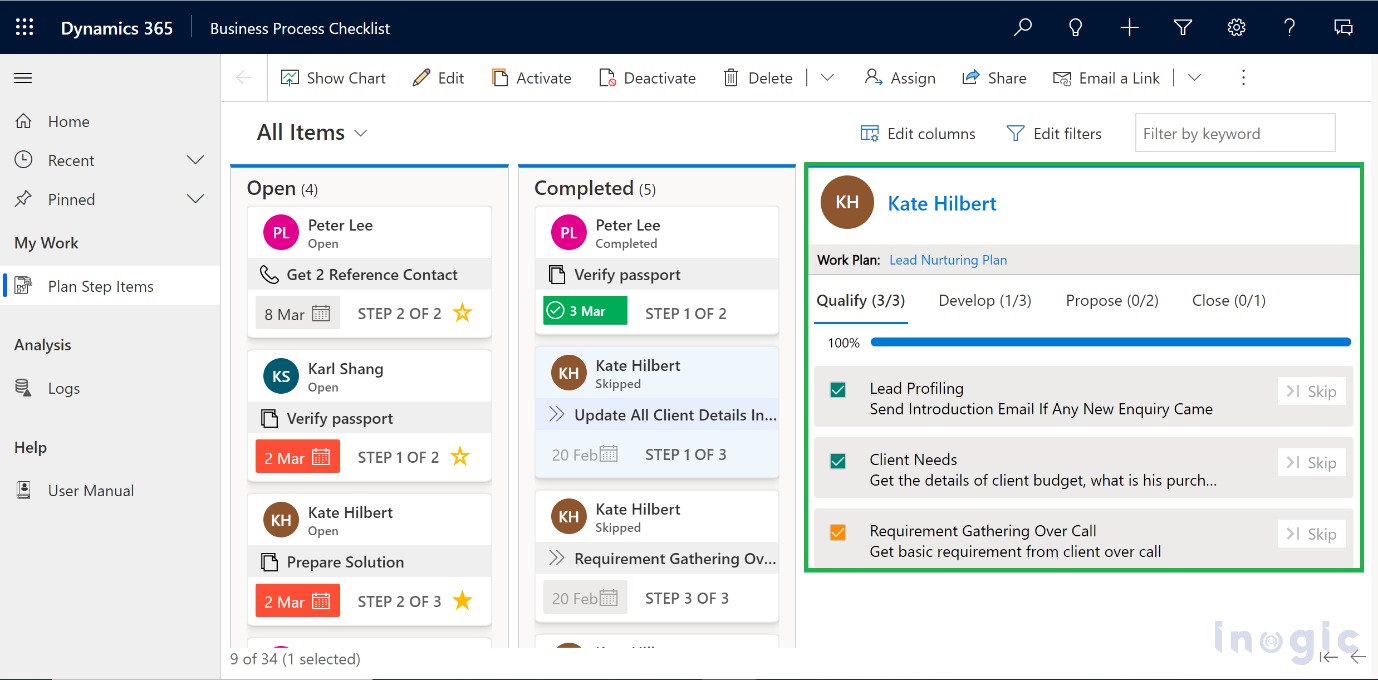 Enable customer-focused selling
With a playbook, a sales manager can help his sales reps save time in their workday by not wasting time thinking about what the best course of action is in a certain sales scenario and instead help them focus more on meeting the needs of their clients and fostering trustworthy relationships.
With Playbooks, sales executives can quickly respond to customers, enabling them to send proposals and quotes to their prospective customers before competitors, allowing organizations to scale their sales processes and have a competitive edge over others.
Automate Sales Guidance and Track Processes
Sales managers do not have to individually guide each sales rep on best practices for every stage of the business process. Instead, they can create sales playbooks/plans that get attached to CRM records or Business Process Flows (OOB or Custom) automatically based on the set criteria for the execution of playbooks/plans.
Sales playbooks enable sales managers to create people-independent processes and equip sales reps to engage leads and prospects with tailored solutions and important customer insights.
Visual components like progress bars can help sales managers track the progress of their sales processes.
Incorporating sales playbooks into sales processes can help sales managers boost their sales team's productivity, automate repeatable sales activities, and build consistent sales processes.
To know more about Business Process Checklist app and its note-worthy features, visit our docs site.
To experience the app first-hand, you can download it from our website or Microsoft AppSource for a 15-day free trial.
To get a personalized demonstration of the app or to know about how you can build a sales playbook using the app, mail us at crm@inogic.com.
PS: For increased CRM adoption, gamify your sales processes in CRM with Gamifics365. Read this comprehensive blog to learn more about this Microsoft AppSource preferred productivity app by Inogic.