Gone are the days of hard work and labor, it's now the age of smart work. And with technology and scientific advancement, everything has become possible. A decade ago, gamification of daily mundane tasks of the regular work cycle was unheard of. But now, Gamification has become the new norm. To improve employee engagement, motivate employees, enhance sales productivity in Dynamics 365 CRM and increase returns, business organizations across the globe are implementing game mechanics into their daily operations.
Being a hub of innovative ideas and solutions, Inogic has also made its own contribution to the field of games by launching its first gamification app for Microsoft Dynamics 365 CRM – Gamifics365!
Now let's have a brief look at some of the key features of this newly released app.
Build competitiveness with a variety of games
Face-off, Challenge, and Race are the different types of games that you can create in Dynamics 365 CRM with Gamifics365. These games can be played between individual users as well as at the team level. You can set up targets for the games like the number of deals closed, revenue earned, leads made for the month, and track the achievements at individual and team levels. Turning goals into actionable targets would bring out the competitive spirit among CRM users and encourage them to put forth their best performance in achieving them. This would undoubtedly boost the sales, CRM productivity, and overall growth of the organization.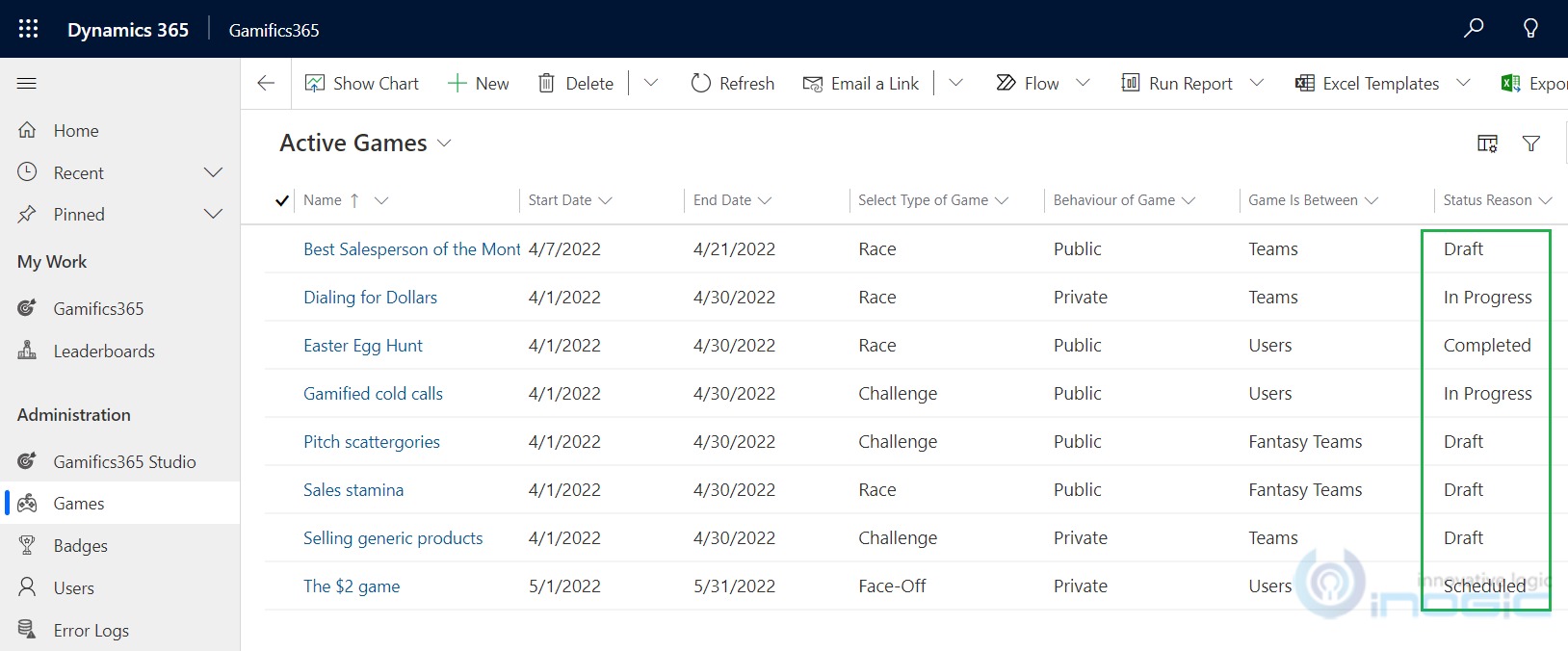 Give instant Recognition with Badges & Rewards
Awards and recognition always motivate employees. Let no achievement go unheard and unnoticed. With Gamifics365, you can create customized awards and badges to bestow upon the winners of the game competitions in Dynamics 365 CRM. Each award and badge earned by the CRM users will further encourage and motivate them to excel in their field and set an example for other users as well.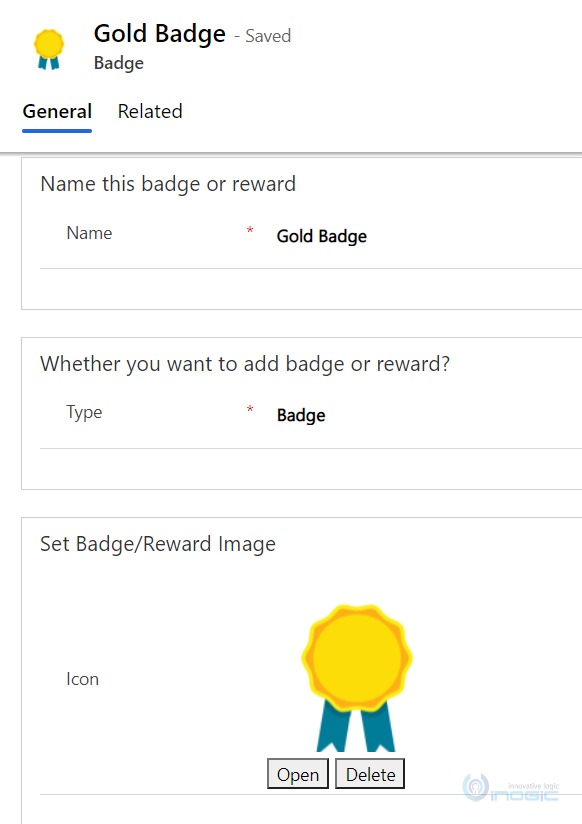 Appraise the Performance with Personalized Scoreboards
Ever heard this quote – "If you can't measure it, you can't improve it". This quote truly accentuates the need for performance scoreboards because it helps to measure the capability of game participants (CRM users). With the Gamifics365 scoreboard, you can easily track the performance of players or participants in real-time. It provides an overall view of activities such as games, KPIs, total points earned, targets achieved, rewards earned, and so on. This vibrant and intricate representation of one's performance motivates and encourages CRM users to improve their game and give their best to achieve the organizational goals and targets set for them.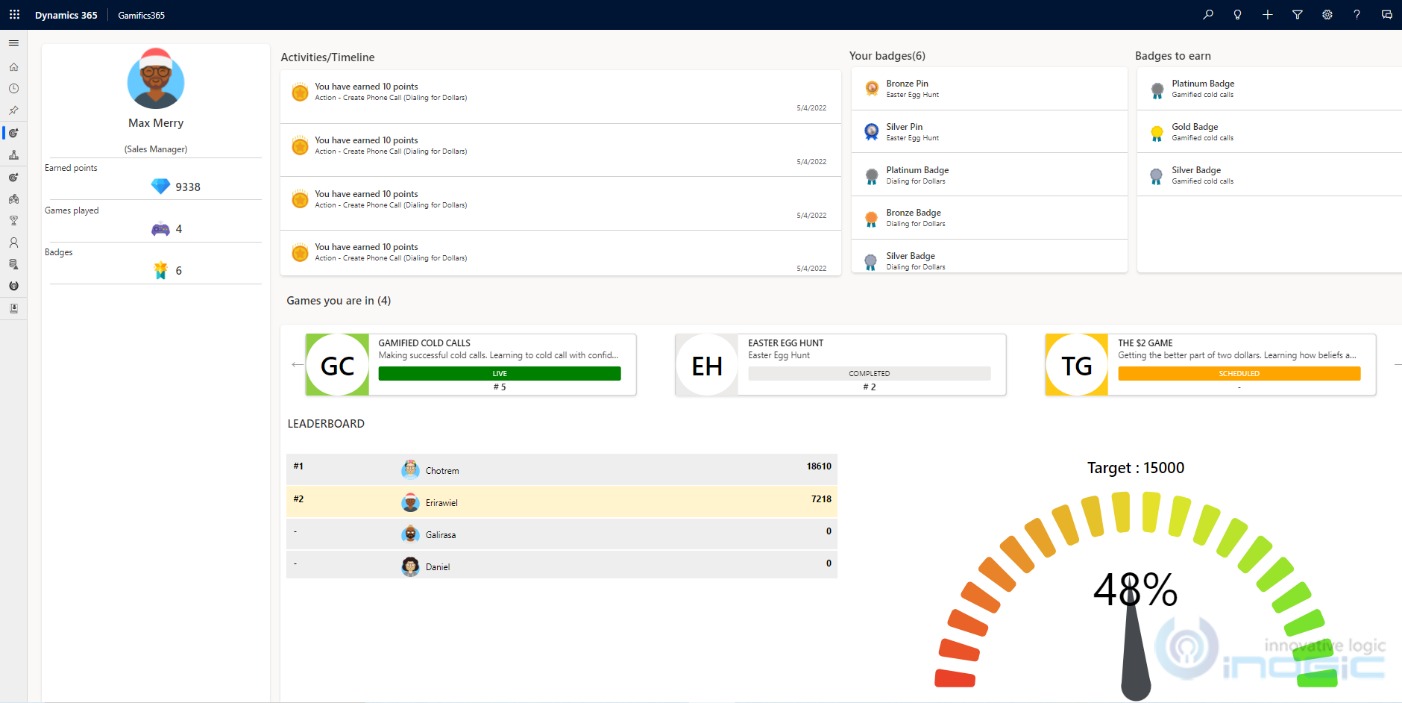 Up the game with Gamifics365 gamification Mobile App
It is the era of mobility, flexibility and agility! So it no surprise if you can get a mobile app as a complementary dish with the main dish Gamifics365. Be it office, home, or any other place, now you can easily get details of ongoing games, upcoming games, and the points scored just with a single click on the Gamifics365 mobile app. Now cheering for the favorite team or colleagues who are playing the games is not limited by time and place! You can cheer from anywhere at any time!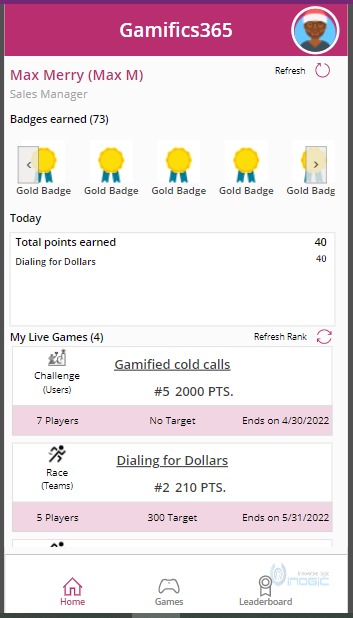 This is how organizations can increase employee motivation with games in Microsoft Dynamics 365 CRM.
Quite refreshing, isn't it?
So, don't hesitate! Grab this opportunity to download and explore this newly released Microsoft Dynamics 365 CRM gamification tool from our website or  for a free trial period of 15 days!
For a personal demo or more information on this amazing app, just mail us at crm@inogic.com
Ps. If you are looking for a solution to track user activities in Dynamics 365 CRM, then no worries User Adoption Monitor app by Inogic is one such Microsoft AppSource preferred app that helps you measure and track actions of end users in CRM, i.e. Create, Read, Qualify Lead, Win, etc.
Until then – Keep playing and Lets win together!