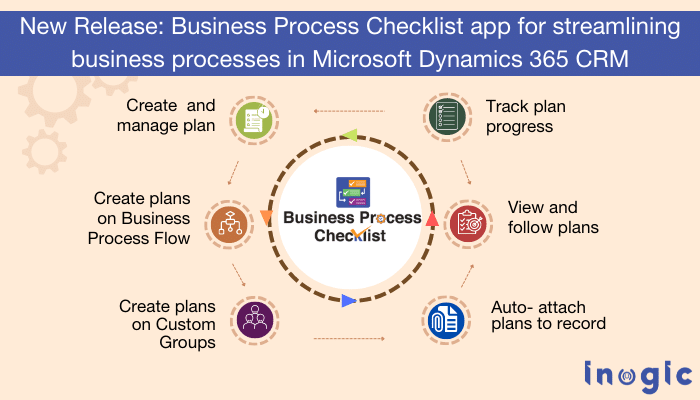 Effective business process management results in increased user productivity by 30-50% and increased success rate of projects by 70%.
Effective business process management is a backbone of any organization. A well-structured business process takes everything into consideration viz costs, productivity, the value generated for customers and stakeholders, and overall ROI.
Once the sales manager/administrator creates business process/to do list, it becomes a daily task to tell every sales/customer executive to follow it. How great it would be if CRM automatically sets a plan of action for salespeople/customer executives to follow and in the order, you want them to follow?
Sounds impossible? Inogic has come up with a brand-new app for automating and streamlining business process management in Microsoft Dynamics 365 CRM.
Yes, the wait is over!
We proudly announce release of Business Process Checklist, Inogic's latest task management app.
Available for: Microsoft Dynamics 365 v9.x and Dataverse.

With this new app, you will no longer need to use the traditional way of creating checklists using excel spreadsheets for ensuring best practices are being followed while managing a business process.
Business Process Checklist integrated within Microsoft Dynamics 365 CE will help you streamline and standardize the best practices by allowing you to create plans against records your CRM users are working on, be it Custom or OOB Records.
In addition, Business Process Checklist allows you to create plans for both custom and OOB entities, as well as OOB and custom Business Process Flows, and also Custom Groups.
With the release of Business Process Checklist App, the process of following and implementing best practices while managing business processes in Microsoft Dynamics 365 CRM will become hassle-free. So, let us experience the top features of this agile task management solution.
Features of Business Process Checklist App:
Create and Manage Plans: Managers can create step-by-step plans against custom and OOB entities for the users to follow within Microsoft Dynamics 365 CRM. With Business Process Checklist, they can create different types of plans viz Checklist-type and Process-type plans. They can also revise and delete plans and manage the plans intricately accordingly.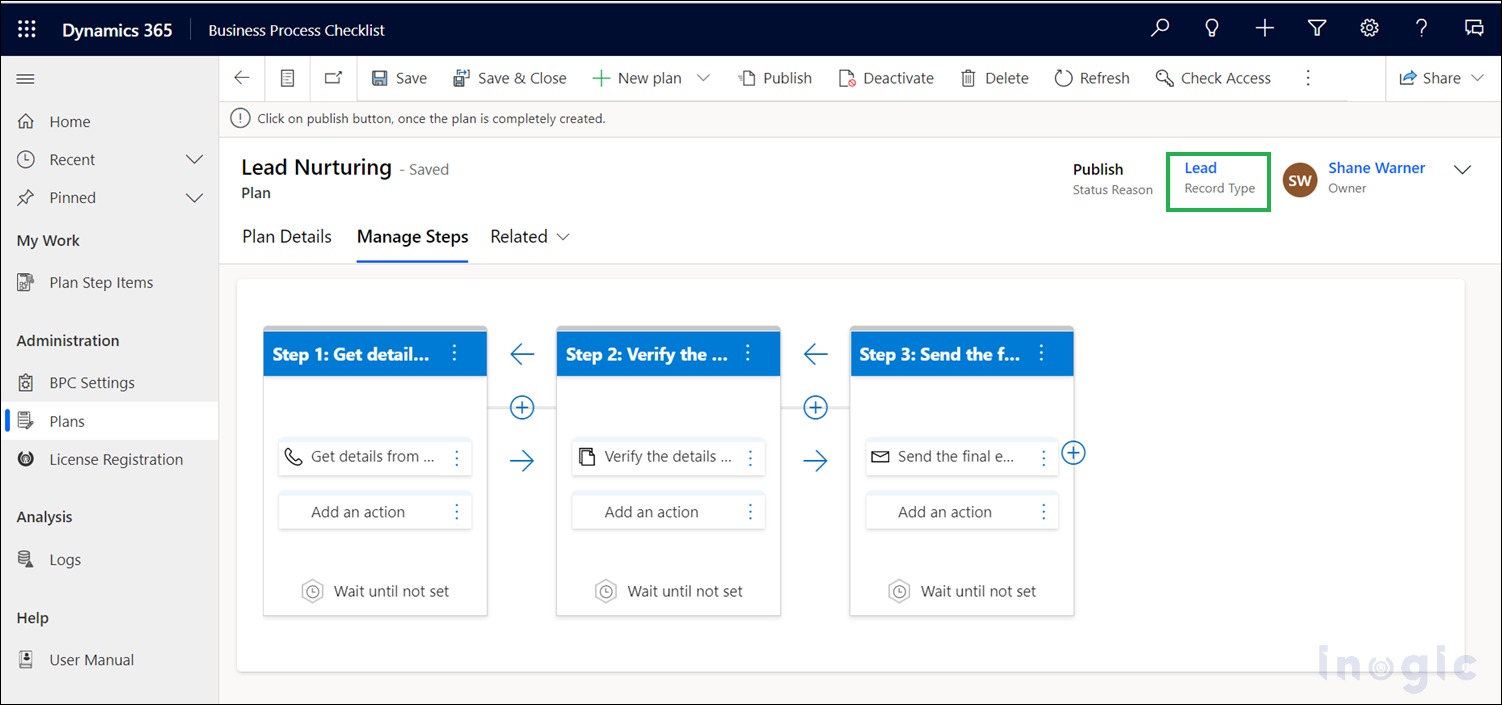 Create Plans on Business Process Flows: Sales managers can create plans for OOB and custom Business Process Flows and execute plans on specific Business Process Flow stages. For example, a sales manager can create a plan for the Qualify stage of the Lead to the opportunity sales process.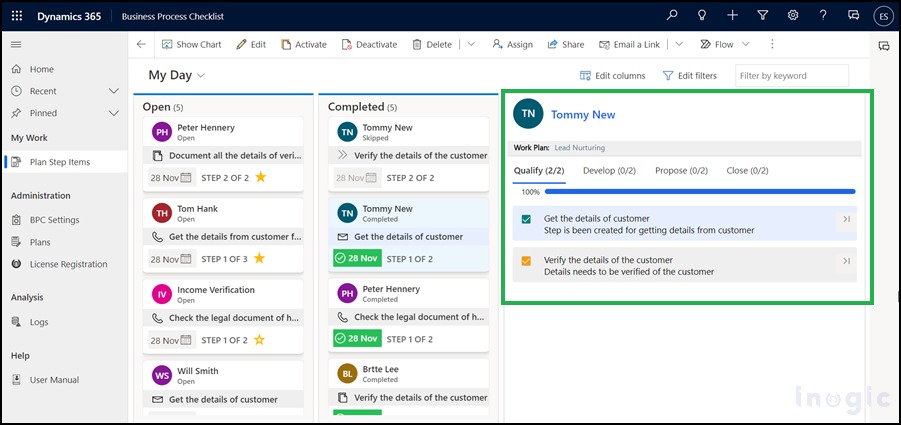 Create Plans on Custom Groups: If your organization doesn't use any Business Process flow then sales managers can set up plans on custom groups. For example, if you are a sales manager in a finance company and want to create a plan for loan verification with steps for home verification and income verification without using Business Process Flow, then you can create a plan on custom groups using the Business Process Checklist app.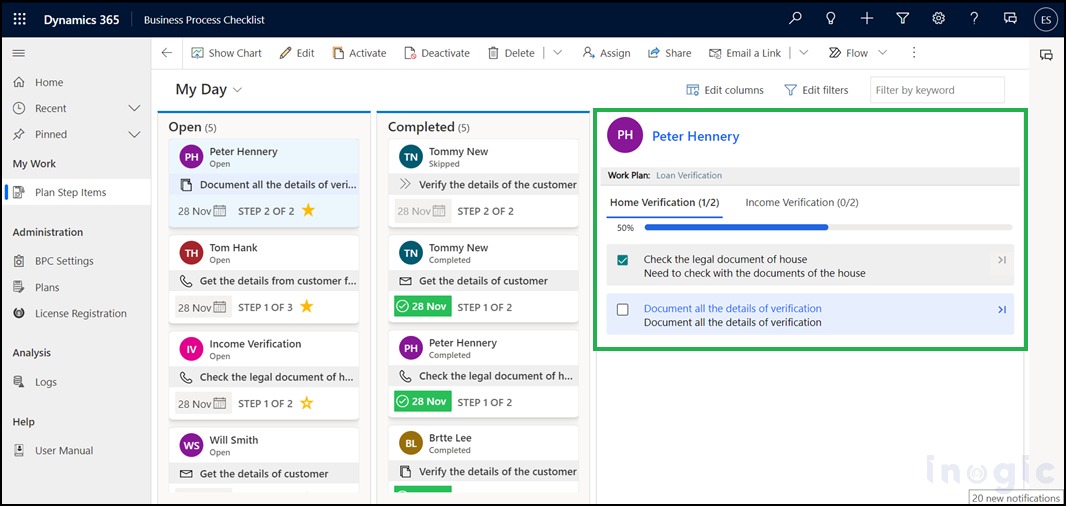 Auto-attach Plans to Records: Plans created by sales managers get automatically attached to the records for which they were created based on the criteria set for the execution of the plan. For example, if the sales manager has created a plan for lead nurturing for the lead entity where the criteria are set as lead source as "Partner" so, whenever the lead is created with the lead source as "Partner" then the lead nurturing plan will get attached to that lead record.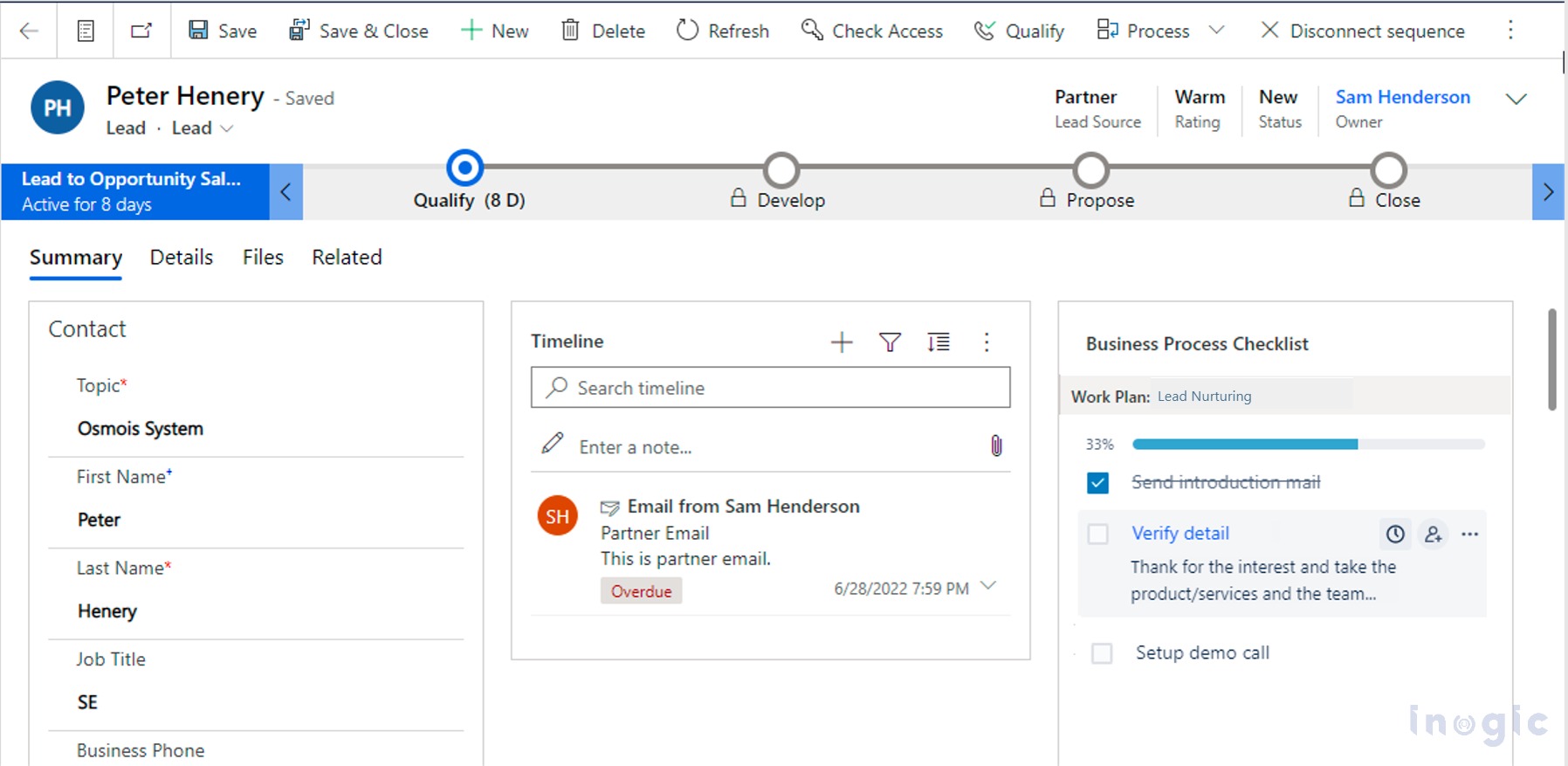 View and follow plans: Plans created by sales managers appear on the records they are associated with, making the process of following the plans for day-to-day activities simple and quick. For example, salespeople can view the lead nurturing plan created by the sales manager on the lead records; this will help users follow plans and complete their day-to-day activities.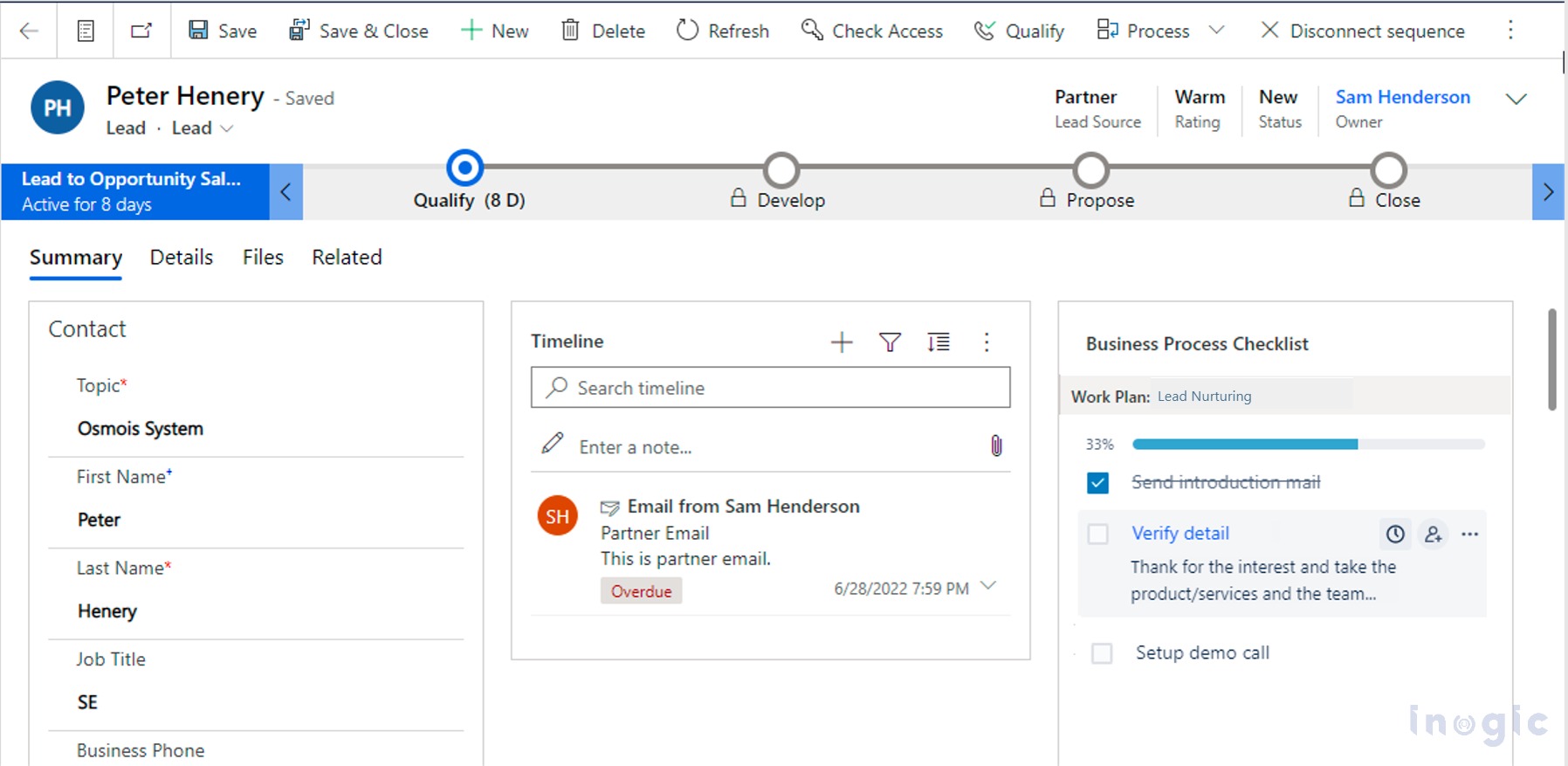 Track Plan Progress: Sales managers and salespersons can view the progress of plan activities in terms of completed, ongoing, and overdue activities for the day through visual elements like a progress bar and columns for completed activities/tasks.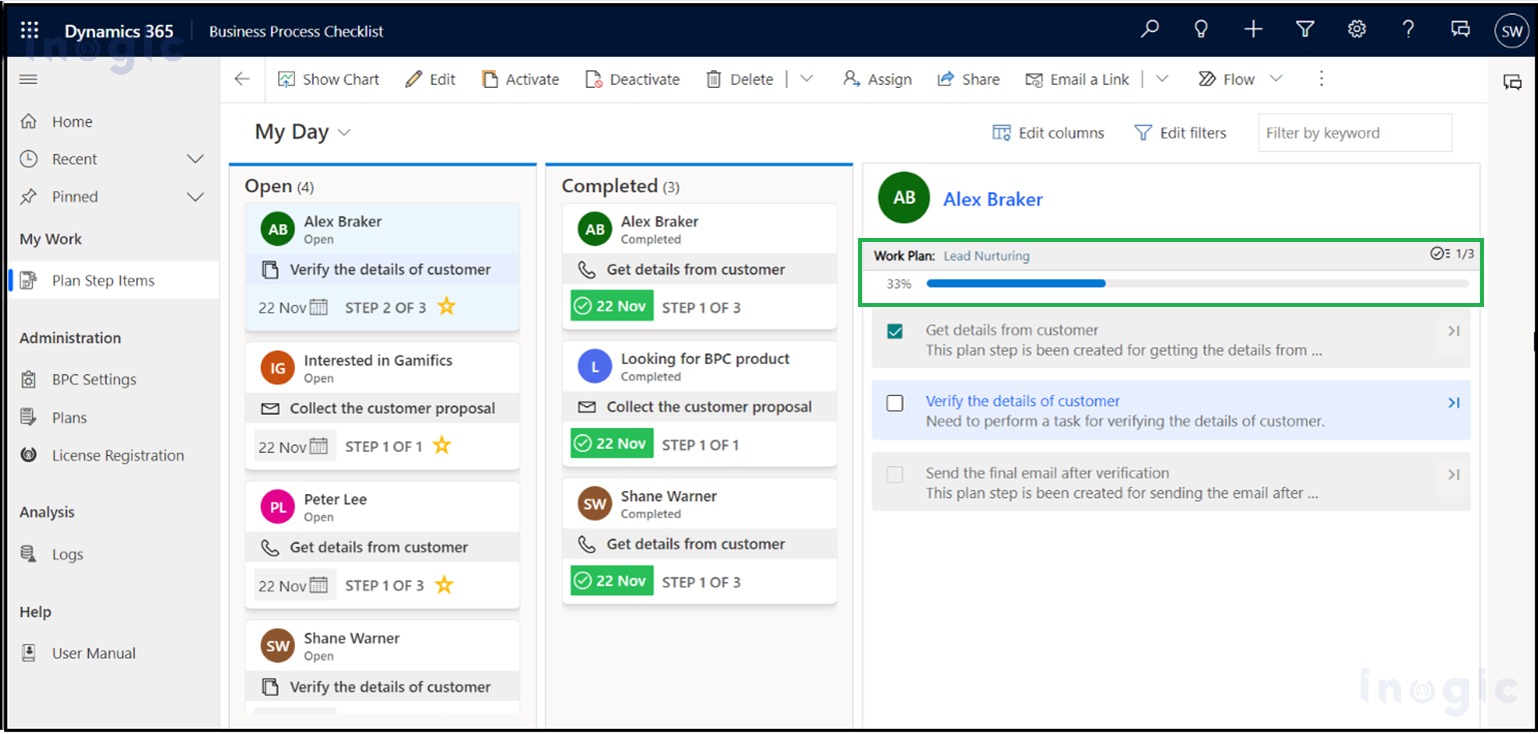 There is much more to business process checklist features than what we have mentioned above.
Users can skip steps within plans based on their needs.
Set specific steps of plans as favorites.
View the plan and record details on a single page without having to move between apps.
Set multiple plans for records.

Excited to try? Download the free trial from our website or mail us at crm@inogic.com to schedule a personalized demo.
Work smarter and deliver faster by enforcing best practices in your day-to-day activities with Business Process Checklist!
PS. Accidentally Deleted CRM Records? Now get your personalized 'Ctrl + Z' button within Microsoft Dynamics 365 CRM. Check out our Microsoft AppSource Preferred App Undo2Restore, a 1 click productivity app that will help you restore deleted records, undo changes made in CRM records, and more.