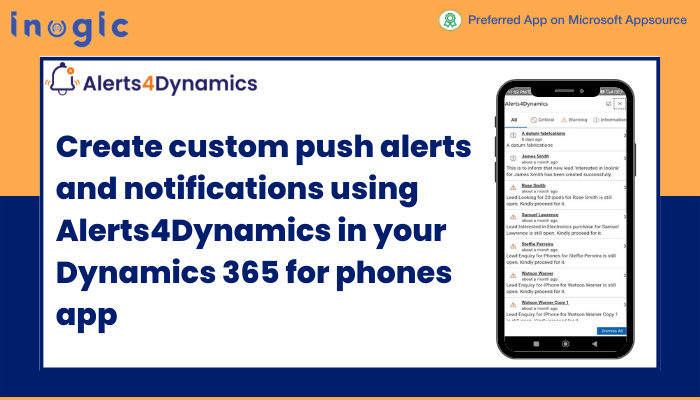 With mobile CRM solutions like Dynamic 365 for phones, salespeople can access customer data within seconds. But, in this fast-paced, competitive market, is just having a mobile CRM sufficient? Is accessing your Microsoft Dynamics 365 CRM records on your phone enough?
What about the losses that businesses incur due to communication delays? A survey of 400 companies with 100,000 employees found that inadequate communication to and between employees costs an average loss of $62.4 million per company per year. So, how can this communication gap be filled?
To bridge this communication gap and prevent huge losses, organizations can use CRM alert and notification management solutions like Alerts4Dynamics. It helps sales teams create, schedule, and manage alerts for various entities in Microsoft Dynamics 365 CRM and Dataverse on mobiles as well as tablets.
Alerts4Dynamics allows you to notify your target audience directly from CRM. You can create multiple messages in different languages for a single alert. Define alerts based on rules for an individual record or set of records, which can be displayed as notifications indefinitely or for a specific period. These notifications are accessible from any location within Microsoft Dynamics 365 CRM.
Use of Alerts Management System for Sales Managers using Mobiles/Tablets
Sam is a sales manager working in a supply chain industry who wants to be notified as soon as his sales team wins an opportunity so that he stays on top of the deals. However, this is not always the case. Many obstacles, such as workload, procrastination, miscommunication, and so on, can prevent Sam from receiving the right information at the right time.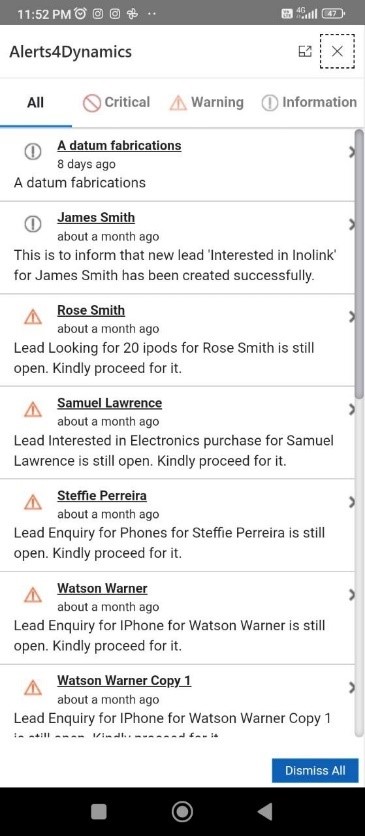 Sales managers can instantly check alerts for opportunities won on the phone, reducing the possibility of any supply issues due to communication delays. Just by clicking on the notification, he can go to the record the alert is associated with.
Sales manager can receive alerts in multiple modes, like emails, pop-ups, and form notifications on the Dynamics 365 mobile app.
Sales manager can receive a push notification on the mobile notification bar for new records created for g., contacts if the alert mode is selected as email notification.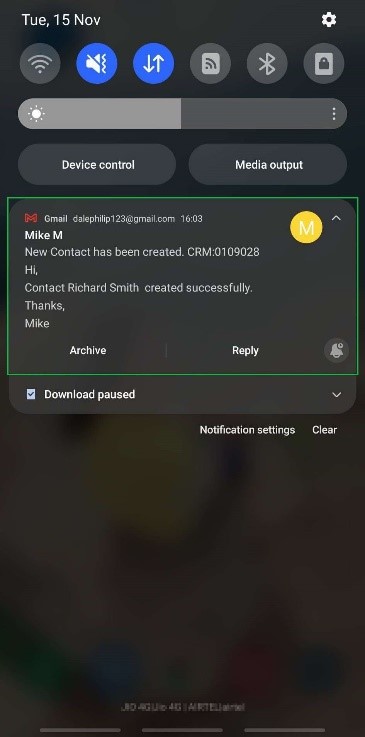 Sales manager can set up alerts for his users as well. He can monitor read/dismissed alerts and notifications, and check all active notifications within the Dynamics 365 mobile app.
Sales managers can create and manage four types of alerts: announcement alerts, rule-based alerts, record-based alerts, and event-based alerts.
Sales manager can set up alerts for the users based on various priority levels, such as informational, warning, and critical notifications and alerts; this simplifies decision-making by assisting users in perceiving the alerts based on their level of importance.
To ensure critical information flows optimally through your organization, you must implement an effective alerts and notifications system. Because having the right information at the right time can help you save time and prevent losses.
That sounds useful, right?
There is much more to Alert4Dynamic's features and cross-device functionalities than what's presented above.
Install the Microsoft AppSource preferred app today from our website or Microsoft AppSource for a free trial period of 15 days and experience all these amazing features first-hand.
Please contact us at crm@inogic.com if you have any questions about managing alerts or notifications in your Microsoft Dynamics 365 CRM.
Since the Alerts part is taken care of, how about automating the lead assignment and distribution in your Microsoft Dynamics 365 CRM. Lead Assignment & Distribution Automation is a productivity app by Inogic that does just that; do check it out.
P.S. We are cooking a brand-new app to help you manage your business processes within Microsoft Dynamics 365 CRM. Be a part of this journey!