Microsoft Dynamics 365 CRM's primary role is to manage customer relationships. And because of the document management capabilities of SharePoint, Microsoft Dynamics 365 CRM and SharePoint are often used together. Even though they both have their own advanced security models, they differ a lot. This is why out-of-the-box integration from Microsoft doesn't sync Dynamics 365 CRM permissions to SharePoint. This results in data control issues as people who don't have access to documents to Dynamics 365 CRM can get it in SharePoint.
Inogic's SharePoint Security Sync is a powerful Microsoft AppSource Preferred app that replicates Microsoft Dynamics 365 CRM security model in SharePoint and secures all your documents and attachments in SharePoint. It comes with a user-friendly drag-and-drop interface that also lets you manage all your documents in SharePoint from within Dynamics 365 CRM.
A 5-star rated app on AppSource, SharePoint Security Sync comes with the following features:
Replicate Dynamics 365 CRM security roles to SharePoint
Allows creation of customized folder structure in SharePoint
Drag and Drop options with a User-Friendly Interface to perform common file/folder actions
DocuSign Integration for e-signatures
And much more…
So, how can SharePoint Security Sync with all these features help your business scale? Let's see some real-world examples.
One of our clients, ClimbClouds, a mid-size product-based company, has been taking their business to the next level and they have exhausted their free Microsoft Dynamics 365 CRM storage. The increase in database size has resulted in increased storage costs along with performance issues. To avoid excessive document storage costs, they got SharePoint as their document management system. To move all the Microsoft Dynamics 365 CRM history attachments in SharePoint now becomes a daunting task.
SharePoint Security Sync, with its bulk migrating job feature, can help ClimbClouds with this transition smoothly.

With the help of this, the concern of ClimbClouds for reducing storage costs has been worked upon. But, SharePoint has a limitation of only allowing to save 50,000 items in a single document library. And ClimbClouds needs to overcome this challenge as they maintain most of their client relationships using emails that contain multiple attachments, notes, etc.
Using SharePoint Security Sync's newest feature 'Create Custom Folder Structure', this can be done easily.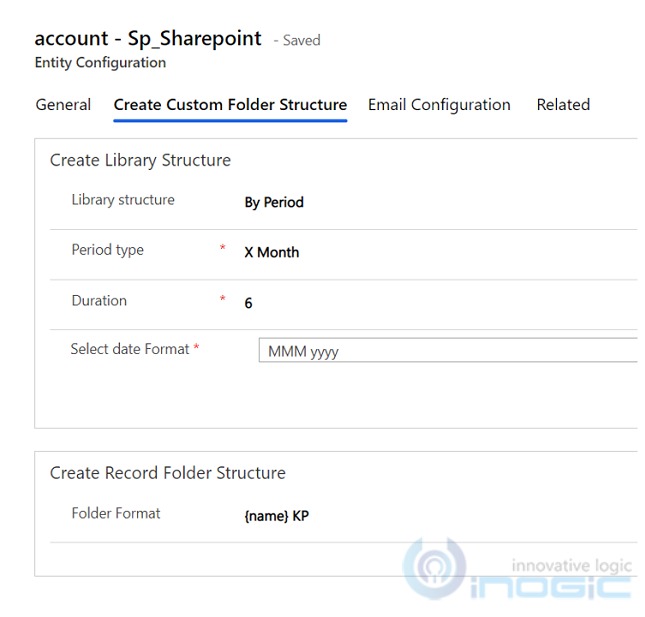 This feature can be configured for any OOB or Custom Entity. Here, ClimbClouds have used it for Accounts. Once configured, ClimbClouds are able to create their own custom document library in SharePoint where they can now easily store attachments and documents. The library structure can be created in three different types namely 'by period', 'by starting character', or 'by custom rules'. As Joseph wants all his accounts documents to be stored month-wise, he can do so by selecting the 'by period' option.
Storage issue resolved. Organizing and managing issues resolved. But what about the security of all those documents shared on SharePoint Cloud Storage? SharePoint only being cloud storage, does not look at the security aspects of the CRM data.
And this is again where Inogic's SharePoint Security Sync comes to the rescue.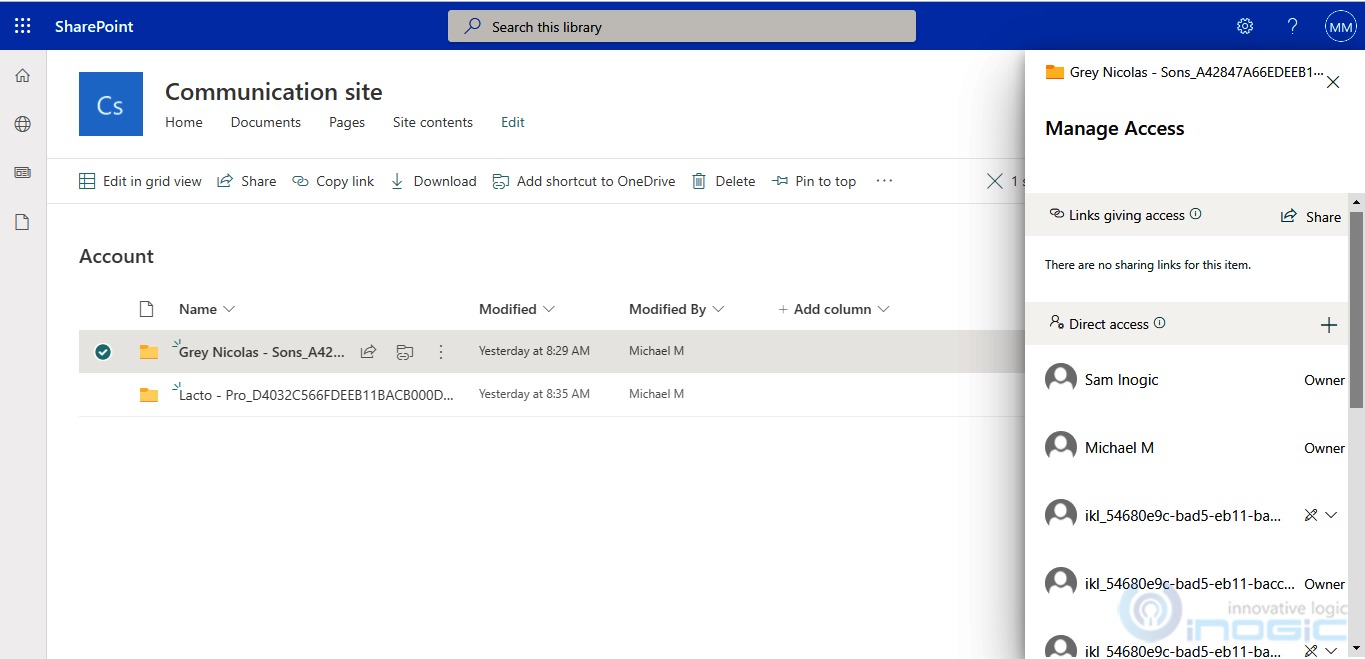 SharePoint Security Sync auto-syncs the security privileges in SharePoint as per the security privileges set in Dynamics 365 CRM. Joseph, who has organization-level access to the CRM, can access all the documents in SharePoint. Lara, a sales rep in ClimbClouds has only user-level access to Dynamics 365 CRM, so she will have limited access to the files and folders in CRM. And the same will be reflected in SharePoint.
Whenever a security role of any user is changed in your Dynamics 365 CRM, the same gets reflected in SharePoint automatically.
It is an all-in-one app for all your Dynamics 365 CRM and SharePoint Integration needs. Want to know what our customers have to say about our app?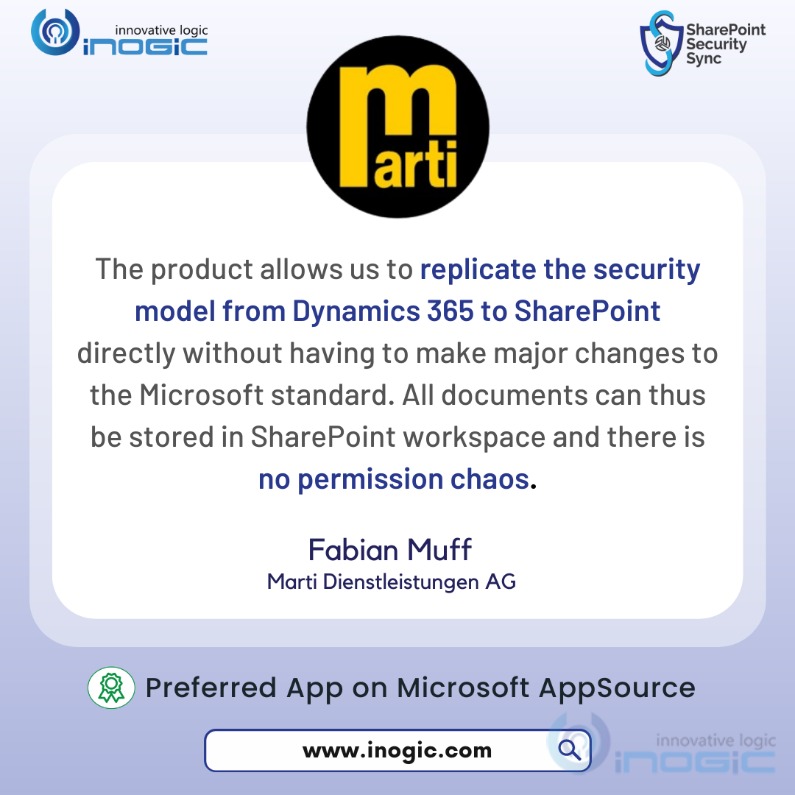 Hit us up on crm@inogic.com if you want to secure your SharePoint documents or are looking to save Microsoft Dynamics 365 CRM storage costs. Our experts will be glad to give you a personalized demo.
Already convinced and want to try it yourself? Download 15 days FREE Trial from our website or Microsoft AppSource today!
Get Secured Today!