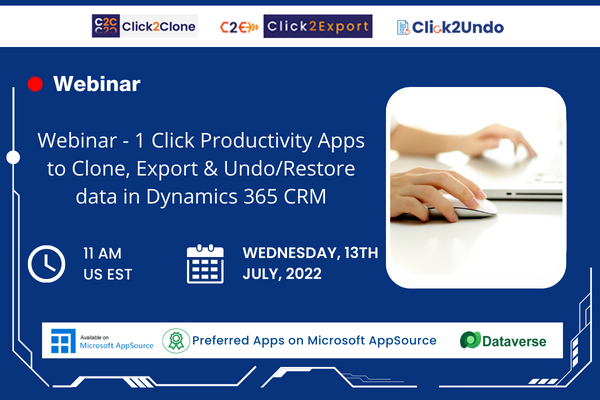 Did you know that roughly 40% of CRM users claim that a quarter of the week is spent on mundane and repetitive tasks such as updating records, exporting data, creating quotes, orders, and opportunities in Dynamics 365 CRM? And because they have to invest their time and effort in such mundane tasks, there is disengagement and low productivity among CRM users.
So, wouldn't it be nice to do away with these repetitive tasks which hamper their productivity?
If you think so, then go ahead and register for our upcoming webinar on 1 Click productivity apps:
Wednesday, 13th July 2022 – 11 am US EST

With 1 Click productivity apps – Click2Clone, Click2Export & Click2Undo – you can bid goodbye to all the tedious repetitive tasks that lower Dynamics 365 CRM user productivity.
In this webinar, you will be given an in-depth demonstration of the following functionalities of these 3 popular 1 Click Apps.
Click2Clone (Microsoft Preferred App):
Clone single or multiple records along with hierarchies or related records
Clone multiple copies of a record
Copy records of one entity type to another entity type along with child relationships
Bring over only related records from another record
Automate the process of cloning with workflows
Click2Export (Microsoft Preferred App):
Export the SSRS Report/Excel Template/Word Templates in the desired format and attach it to an email
Attach exported Report/Word templates as Notes against the record for which they are exported
Upload exported Reports/Word Templates to SharePoint
Email data from CRM Views as inline formatted tabular reports
Auto-Schedule emails with Report/CRM Views/Word/Excel Templates at desired intervals
Click2Undo (Microsoft Preferred App):
Undo last changes done to Dynamics 365 CRM record
Restore historic updates from audit logs
Undo changes for multiple records in one go
Restore deleted records from Audit Logs
Register now! And get ready for an exciting and insightful session on 1 Click Productivity apps and learn how to enhance your Dynamics 365 CRM productivity.
In the meanwhile, you can get familiar with these wonderful productivity apps by downloading them from our website or Microsoft AppSource for a free trial period of 15 days.
Also, check out these interesting videos of Click2Clone, Click2Export & Click2Undo to see what these apps have in store for you!
Looking forward to an amazing and exciting session.
See you soon!