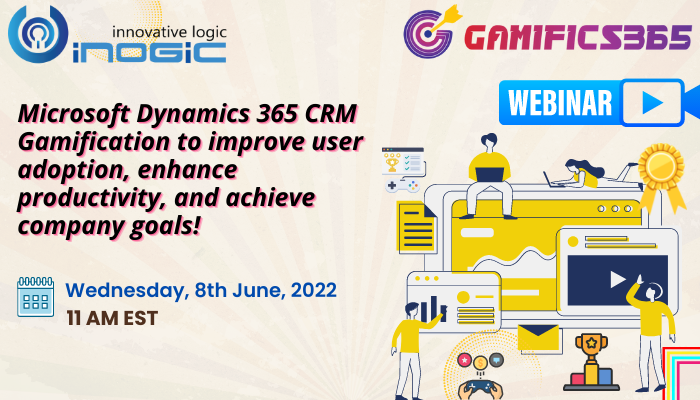 Now-a-days, more and more organizations are implementing gamification techniques in their business processes. From entertainment industries to logistics, you can find gamification has become a part and parcel of daily routine work.
Why?
Because gamification is a powerful mechanism that excites and engages everyone. It relates to basic human drives like motivation for mastery, desire for achievement, recognition, etc., and propels everyone to do their best.
But gamification is just not about adding some random game elements. It involves understanding the basic psychology of why, when, how, and where it should be implemented.
And to learn more about the benefits of gamification, join us for the upcoming webinar on the newly launched Microsoft Dynamics 365 CRM gamification app – Gamifics365!
8th June 2022, 11 am EST

In this session, you will get an in-depth demonstration of the following key features of Gamifics365:
Encourage Adoption: Improve CRM user adoption with exciting games and activities.
Define activities: Define which CRM operations will earn points for the players or teams.
Game Types Supported: Create different types of engaging games like Face-off, Race, and Challenge for players.
Fantasy Teams: Create games with fantasy teams where users can encourage and root for their fantasy team players.
Badges: Bestow badges and rewards to the winners of the games.
Performance Scoreboards: Personalized scoreboards to track the performance of individual players like total score, total games played, live games, etc.
Leaderboards: Display the performance of players and teams on Leaderboards making it easy to track the progress of all games daily.
Mobile App: Join games and track the performance of players or teams through mobile apps.
Real-time tracking: Track and update scores in real-time without any impact on CRM usability and performance.
So, be ready for an exciting and interesting session that will shed light on the various advantages of Microsoft Dynamics 365 CRM gamification.
All you have to do is click on the Register button for this upcoming webinar.
In the meanwhile, check out this video to get a brief overview of Gamifics365.
Also, make sure to register even if you are not able to attend so that we can email you the link to the recorded session.
See you soon!