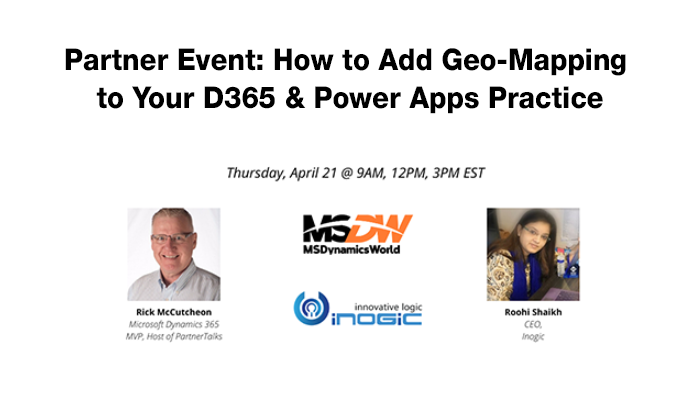 Geo-analytics and location intelligence are the in-trend discoveries that highlight the value of geographical and spatial components attached to a set of data. The importance of locational data for businesses in 2020 was up to 100% in the real estate industry, 94% in travel and tourism, 89% in financial services, and so on. It is only expected to grow exponentially in the coming years, especially post-pandemic. Simply put, devising a marketing campaign for solar-powered kitchenware would be enriched if it is known that it'd be broadcasted in regions of the African continent as against any other.
With unique geo-analytics imbibed packages available within Microsoft Dynamics 365 CRM and Power Apps, adopting the locational benefits has become comfortable. To explore more, join 9x Microsoft MVP Roohi Shaikh, CEO Inogic, parent company of Maplytics, one such out-of-box product, for a panel discussion highlighting benefits of the same.
So, what are you waiting for, book your seat right away and get ready for an engrossing session on assimilating the bundle of Maps integration into businesses across industries and partner benefits.
Partner Event: How to add Geo-Mapping to your Dynamics 365 CRM and Power Apps Practice
April 21, 2022 | 09 AM, 12 PM, 3PM EST
Topics of the conversation shall be as follows:
The journey of Maplytics from inception to success in the Dynamics channel
Use cases for Maplytics in targeted markets
Customer and Industry success stories
Benefits of the Maplytics partner program
Why Microsoft partners consider Maplytics to be their preferred geo-analytics app
Maplytics, a preferred 5-star rated app on Microsoft AppSource works effortlessly across all industries. Thus, it could aid in plotting healthcare facilities near a location, aligning sales territories for sales reps, setting optimized routes to be followed by the transport trucks carrying vaccines, scheduling appointments automatically for insurance clients, and more such unique benefits in other industries!
You would not want to miss out on this amazing opportunity of experiencing the growth, market scope, success stories, and end-user benefits of a sophisticated multi-language, geo-analytical app!
Buck up and Register now!
To know more about Maplytics, you can always download a free trial from our website or Microsoft AppSource. For further details, you can hop on to our Blogs, Success Stories, and Video Library
Achieve your business goals with Maps integration within CRM – Register right away!