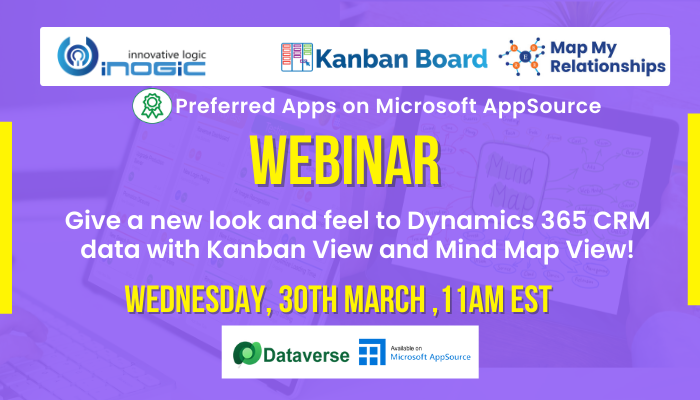 Data visualization has now become an integral part of analyzing and improving business process in organizations. Visualization tools help businesses to recognize patterns and trends more quickly, simply because it presented analysts and executives with a graphical representation of their processes. The days of analyzing rows and rows of raw data have become a distant past.
So, to make your upcoming days of data analysis bright and vibrant, we are hereby conducting an illuminating session on two of our popular visualization apps – Kanban Board and Map My Relationships.
Wednesday, 30th March, 2022
 │11:00 AM EST│   

In this webinar, you will get a detailed demonstration on the following key features of Kanban Board & Map My Relationships (both Microsoft Preferred Apps):
Kanban Board
Visualize any Dynamics 365 CRM View as lanes & rows in a Kanban View on web, mobile or tablet client
Configure fields for defining the categories for Lanes and Rows
Pin your most used business process flows on any configured entity view
View records as compact cards with the ability to configure the data displayed in the cards
Drag & drop cards across lanes & rows to quickly update the values of the underlying category fields
Configure cards to support up to 3 quick activity actions to create activity records like Email, Phone Call, Task, etc.
Search, filter and sort records at global level
View aggregate field value of records on Lane and Row headers
Map My Relationships
Drill down N-level through the relationship and see its associated entity records
Configure Map My Connection control to manage connection using network style UI and grid view
View all important data of the record in a single 360 degrees view
Support for 1:N, N:1 as well as N:N relationships
Get quick summary of related records and connections at a glance
Navigate easily to any of the records displayed in the relationship map
Create quick activity records like Email or Appointment for the related Entity records
Support for viewing aggregate values without the need for creating rollup fields
Don't wait around! Register now! And be ready for an insightful session on data visualization and the advantages of incorporating visualization tools in internal processes.
Also, check out these amazing visualizing apps by downloading it from our website or Microsoft AppSource for a free trial period of 15 days.
And even if you are not able to attend – make sure to register so we can email you link of the recorded session.
See you soon!