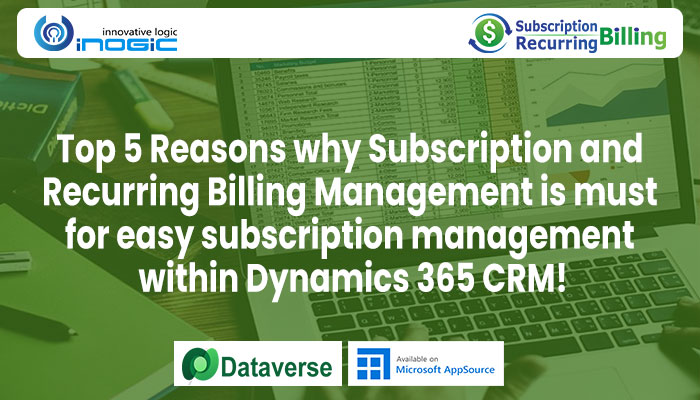 Here are some interesting facts that shows why masses prefer subscriptions:
In recent years, the subscription economy has shown a significant growth of 437%.
Out of 78% international adults that currently have subscription services;
75% feel people will subscribe more services in future,
64% feel connected to companies that they regularly subscribe from,
42% choose subscriptions because of convenience,
35% choose because of cost savings and varieties offered.
With this fast growing subscription economy, there comes the need to streamline and manage these subscriptions smoothly. In today's world you will find n number of business applications which will help you to effectively manage these subscriptions. And Inogic's latest app – Subscription and Recurring Billing Management  – is one but a bit different from them.
So, let's find out what's so special about this Microsoft Preferred App:
Multiple Plans, Add-ons & Pricing Models
Managing subscriptions can become quite tedious when multiple products/product lines, plans, add-ons and pricing models are involved. So it is feasible to have an app which supports multiple products and pricing plans like Flat Fee pricing, Per Unit Pricing, Tiered Pricing, Volume Pricing, Stairstep pricing, etc. And this is what our Subscription and Recurring Billing Management offers. It becomes quite easy to handle each product's own pricing plans, add-ons, etc. effectively without any complexities. This further helps in bringing new products and plans seamlessly, upselling additional offerings, and improving cashflow of the business.
Streamline Recurring Billing Processes
Generating invoices as per the subscription cycles of various products in a recurring process in subscription business line. Moreover, when a customer changes their subscription plan like either upgrading their ongoing plan in the middle of the subscription cycle or downgrading it, then adjusting the bill amount and ensuring that the customer is charged only the amount for the remaining days of the ongoing subscription is also a daunting and recurring task for CRM users. But with Subscription and Recurring Billing Management, all of these processes can be automated and streamlined. This would highly reduce the billing workload of CRM users and help them concentrate on more productive tasks.
Reminders for Renewals & Payments
Sending reminders for renewals and payments is quite taxing yet important task which cannot be avoided. However, if done manually there are high chances of mismanagement causing delays in sending out reminders. This would inevitably affect the renewals and receipt of payments. However, automating these tasks would eliminate such mishaps in subscription management. And this is what Subscription and Recurring Billing Management does.
Insights on Business Revenue and Health
Every subscription business needs to monitor key SAAS metrics such as MMR (Monthly Recurring Revenue), CAC (Customer Acquisition Cost), Churn rate, ARR, ARPU, CLTV, etc. As a famous mathematician had once said, "If you cannot measure it, you cannot improve it." A user-friendly dashboard with the visual representation of all these metrics can give you intricate insights and help you to consequently plan for future business growth. Subscription and Recurring Billing Management with the means of Dashboards, graphs and charts helps you to analyze the same effectively.
Eliminate Tax Complications
Subscription businesses have clients from all over the world. This means invoices involve tax calculations with different tax rates and regulations. Subscription and Recurring Billing Management automates these tax calculations and eliminates any complications that arises due to manual calculations. It also offers integration with Avalara AvaTax which further makes these recurring tax calculations error free and stress free.
This is not all! There are many more interesting features to explore in this amazing subscription management app.
So, grab this opportunity to explore this very useful app from our website or Microsoft AppSource for a free trial period of 15 days.
For personal demo or more information kindly mail us at crm@inogic.com
Until then – Stay Safe, Stay Healthy and Stay Subscribed to our blog!