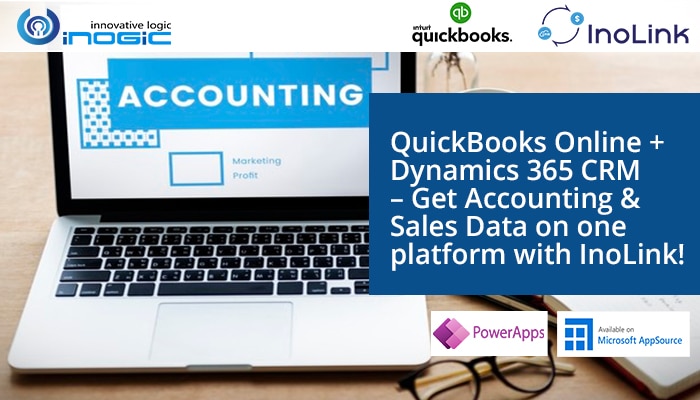 Today, many organizations around the world prefer Dynamics 365 CRM and Intuit QuickBooks Online for managing their customer relationships and accounting processes. As sales and accounts are interdependent on each other, it becomes necessary to ensure the integrity of data in these systems. But it takes huge effort and considerable amount of time to keep these two systems in sync with each other which often leads to inconsistencies in data.
The only way to overcome this difficulty is to integrate these systems. An interface that allows syncing data between Dynamics 365 CRM and QuickBooks can prove to be a lifesaver for organizations. There are n number of applications which provide this service. And InoLink is one such integration app which provides bidirectional integration between Dynamics 365 CRM and Intuit QuickBooks Online.
A Preferred app on Microsoft AppSource, InoLink enables you to –
Sync Dynamics 365 CRM & QuickBooks data
With InoLink, it is quite easy to link the existing Accounts/Contacts/Products/Prices in Dynamics 365 CRM and QuickBooks. This two-way sync of Accounts, Contacts, Products and Prices ensures a better and secure flow of information between CRM and QuickBooks. Users can also get 360 degree view of all accounting customer data like transaction history, aging details, etc. right within CRM itself.
Process data on real-time from CRM
InoLink makes it possible to seamlessly process data on real-time from CRM to QuickBooks. Any modifications or updates done in CRM is automatically reflected in QuickBooks. With the elimination of manual data entries, mistakes and errors are considerably reduced resulting in higher data accuracy.
The major drawback that organizations face is duplicity of data due to the incompatible nature of both CRM and QuickBooks. By linking existing Accounts/Contacts/Products in CRM and QuickBooks through InoLink, this data duplicity can be avoided. And with its real-time processing of data, InoLink ensures that the data fed in CRM is replicated in QuickBooks as well. This way it helps to maintain data integrity and avoid double entry.
Sync single Dynamics 365 CRM instance with multiple QuickBooks Companies
Creating new CRM instance for every QuickBooks Company is out of question now, since InoLink enables users to sync one or more QuickBooks Company with single instance of Dynamics 365 CRM. Maintaining and managing accounting data within CRM becomes way easier with this functionality of InoLink.
With all these wonderful features, InoLink is truly a must have app for those who desire seamless integration between Intuit QuickBooks Online and Dynamics 365 CRM.
For more in-depth information, download and explore this exclusive app from our website or Microsoft AppSource for a trial period of 15 days.
Also, check out our latest integration app – Marketing4Dynamics – which provides seamless integration between Mailchimp and Dynamics 365 CRM.
Feel free to share your views and opinions at crm@inogic.com
Happy Holidays!