Introduction
To build a mobile app in Dynamics 365, Canvas App is the better option. Canvas App is a no-code/low code business app where you can design the app by dragging and dropping elements onto a canvas.
Currently, Natural Language has been gaining popularity among developers. To not get left behind, canvas app has also added support for natural language using Ideas feature. With the help of this feature, we can give queries in natural language and get the results. Using this, users can also get data quickly and easily.
To use ideas in the canvas app, please follow the below steps:
1. Create a new canvas app and then you can see the Ideas panel on the right side.

2. Once you click on Ideas, then you will be asked to add Gallery. After clicking on Add galley, you will get the below options. Select one option according to your preference on how you want to show data.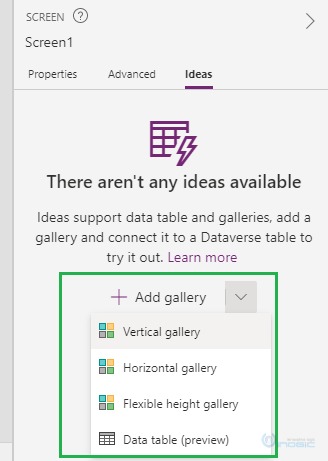 3. Once you select the gallery option, select the data source as shown below. We want to show opportunities so we have selected the opportunities as the data source.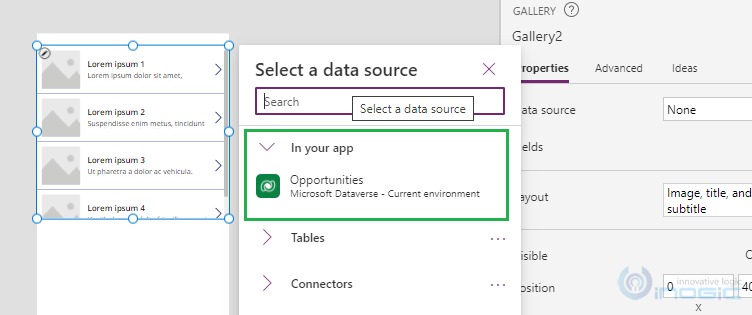 4. Then you can specify the natural language query in the text box in the Ideas panel. For example, we want to show opportunities that are modified in the last 7 days, then you can write the query as "show records of 'opportunities' 'modified On' in last 7 days".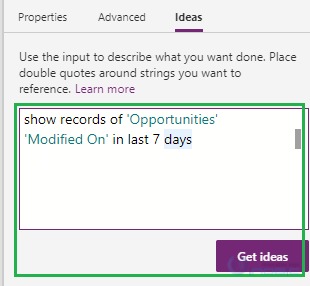 5. When you specify the query and click on the Get ideas button then it will show corresponding answers.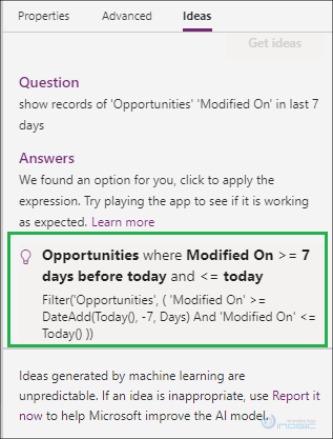 6. When you click on a query highlighted in the above screenshot, it then applies the query and shows the results according to the query.
You can see the query as shown below.

7. When run, the app displays opportunities based on the query specified in the Ideas panel.

Conclusion:
With the help of Ideas, we can get data using natural language.