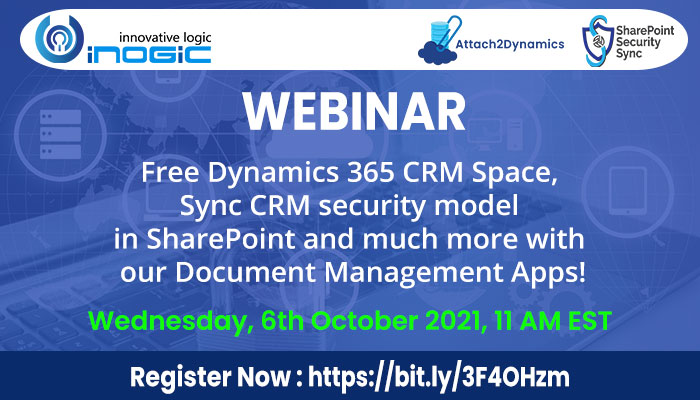 More than 80% of business professionals believe that outdated ways of managing Dynamics 365 CRM documents hampers productivity. Hence, it is right to say that with changing times we should introduce new smart ways to enhance one's productivity. This is how we progress and prosper.
So, get ready to learn more about new smart ways to manage and store Dynamics 365 CRM documents/attachments on cloud. In the upcoming week, we will conduct a webinar giving you in-depth demonstration on two of our most popular document management apps – SharePoint Security Sync and Attach2Dynamics (both Microsoft Preferred Apps). With this webinar, you will gain knowledge on how to effectively manage CRM documents on cloud, ensure enhanced data security on SharePoint and free space in Dynamics 365 CRM.

Wednesday, 06 October, 2021, 11:00 AM EST
In this session, we will walk you through the following features of both apps;
Integrate with SharePoint, Dropbox or Azure Blob as the cloud storage location for your files and attachments
Drag and drop multiple files and folders to upload them all at once
Generate anonymous links to the documents to share outside of the organization
Directly email the files as attachments or links to documents from within CRM
Upload, Rename, Delete and Search files from cloud storages
Bulk Migrate Note/Email/Sales Literature attachments to the configured cloud storage
Security Template to control user privileges to the various actions discussed above
Access to SharePoint folders controlled by the security roles defined in Dynamics 365 CRM
Sync the security privileges for existing folders associated with Dynamics 365 CRM record
Connect and actively manage files and folders on more than one SharePoint sites and folders
Support to create customized document library structure within SharePoint
Seamless integration with DocuSign for e-signature
So, quit doubting and just register for this wonderful session and learn new smart ways to enhance your CRM productivity.
Our team of solutions experts will be happy to address all your questions and guide you to overcome all your obstacles related to document and space management within Dynamics 365 CRM.
Looking forward to a delightful and insightful session.
See you soon!