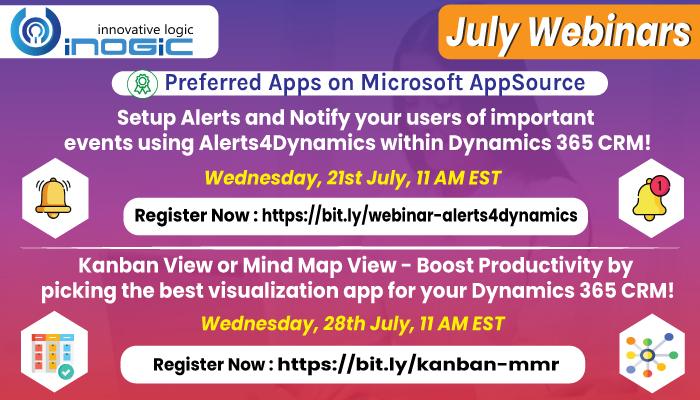 Half a year is gone by, it's time to roll your sleeves, tighten the belt and get ready for round two of target achievement. For this, you need to make use of all available tools in the market to boost your productivity. And the first step should be to enhance your CRM productivity.  But the million-dollar question is where to start from?
And we are just here to help you find that answer! In the coming weeks, we have organized webinars focusing on some common but important points which will help you to improve your Dynamics 365 CRM productivity.
In the first webinar, we will showcase the merits of having an organized alerts & notifications system in your CRM. Be it notifying your team about overdue payments, reminding them about monthly targets or making announcements about upcoming sales events – all of this is easily achievable with the help of our alert management app called Alerts4Dynamics.
To register, click here!
Wednesday, 21st July | 11 am EST
In this session, you will be given an in-depth demonstration on the following key features of Alerts4Dynamics (Microsoft Preferred App):
Types of Alerts: Create Announcement, Rule-Based, Record-Based, and Event-Based alerts.
Mode of Alert: Alerts can be shown as Pop-ups or Form Notifications to Dynamics 365 CRM users and also can be sent as Email to Dynamics 365 CRM users or to customers (external audiences).
Alert levels: Alerts can be categorized as Information, Warning, or Critical.
Notification Visibility Period: Define process start date from when the notifications will start getting created and process end date when the creation of new notifications will stop. Also, you can define how long the Notification would be visible if the notification is not dismissed by the user.
Define Audience: Alerts can be configured to be shown to a particular set of audiences as well as dynamic audiences.
User Preference: User is given the choice to select the mode to receive alerts i.e., through Pop-ups or Email Notifications.
Dismissible/Non-Dismissible Alerts: Provision to configure the alerts as dismissible or non-dismissible.
Auto-dismissible Alerts: Provision to configure the alerts as auto-dismissible/non-auto dismissible.
In our second webinar, we will focus on the importance of data visualization and how it is a better way to analyze your Dynamics 365 CRM data. With our popular visualization apps – Kanban Board and Map My Relationships – you will be able to visualize CRM data in Kanban View and Mind Map View. Using Kanban Board, you can easily keep track of the status of records in your CRM, while Map My Relationships will give you a 360-degree view of related CRM records and connections.
To register, click here!
Wednesday, 28th July | 11 am EST
In this session, you will get an in-depth understanding of the following key features of Kanban Board & Map My Relationships (Microsoft Preferred Apps):
Kanban Board
Visualize any Dynamics 365 CRM View as lanes & rows in a Kanban View on the web, mobile or tablet client
Configure fields for defining the categories for Lanes and Rows
Pin your most used business process flows on any configured entity view
View records as compact cards with the ability to configure the data displayed in the cards
Drag & drop cards across lanes & rows to quickly update the values of the underlying category fields
Configure cards to support up to 3 quick activity actions to create activity records like Email, Phone Call, Task, etc.
Search, sort and filter records
View aggregate field value of records on Lane and Row headers
Map My Relationships
Drill down N-level through the relationship and see its associated entity records
Configure Map My Connection control to manage connection using network style UI and grid view
Get a 360-degree view of all important data of CRM records
Support for 1:N, N:1 as well as N:N relationships
Navigate easily to any of the records displayed in the relationship map
Create quick activity records like Email or Appointment for the related Entity records
Support for viewing aggregate values without the need for creating rollup fields
With such illuminating sessions, you are sure to find the answer for that million-dollar question.
So, don't wait around! Just join us for these exclusive, insightful and interactive sessions on enhancing your Dynamics 365 CRM productivity.
In the meanwhile, you can get familiar with these amazing productivity apps by downloading them from our website or Microsoft AppSource for a free trial period of 15 days.
Looking forward to an illuminating and exciting session.
See you soon!