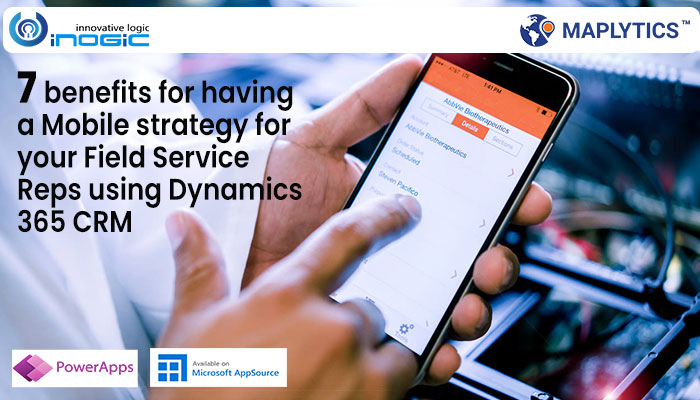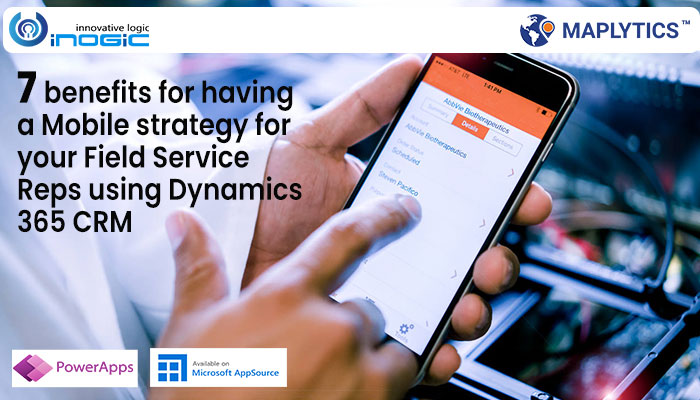 The use of mobile devices like Smartphones and Tablets is rapidly increasing amongst sales and businesses around the world. The rise in need of real time data when on field has become a must and to cater to these rising demands, Mobile CRM strategies are being adopted by Sales Teams. With Mobile CRM, salespeople can access customer data within seconds. But in this fast-paced competitive market, is having a Mobile CRM just enough? Is accessing the records enough? The salesperson when on the field, has to reach potential customers on time and has to convert as many leads as possible. So many external factors need to be taken into account by the Sales Reps like Traffic, meeting cancelations, etc.
So, what is the best Mobile CRM Strategy one can adopt for their sales team? Install the #1 Geo-Coding App Maplytics in your Dynamics 365 CRM!
Maplytics is a locational intelligence app that provides seamless Maps and Dynamics 365 CRM integration. It is a preferred app on Microsoft AppSource with advanced features like Proximity Search, Route Optimization, Check-In/Out, and much more. Its flexible and user-friendly interface makes accessibility, visualization, and analysis easier on mobile when on the field.
In this blog, we will have a brief go-through of all the features of Maplytics Mobile app and see how it can help Field Sales Reps, Field Service Reps, and Sales Managers alike when on move.
How Maplytics Mobile helps Field Sales Executives when on field?
Get assigned routes right on the Dashboard
Routes assigned by Sales Managers can be easily accessed by Sales Reps from their Dashboards. They can plot today's assigned route right from the Dashboard.
Proximity Search to get records within a set radius
Sales Reps can search records around their current location using this feature either in Distance or Time. With the 'Show Travel Distance' option, they can also get the shortest travel distance from their current location to any of the selected records within the proximity.
Categorization and Visualization of plotted records
When on field, Sales Reps need to be able to view only those records that they want. Our Layer Menu option helps them to visualize only the required data among the multiple plotted data on the map. The plotted records can also be categorized with different color-coded pushpins for better visualization.
Update Waypoints and optimize routes
Sales reps can rearrange, delete or add a waypoint while on the map if needed. Route optimization feature of Maplytics provides Sales reps to use options like traffic-free routes, find the shortest and quickest route, avoid highways or toll routes, etc.
Check-In/Out from mobile
Sales reps can check-in and check-out right from the map itself from mobile. They can also add notes and attachments to keep important details of the meeting saved.
Point of Interest location
If the sales reps are not familiar with the area and they need to find a coffee shop or a gas station nearby, they can use the Point of interest location to search and plot them on the map or even add them to the plotted route if required.
Turn by Turn Navigations
Sales reps when on the field can view the complete route or get turn-by-turn navigations using either Google Maps or Waze App.
How Maplytics Mobile helps Sales Managers when they are on the go?
Stay in loop with the Sales Team on the field
Sales Managers can get the updated route of Field reps. If there is any cancellation or change in the assigned route due to any unforeseen events, the Field reps will update the route from the 'Open Saved Routes' option. Sales managers can later view the updated route.
Track Check-In/Out details on mobile
Sales Managers can view the check-in and check-out performed by the sales reps on mobile. This allows them to keep track of the sales rep's location and know the work that is done throughout the day, week and so on.
This is how Maplytics helps Field Sales Reps in making the most out of their field day along with increasing the productivity of Sales managers.
Currently available in 7 different languages viz English by default, German, Spanish, Portuguese, French, Turkish, and Arabic; Maplytics is a must have app for your Dynamics 365 CRM.
To know more about Maplytics and its advanced features like Territory Management, Auto-Scheduling, Heat Map Visualization and more, head on to our Maplytics Features Overview Video. Check out our latest update on Maplytics where we have introduced some advanced features like Real Time Tracking of Field Technicians, Land Area Mapping, etc.
Download the app from our website or Microsoft AppSource and find all about Maplytics yourself. Or refer to our Maplytics Docs!
For a personalized demo on Maplytics for your business needs, drop us a mail at crm@inogic.com.
Check out our Maplytics Blog where we actively post more tips and tricks on how to increase your Maps integration with Dynamics 365 CRM/ Dataverse user experience.