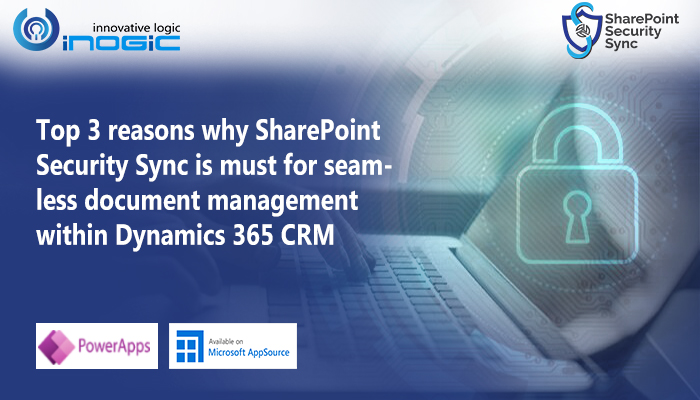 Easy data storage and seamless attachment management is the necessity of the hour. No business can function efficiently if its data is not maintained properly. Dynamics 365 CRM, a Powerful CRM Software which brings all of your Business Functions Together is one such application which businesses around the world rely on. Now to make Dynamics 365 CRM more formidable there are quite some amazing add-ons or productivity apps available in market which highly improves the productivity and efficiency of Dynamics 365 CRM / Dataverse (PowerApps) users.
And one among them is our popular document management solution – SharePoint Security Sync.
Already a preferred app on Microsoft AppSource – SharePoint Security Sync syncs Dynamics 365 CRM security privileges and SharePoint permissions making the integration experience seamless between the two systems.
But that's not all SharePoint Security Sync has to offer!
The 3 major benefits of SharePoint Security Sync can be coined as 3S (SSS):
Security of Data
Storage Space
Seamless Attachment Management
Now, let's explore these 3S one-by-one.

Security of Data
You can now ensure secure and reliable access to all confidential documents stored in SharePoint. By syncing Dynamics 365 CRM security privileges and SharePoint permissions, SharePoint Security Sync ensures that each and every change made to the security role of a user in Dynamics 365 CRM is automatically replicated in SharePoint. This would restrict unauthorized SharePoint users from accessing private documents and sensitive data which was previously possible even if they didn't have CRM privileges to do so.


Storage Space
Be it Email, Notes or Sales Literature – attachments in Dynamics 365 CRM takes up lots of space. And ideally it is better to move these space consuming attachments to a more suitable place – SharePoint. With SharePoint Security Sync, you can migrate all your history data in bulk from Dynamics 365 CRM to SharePoint without disturbing your day-to-day activities. It's time to say goodbye to all your space crunch issues.
Seamless Attachment Management
SharePoint Security Sync, with its user-friendly interface, allows you to easily Drag and Drop multiple files/folders, Upload/Download, Create, Rename, Email, View and Delete files/folders effortlessly from within Dynamics 365 CRM. Moreover, you can store all the files and documents as per native folder hierarchy structure in your designated SharePoint sites and easily share those documents outside your organization by generating anonymous links to the documents. You can also use DocuSign to electronically sign and email documents/contracts stored in SharePoint without navigating from one UI to another. Simply put, managing attachments on SharePoint from within Dynamics 365 CRM is a piece of cake with SharePoint Security Sync.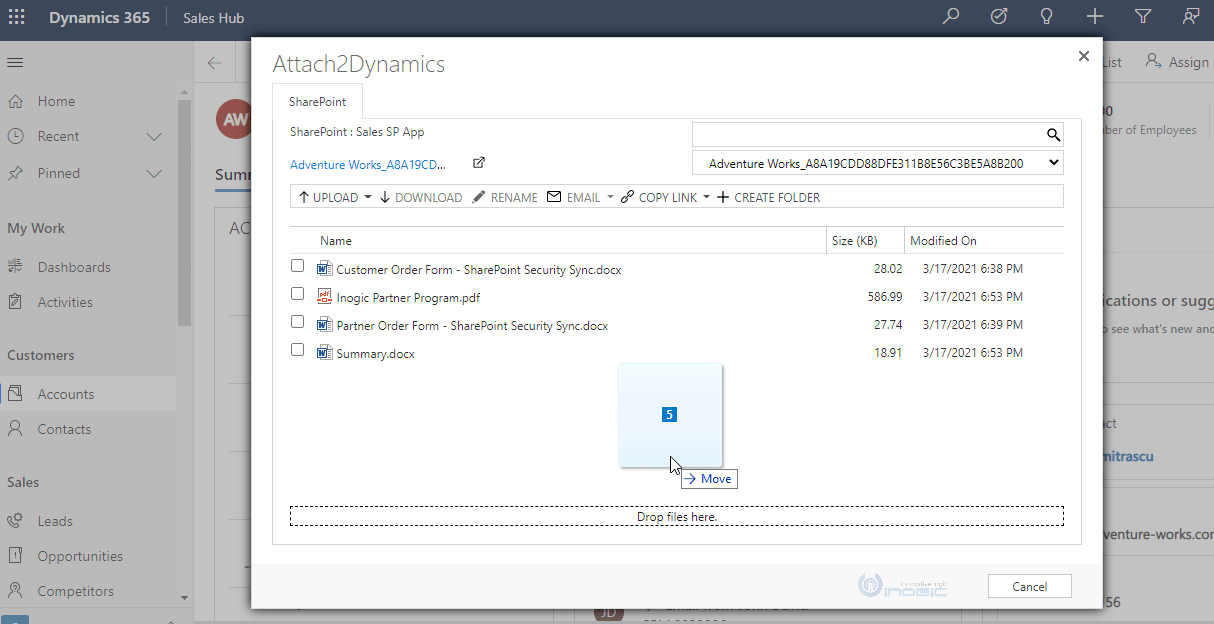 So, don't delay! Just visit our website or Microsoft AppSource and get started on 15 days free trial and find out more about these 3S (SSS) of SharePoint Security Sync.
And feel free to mail us at crm@inogic.com for personal demo or any query related to seamless attachment management within Dynamics 365 CRM.
Innovation does not stop at Inogic! On popular demand by our Partners and users, we are soon coming up with Subscription and Recurring Billing Management – Now Manage Subscriptions, Recurring Billing & Tax Calculations in Dynamics 365 CRM in a smart way with this new cool app!
Till then – Be Smart, Be Secure!