Thank You for all your feedback on how Attach2Dynamics is helping you to manage attachments on SharePoint, Dropbox & Azure Blob Storage within Dynamics 365 CRM and how more enhancements will help you be more productive and the app more user friendly.
Our last release saw the addition of Azure Blob Storage to the existing connector supports and Move/Copy of Sales Literature Attachments from Dynamics 365 CRM to all three cloud storages. This has provided users with a more convenient way to handle business activities. Now let's go through the latest release that will further enhance the productivity of users.
Security Templates
Support for Uploading files from Home Page
Delete Capability
View Files
Share Workspace Access in Dropbox
Set Regarding Field for Moving/Copying Email Attachments
Security Templates
This new feature enables to control the access given to Dynamics 365 CRM users over various features of Attach2Dynamics such as Upload, Download, Email, Copy Link, Rename etc. in all three cloud storages – SharePoint, Dropbox and Azure Blob Storage. Organizations can now segregate and give permission to users to access necessary Attach2Dynamics features depending on the work allotted to them. This brings about a sense of security, control and discipline in the work environment. Organizations are now better equipped to keep track and control over the access provided to the users to conduct their activities. Once the Security Template is enabled for each and every user, it becomes easier to monitor the progress of work undertaken by them.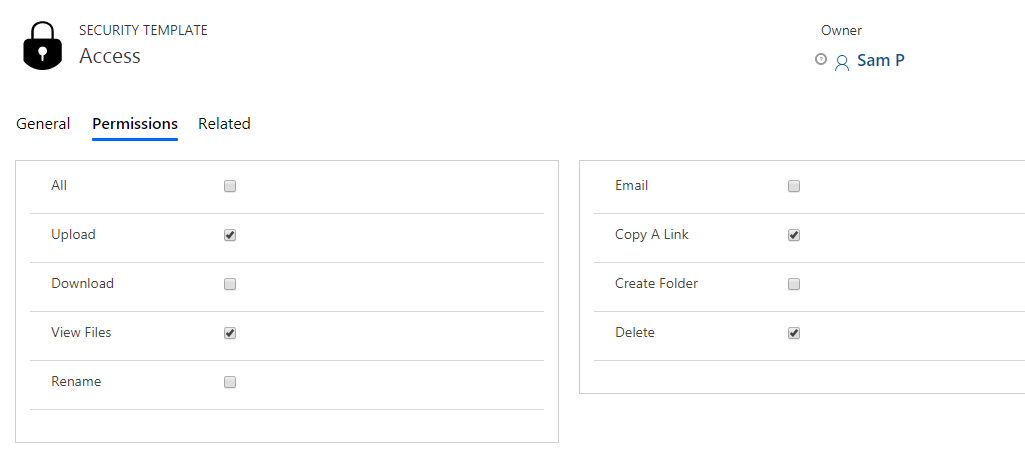 Support for Uploading files from Home Page
Previously, Attach2Dynamics button was visible only when user entered a particular record. It was not visible on the home page of entities. But with the latest release, it has become possible to directly upload files from the Home Page. All the user has to do is to select a record from the home page, click on the Attach2Dynamics button and upload files to the necessary cloud storage.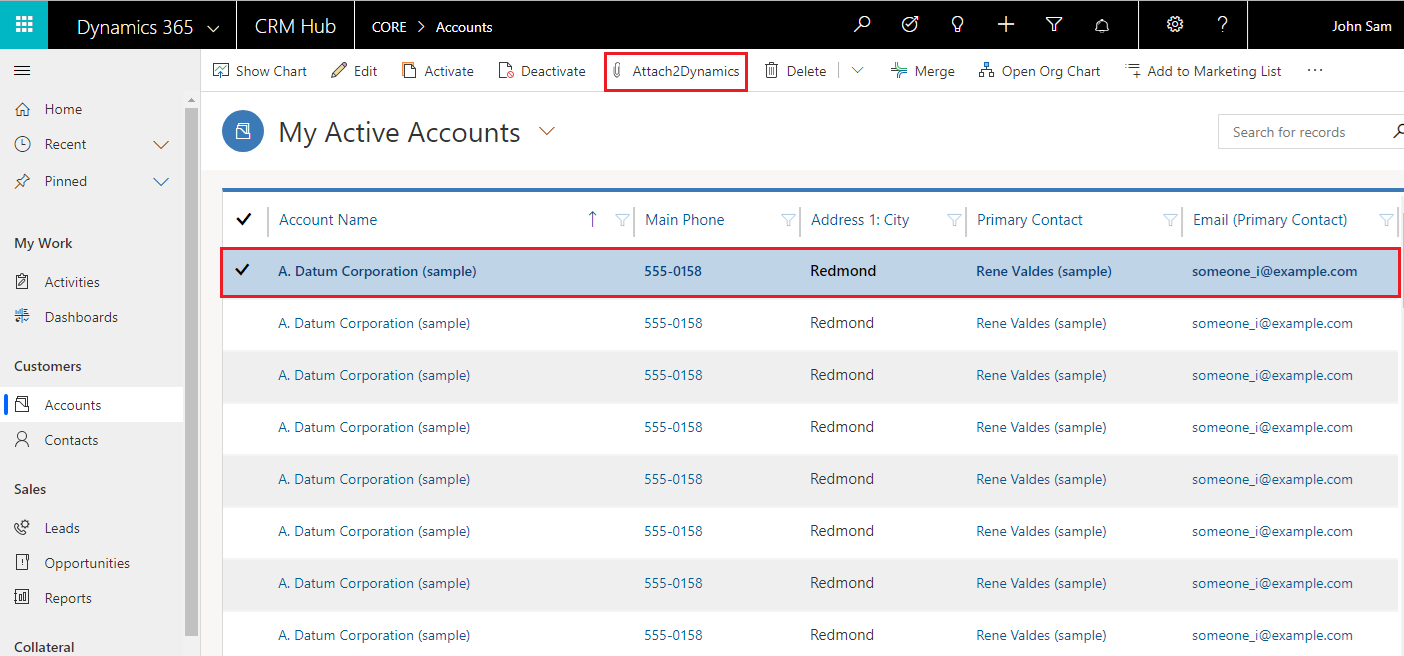 Delete Capability
Upload, Download, Rename, Email, Copy Link and Create Folder are the features supported by Attach2Dynamics. Now, with the latest release Delete capability has also become a part of this ever growing list of Attach2Dynamics features. However, this feature can only be enabled with the help of Security Templates. Otherwise, the user will not be able to delete any files from the cloud storages. Once this feature is enabled through Security Templates, then user can delete unwanted files from the respective cloud storages.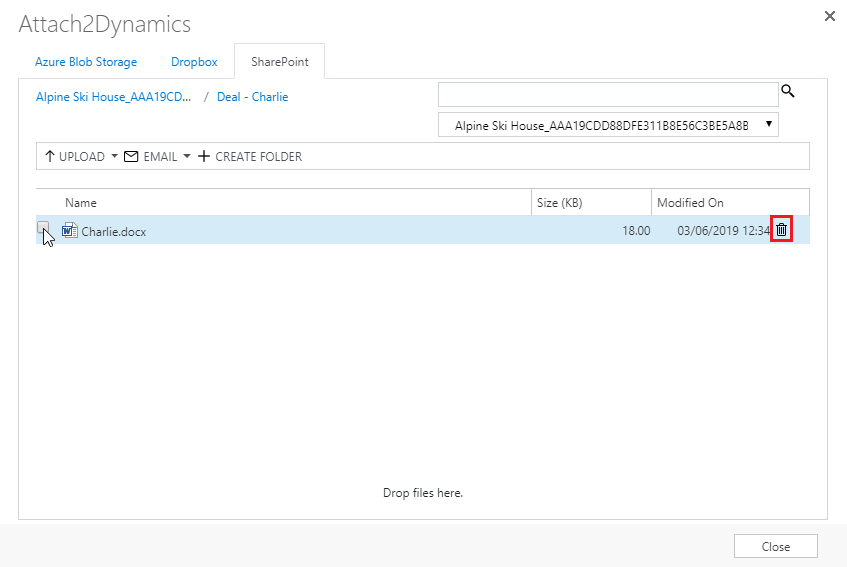 Further the details of these deleted files are stored in Attach2Dynamics Log Entity. It contains details such as File name, Deleted By, Deleted On, Record ID, Error, Record URL, etc. With this user can keep track of all the files deleted from cloud storages.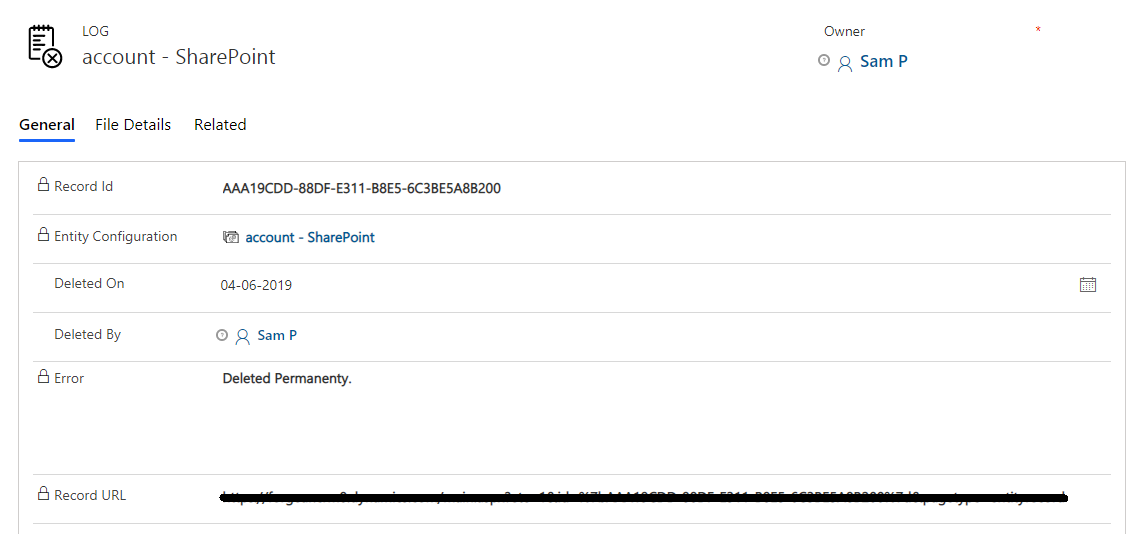 View Files
Earlier it was necessary for Dynamics 365 CRM user to download files from cloud storages in order to access essential details and information. But now users can preview necessary files with just a single click. There is no need to download files. The user can now easily access information from files stored in cloud storages.
Share Workspace Access in Dropbox
Dynamics 365 CRM users will garner another benefit with this latest release fo Attach2Dynamics – Share of Dropbox workspace with team members. With Attach2Dynamics the user can share the workspace created in Dropbox cloud storage with their team members. The new additions to the Dropbox configuration process allow personal as well as team access to workspace. This will ensure greater co-ordination among the team members and a hassle free completion of tasks and activities.

The Team folder created while configuring the Dropbox connector will appear outside the app folder as shown below. Here the team members will have equal access to all the data stored in this folder.

Whereas, in case of Personal workspace the data will be stored inside the app folder, limiting its access to individual users as highlighted in the below screenshot.

Ultimately, the choice of sharing workspace is given to the Dynamics 365 CRM user while configuring the Dropbox connector. It all depends upon the prerogative and nature of work undertaken by the user.
Set Regarding Field for Moving/Copying Email Attachments
Dynamics 365 CRM users are well acquainted with Email Entity configuration of Attach2Dynamics. In order to Move/Copy email attachments to cloud storages the user is required to configure Email Entity. Based on these settings the email attachments used to be Moved/Copied in a common folder named Email Attachment.
Now, the user can set Regarding field while sending email. Once the Regarding field is set, the email attachments will be Moved/Copied to that particular Regarding folder in the respective cloud storage.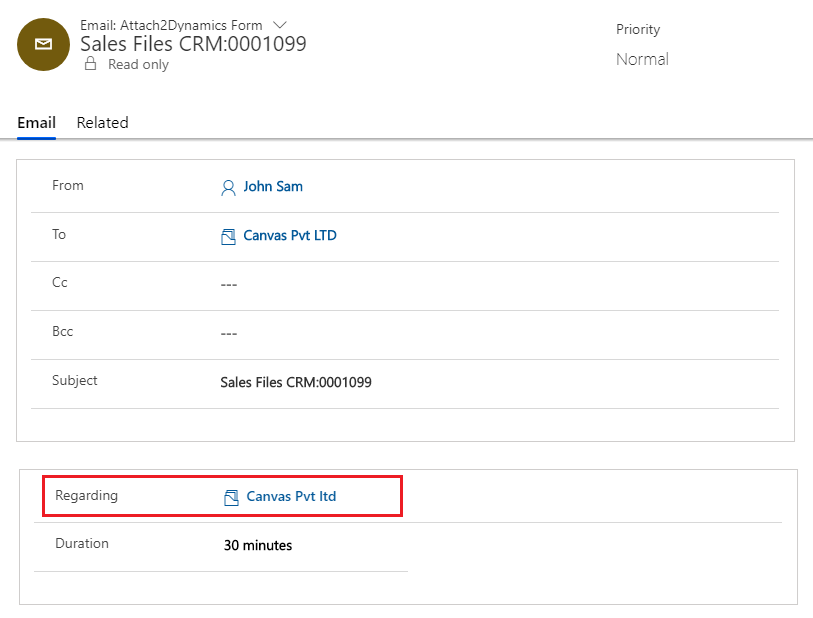 This makes it easier for the user to segregate email attachments as per the records created in the Dynamics 365 CRM.
You have now been brought up-to-date with the latest releases of Attch2Dynamics. These newly released exclusive features of Attach2Dynamics makes it more compatible and competent among other similar productivity apps.
But this is not all. There is more to come. Keep watching this space for our next release of features and updates.
Till then, download and explore Attach2Dynamics from our Website or Microsoft AppSource.