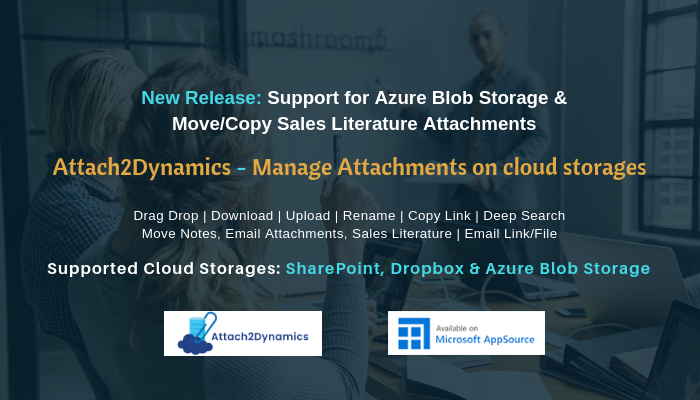 Each time with our new release, we ensure that your tasks are carried out effectively and efficiently. Initially Attach2Dynamics supported SharePoint and Dropbox cloud storage systems. However, keeping in mind the growing popularity and demand of Azure Blob Storage, we realized the need to incorporate it too in our product. Hence, to make the task of our users more convenient, with this release we have added – Azure Blob Storage to Attach2Dynamics. Now it's time to acquaint you with our new release of Attach2Dynamics which will further enhance the way you manage documents. The additions in Attach2Dynamics April release are as follows:
Azure Blob Storage – New connector Support
Move/Copy Sales Literature Attachment
Azure Blob Storage
After providing support of cloud storages like SharePoint and Dropbox for Dynamics 365 CRM it came to our attention that demand for Azure Blob Storage is quite high among our partners and end users. With this in mind we have decided to add another cloud storage to Attach2Dynamics. Azure Blob Storage is now available as new connector support along with SharePoint and Dropbox. You can access Azure Blob Storage from Dynamics 365 CRM through Attach2Dynamics.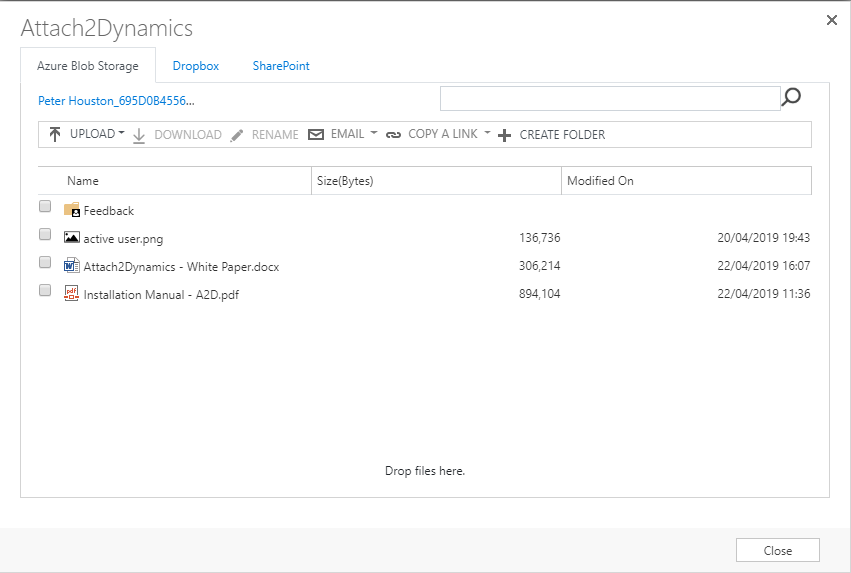 Move/Copy Sales Literature Attachment
Earlier you were able to move/copy only Note and Email attachments. But with this feature you will be able to move/ copy sales literature attachment from Dynamics 365 CRM to cloud storage systems like SharePoint, Dropbox and Azure Blob Storage. After the attachment is migrated a link will appear in the Dynamics 365 CRM which will help you to locate the attachment in the respective cloud storage. Now you can have access to more free space in your Dynamics 365 CRM for other activities.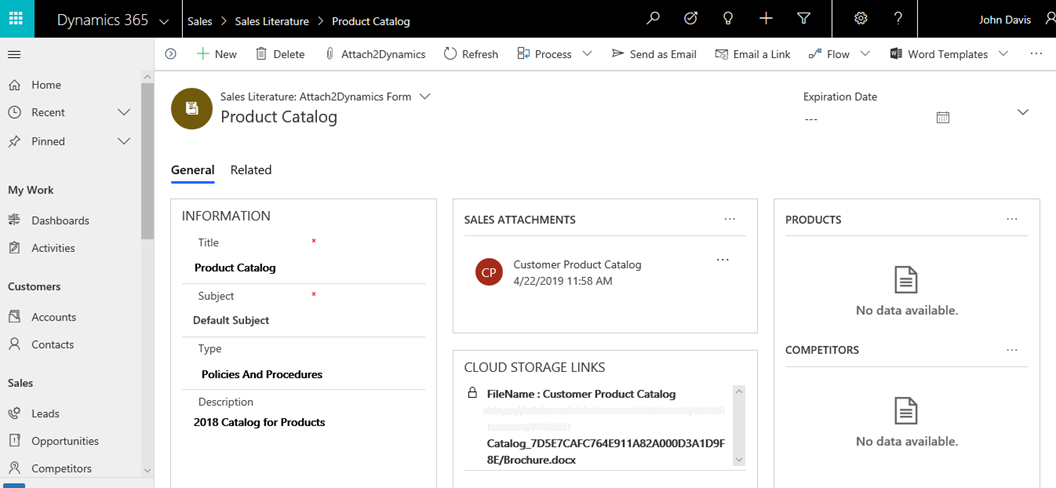 In the meanwhile, explore our existing features to increase your productivity. Our existing features include:
Upload and download multiple files/folders
With Attach2Dynamics, easily upload single or multiple files/folders to the preferred cloud storage system. The user-friendly UI further allows you to view uploaded files without any difficulty. Similarly, files/folders can be downloaded from SharePoint or Dropbox with ease.
Drag and drop multiple files/folders
Want to move multiple file and folders to cloud storages? Just drag and drop them to SharePoint or Dropbox from Dynamics 365 CRM in one go smoothly. The respective files and folders will appear in the chosen document management system – SharePoint or Dropbox.
Move and Copy Notes/Email Attachments
Need more free space for Notes? Create Entity Configuration for the required entity and make space by moving/copying Dynamics 365 CRM Notes attachments to Dropbox or SharePoint. After the successful migration of attachment a link will appear in Dynamics 365 CRM which will lead you to its location in the cloud storage system. Similarly, you can create entity configuration record for email entity and move or copy the email attachments to SharePoint or Dropbox.
Create anonymous links of files/folders
Need to share document with outside sources? Just generate the anonymous link for the required document using the 'copy link' option, then copy and share it – Isn't it quick and handy?
Send attachment or link through email
Attach2Dynamics makes it more convenient for you to share files/folders from SharePoint or Dropbox. You can send email attachments or link with the help of Attach2Dynamics.
Rename selected files/folders as per requirement
Want to change the file/folder name in the cloud storage system? No problem! With Attach2Dynamics it is possible. You can easily rename the selected files/folders as per your need.
Bulk migration of data
Have huge bulk of data and want to free space? The Bulk Migration Jobs feature of Attach2Dynamics makes it possible to move email/notes attachments in batches. During migration the email attachments are transferred to a common folder and the Notes are transferred to their corresponding record folder. You can schedule the date, time for the migration of data and state the period for which the data is to be transferred. You can view details of the migration job in Information tab.
Create new folders
Want separate folders to systematically store data in the cloud storage system? Just create new folders in the cloud storage system as per your requirement with the help of Attach2Dynamics.
Conduct deep search for files/folders
Can't find the required file within the storage system? Just enter keyword in the search tab to run a deep search and obtain required documents with the search name in the enlisted file area. In Attach2Dynamics it is possible to search for files and folders based on the current path with deep search.
Thus, these features make Attach2Dynamics truly exceptional.
For more information download Attach2Dynamics from our Website or Microsoft AppSource.
You can also get a free test drive at Microsoft AppSource.
For further queries and suggestions mail us at crm@inogic.com