With the release of our new product Attach2Dynamics we have completely redefined management of Dynamics 365 CRM documents on SharePoint and Dropbox. Although Dynamics 365 CRM is an extremely powerful tool that has native integration with SharePoint, not many features are supported in this integration. For instance, Dynamics 365 CRM allows Uploading single file at a time to SharePoint but folders are not supported. Also, you don't have the option to download files and folders from Dynamics 365 CRM against a record.
We recently held a webinar to explain the features of Attach2Dynamics, you can view it from here.
To enable these features and many more, we recently launched our new product Attach2Dynamics. It is a magic wand tool that augments the functionality of Dynamics 365 CRM in multifold by enabling multitude of features. Using Attach2Dynamics you can perform actions on your files and folders like Drag & Drop, Upload/Download, Rename, Copy Anonymous Link and others from within Dynamics 365 CRM. Until our last release we did not support actions on email attachments that were received against a record in Dynamics 365 CRM.
A robust Dynamics 365 attachments storage system is necessary for managing attachments. In this blog we are going to delve deep and explore how we can manage Dynamics 365 CRM email attachments on SharePoint and Dropbox. Earlier we could perform two actions on Notes Attachment viz. Copy or Move to SharePoint or Dropbox. With our current release we have enabled these actions for email attachments too, ensuring much better Dynamics 365 attachments storage system. In order to enable actions on email attachments in Dynamics 365 CRM we first need to configure Entity Configuration for email Entity.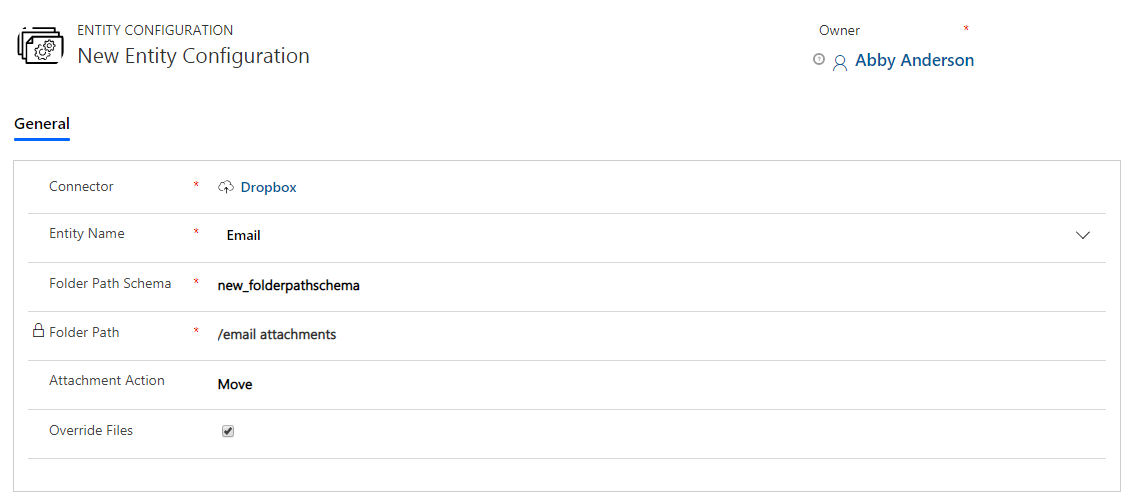 After creating Entity Configuration record for email Entity you are all set to Copy or Move the Dynamics 365 CRM attachments to SharePoint or Dropbox.
Move email attachments
If while enabling Entity Configuration for email Entity you selected Move as Attachment Action then as soon as you send/receive an email with attachments these attachments will be auto-moved to the cloud storage for which you have configured the email Entity Configuration. While moving it a leaves back a link of its cloud storage location in Dynamics 365 CRM. All the email attachments are moved to a common folder for the respective cloud storages SharePoint or Dropbox unlike Note Attachments which were uploaded against records folder in cloud storages.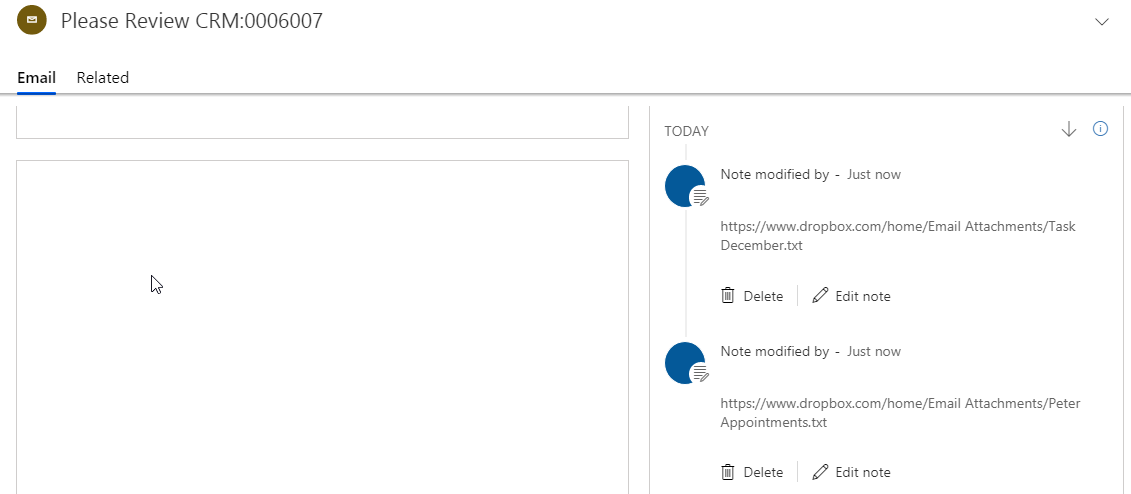 Copy email attachments
In case you selected Copy as Attachment Action while configuring email Entity Configuration then upon sending/receiving an email with attachments these attachments will be copied to the common folder in SharePoint or Dropbox in the cloud storages folder. Each cloud storage has a common folder for the emails just like in Move email attachments. After copying the attachment in cloud storage a link of the document location of cloud storage is also copied in Dynamics 365 CRM. The only difference between Copy and Move email attachments is, in Move email attachments the file is removed from Dynamics 365 CRM and moved to cloud storage while in Copy, the file is copied to cloud storage and an instance of the file stays within Dynamics 365 CRM itself. In Copy email attachments the file is available in both Dynamics 365 CRM and cloud storages.

Move/Copy Email Attachments is an extremely powerful feature which enables the Dynamics CRM users to maintain database of their Dynamics CRM email attachments on cloud storages by keeping a link in the Attach2Dynamics instance.
You can read more about the features of Attach2Dynamics here.
To explore its features download Attach2Dynamics from website or Microsoft AppSource!
Happy Document Management!
We would like to take a moment to introduce our new product Alerts4Dynamics to you. Alerts4Dynamics lets you schedule and manage alerts in Dynamics 365 CRM to notify users about the updates in CRM, due invoices, reminder to send quotes, etc. You can define target audience and send them priority based alerts via pop-ups, form notifications and emails. You can also view the log of read/dismissed alerts by users and also create alerts for multiple records by defining rules.