Dynamics CRM reports are detailed informative list of records. Reports may contain information such as accounting information of an organization, customer details, revenue generated during a period, etc. These reports can be converted into report templates in order to keep a common format and update the data from time to time. Similarly, we can create Word Templates for a task a simple as New Year greetings, a simple thank you note to a little more advanced scenarios as reminders to all the accounts of the orders associated with them. This may be printed or exported and a signature or personal touch can be provided to these templates.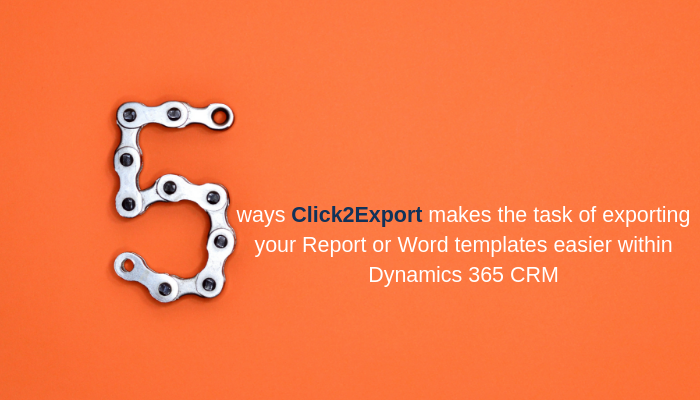 But are exporting these templates actually possible? Yes, with our powerful tool Click2Export they are! Click2Export supports exporting Report and Word Templates. In this blog we are going to explore some of the features of exporting templates and their benefits which make them highly efficient.
Supports multiple formats of exported templates
The exporting of template supports multiple formats viz. Reports can be exported in PDF, MS Word, MS Excel, CSV or TIFF format. These reports can be editable or non-editable depending upon what their file extension is. Word Templates can be exported in PDF and MS Word format. The default export format is PDF which can be changed as per requirement.
Automatically attach and email reports
This is a profoundly powerful feature which allows the user not only to export their Reports/Word Templates but also enables them to auto-attach these files to the mail recipient as an attachment. The email gets created based on the email template specified while selecting the layout of the email to be sent. This feature is prominent because it saves lot of time and manual effort and thus expedites the process of sending Report/Word templates. Further, it also allows to auto-send the email with the templates as attachments. This feature simplifies the task of sending email with the templates to the chosen recipient by simply exporting the files. This saves time and avoids a dedicated resource just for sending emails.
Export and upload to SharePoint
Users can also upload the exported Report/ word template file on configured SharePoint site in the requested file format. This will help the users to export and share the exported file on the common platform with the required users.
Save as Note
The exported Report/Word Templates can be stored as a note attachment in the respective Dynamics 365 CRM record and in the file extension in which it has been exported. Notes are preferable because they are quick to attach, easy to comprehend and have a time-stamp which allows easy tracking when the Note was created. While we are talking about notes, have a look at our new solution Attach2Dynamics, it allows to move notes & email attachments from Dynamics 365 CRM to SharePoint or Dropbox. User can also perform Drag & Drop, Rename, Create Folder and other actions on Dynamics 365 CRM files and folders in SharePoint and Dropbox; the Windows Explorer way!
Report Parameters Value can be configured
Report Parameter value can be configured at the time of execution. 'CRM report parameter' is a custom entity that comes packaged with Click2Export solution.
Thus you have seen how using Click2Export you can simplify the task of exporting report/word templates and perform actions on them. Click2Export is a utility tool that makes performance of Dynamics 365 CRM even better.
In case you haven't downloaded the solution yet here you go! Download it for a free trial of 15 days from our Website or Microsoft AppSource.
If you have any queries or suggestions or want a demo mail at crm@inogic.com
Happy Exporting!