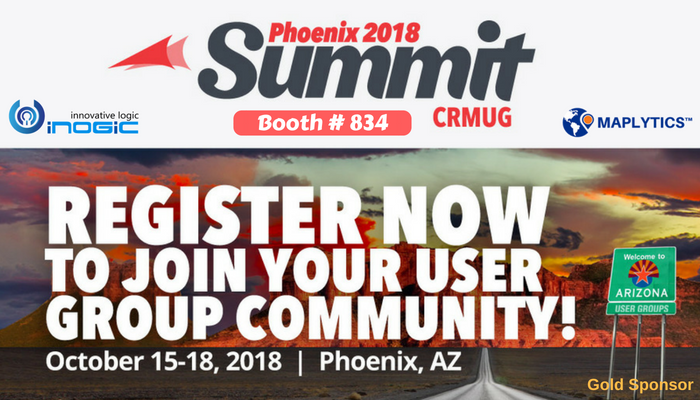 Summit is just the place to be there for all Microsoft Dynamics 365 users and you don't need any top 3,5,7 reasons to be there. You should be there, this is your community!.
Blending credible peer-to-peer knowledge exchange with access to Microsoft leaders – Summit delivers focused learning, visionary product roadmaps, and optimal networking as users learn industry-leading innovation and understand third-party solutions and what they can do for their organization. This year Summit would be at Phoenix Convention Center, October 15-18, 2018, Phoenix, AZ
Like every year Inogic would be exhibiting as a Gold Sponsor at Booth # 834 with its range of Dynamics 365 CRM Innovations with you as we squeeze every last bit of functionality out of the product and get you the ROI you want. Keep tuned, we have a session as well and would be sharing its details soon.
Don't miss out on Early Bird Savings! Click here to register now!
Save up to $400 when you register by June 28. Save 10% off on your registration when you use our exclusive coupon code: PRPInogic.
There's much more everytime at CRMUG Summit..
CRMUG Summit is THE go-to conference that brings industry experts, software development vendors, and everyday users together to discuss important issues, trends, product updates, customer pain points, and genuine solutions.
The value of CRMUG Summit is endless! Here is what Dynamics 365 community love doing at Summit:
Geek out over great content: There's no better way to learn than peer-to-peer with other Microsoft Dynamics 365 for Customer Engagement or legacy Dynamics CRM users. Share and learn broadly across a variety of content tracks that feature role-based learning, specialty topics, or application-focused solutions across Microsoft Dynamics 365 for Customer Engagement, legacy Dynamics CRM, and other complementary Microsoft technologies. 
Meet & network with your user group buddies: CRMUG Summit provides countless opportunities to create lasting relationships by connecting and networking with your Dynamics peers.
Learn from your seriously smart peers: Learn from and connect with Dynamics 365 for Customer Engagement and Dynamics CRM experts and Business Solution MVPs on a personal basis.
Evaluate and explore solutions: Understand third-party solutions and learn what they can do for your industry or organization.
See you there, in the meantime to try our Dynamics 365 CRM Apps download from our Website or Microsoft AppSource or email us on crm@inogic.com for more information on them.