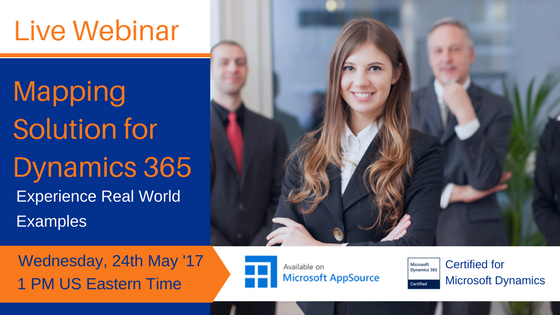 Recently we hosted a Live Webinar on 26th April, 10 AM GMT, and it was a phenomenal success! Responses received from the attendees were great, and everyone loved our Geo-Analytical Solution for Dynamics 365. However, interested people from other regions missed the Webinar due to the time zone difference.
Now, we invite everyone who missed the previous webinar to an exclusive Webinar to be hosted in the U.S. Eastern Time Zone!
This webinar is primarily focused on the Sales, Service and Marketing Professionals, who are on a lookout for solutions that can enhance their productivity and empower them to Meet more Customers, Close more Deals, Improve Customer Satisfaction, Find the Best Location for Marketing Events, Create Location-based Marketing Lists for Personalized Marketing, and more.
Maplytics™, one of the first mapping solution to be CfMD (Certified for Microsoft Dynamics), is a leading multi-language geospatial and analytical mapping app designed to address your organization's data visualization needs within Dynamics 365. Maplytics lets you plot, plan, analyze and take action on your Dynamics CRM data on a map.
In this actionable webinar, we will walk you through;
A Day in the life of a Sales Rep:

Plan your Field visits (or appointments) using Appointment Planner in Maplytics
Easily create and share optimized routes with colleagues for better coordination
Find nearby Customers in case of canceled appointments and make your field visits more productive

Planning and Execution of Your Marketing Events:

Find the best ideal location for the next big Product Launch/Marketing Event
Quickly build marketing list to run the Marketing Campaigns for your events
Join us, as we highlight how Maplytics, a featured mapping app on Microsoft AppSource can help Sales, Service and Marketing Professionals to be more productivity with Location Intelligence in Dynamics 365!
Mapping Solution for Dynamics 365 – Experience Real World Examples
Wednesday, May 24, 2017
1:00 – 1:30 PM US Eastern Time
Cannot attend live? You can still register, as we will be sending out the recording to all the registrants!