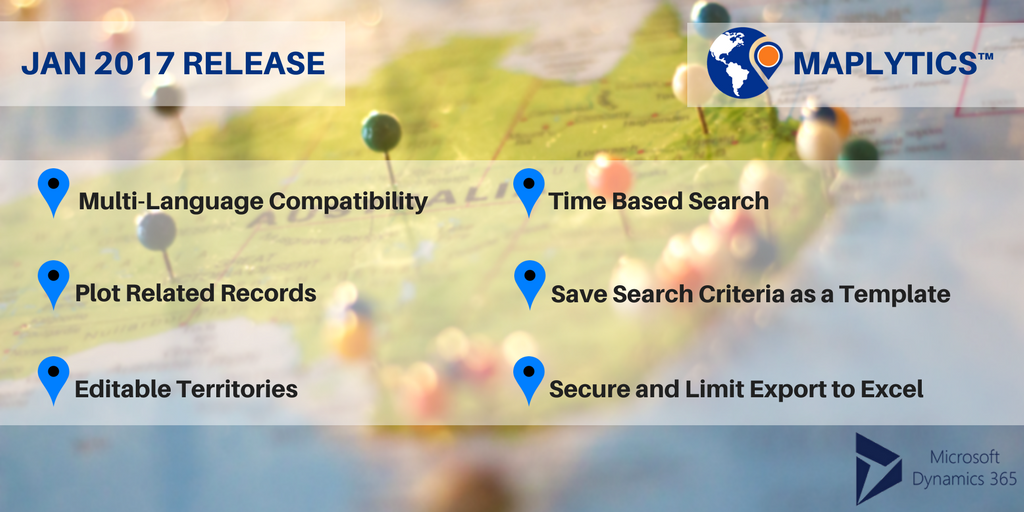 User productivity in Dynamics 365 CRM can be significantly improved by having the system for your users in their native language. This makes the business process and communication more efficient. Dynamics 365 CRM already supports multiple languages, so why should your favorite Dynamics 365 App be restricted to only one language. Today we are taking Maplytics – Your Favourite Maps integration solution with Dynamics 365 CRM a step ahead with a new 2017 beginning. Maplytics Jan 2017 Release will now support multiple languages! With the support for multiple languages, your teams operating from different parts of the world can collaborate better and unify your operations! With this new release, Maplytics not only speaks your language but also makes your plotting and searching Dynamics 365 CRM records on a map effortless!
A quick summary on Jan 2017 release features that compliments Maplytics to continue being a must have geo-analytical solution for every Dynamics 365 install!
Multi-Language Compatibility: Maplytics is one of the few mapping solution for Dynamics CRM to offer multi-language support! It will now support six different languages namely English, French, German, Portuguese, Spanish and Turkish! We are not stopping here and would be adding more languages as per your feedback and business needs.
Plot Related Records: You can easily plot related (Child) records and analyse a particular record in detail. You can plot 1:N relationship of one entity with the other. You can also plot related records on individual map, giving you insights right where you need them!
Save Search Criteria as a Template: Radius search allowed users to narrow down their searches but you have to search for the same search criteria repeatedly! With this new release, you can now save search criteria with filters and zoom level, as a template effortlessly.
Time Based Search: You can now perform search based on distance or time and find leads/accounts within 'x' minutes of driving time. This will help you to focus on leads/accounts in the nearby region, based on travelling time!
Editable Territories: With the Maplytics August Release, we added the functionality to add geographical boundaries (be it shape or region) to territories. This new release is taking this functionality further by allowing you to edit existing territories (geographical boundaries).
Export to Excel Secured with CRM Security Role: Maplytics Jan 2017 release now lets you decide who can access Export to Excel option. The Export to Excel option is now adhered to CRM security role.
Experience our powerful Dynamics CRM map integration solution
Get a hands on our Demo Environment.
URL: https://inogicdemo.crm8.dynamics.com
Username: william@inogicdemo.onmicrosoft.com
Password: pass@word1
Note: Feel free to upload your own set of data.
Experience it on your own Dynamics CRM/365 environment. Download the free Maplytics trial today!
Do you have any suggestions or feedback? We are listening, just drop us a mail on crm@inogic.com !
The world is ours!