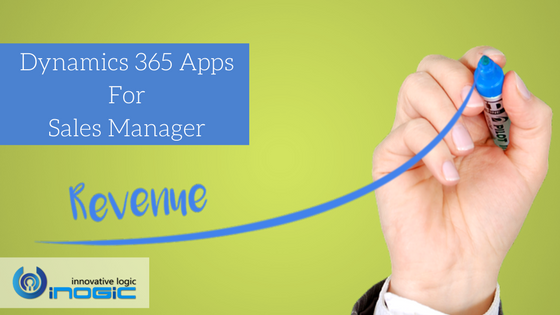 Dynamics 365 gives you the flexibility to add Apps that makes your business processes efficient. With the introduction of AppSource, Microsoft is making it easier than ever to find Apps for your Dynamics 365 thereby making your CRM implementation successful and a lot more powerful!
We understand that businesses around the world need innovative Apps for Dynamics 365/CRM, which will help them to achieve more, increase their ROI significantly and make their organizations super productive. Here are some of the Apps offerings from Inogic, which will not only help boost your sales but also make your users efficient!
The first step after you have implemented Dynamics 365 is ensuring the user adoption of the application. User Adoption Monitor is a perfect solution for your business if you want to track your end user's activities to embrace the full potential of Dynamics 365/CRM. Sales Managers can now monitor their team's activities by tracking their actions in CRM. This not only helps them to keep track of the activities of their team but also give them actionable insights about individual user's productivity. Managers and Administrators can now monitor and analyze actions in Dynamics 365 and take their user adoption to the next level!
Let us talk about taking user adoption to the next step. We know just tracking users actions in Dynamics 365 is not enough to embrace the full potential of your teams. To bring out the best in your teams, you need something more, something fun! Well, we have exactly what you need. User Gamification Module – a gamification tool for Dynamics CRM/365. Studies have shown that when people are competitive, they give their best to their tasks! User Gamification Module helps bring out the competitive spirit in users and motivate them to achieve more by encouraging healthy competition. With almost zero learning curve and intuitive user interface, User Gamification Module is an App that deserves to be in your arsenal of tools for Dynamics 365/CRM!
Once you have ensured user adoption of your Dynamics 365 application, now you need to make your Sales Team more efficient. Maplytics is our geo-analytical solution for Dynamics 365/CRM that helps you in multiple ways to streamline your sales process. It offers you the ability to visualize your CRM data on a map and help you make important decisions quickly! Territory management is effortless with Maplytics as it allows you to define geographic regions and automate the lead assignment process. Proximity search helps your sales team to perform a radius search or just draw a region and Maplytics automatically plots all the records in that area! It will also help your sales team to plan their schedule and find optimized routes thereby making them more productive and efficient. When you think maps, think Maplytics!
If you want your sales team to reach new heights, and create new records, these apps will help you to achieve that! User Gamification Module will be available on AppSource soon. Maplytics™ and User Adoption Monitor are available on AppSource and are free to try!