Introduction:
In our previous blog, we discussed about requirement of SharePoint URL for moving file from Dynamics CRM to SharePoint. This can be done by retrieving Absolute and Site collection URL request in Dynamics CRM. In this blog, we will discuss about another common requirement to open SharePoint site in the mobile device and how it can be fulfilled.
We all know that once the SharePoint is integrated with any application say Microsoft Dynamics CRM, then SharePoint site has a lot of document libraries. Further, each document library has multiple folders and each folder has its own documents and files.
Let us consider a scenario where user wants to access a particular folder in Mobile or Tablet and he/she wants to download some documents from this folder to mobile device. Now in order to do so, user will need to open SharePoint site in the mobile device and by doing a lot of search user can find that particular folder and open it. To overcome too much of search process, user can write a Plug-in on create account entity record which creates folder in SharePoint and copy the URL of the folder in custom field "Folder Url".
To open a particular SharePoint folder link in the mobile, user can open the account record as shown in below screenshot.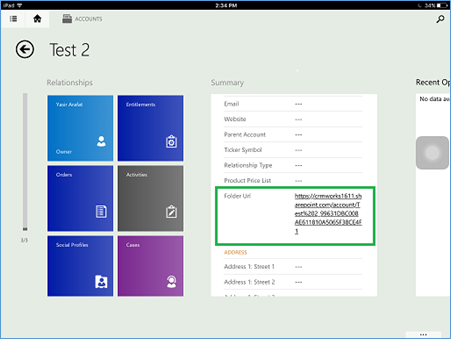 Once the user clicks on the folder Url highlighted in green shown in the above screen shot, the following login window gets open if user is not logged in to the SharePoint.
Now user can provide the credentials and click on the "Sign in" button as shown in the above screenshot.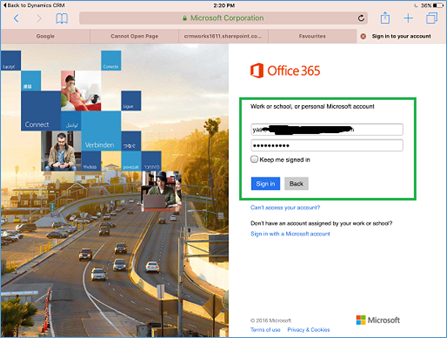 After logging in, the folder gets open in the mobile device, now user can edit, download, or delete document as per the requirement from the mobile device as shown in the below screenshot.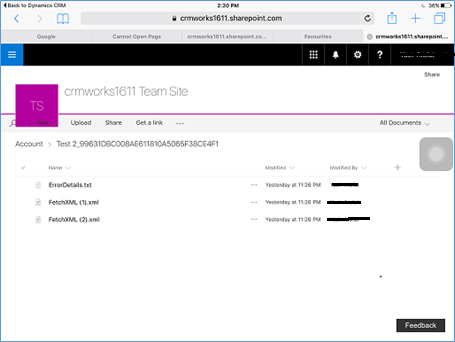 Conclusion:
There are multiple scenarios where users want to open, edit, download, or delete SharePoint document in Mobile or Tablet. The section above explains how to open the SharePoint folder link in mobile phone or tablet saving the nuisance of searching the folder link again.
Now try your favorite Maplytics- Bing Map integration for Dynamics CRM on Microsoft AppSource – Try today!