Introduction
When you are adding a new custom field which is having large display Name (Label of field), then Label of the field is not displayed properly. It is important to fix it, as part of it is hidden or not visible. This blog discusses about a method on how to increase label width in Dynamics CRM. You can see screenshot below how custom fields with large display name looks like;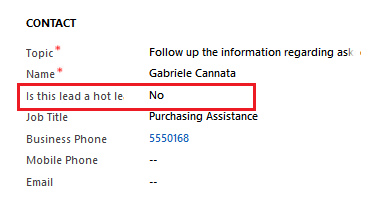 In order to display the full label of the field "Is this lead a hot lead?" adjusting field label sizes in Dynamics CRM, follow the steps below:
Go to the Form Editor of the record as shown in below screenshot:
On clicking the Form Editor, it will open the form as shown below in screenshot. Here, select the section and click on the "Change Properties" button.
This will open the properties window of section as shown below. Here, adjust the width of the field label area, then save the form and publish. 
Now in the form you can see the full display name of the field after expanding field label width in Dynamics CRM.
Conclusion:
In this way, using some simple steps you can increase label width in Dynamics CRM to let it display properly.
Key to successful Dynamics CRM Implementation – User Adoption Monitor! Try Today…