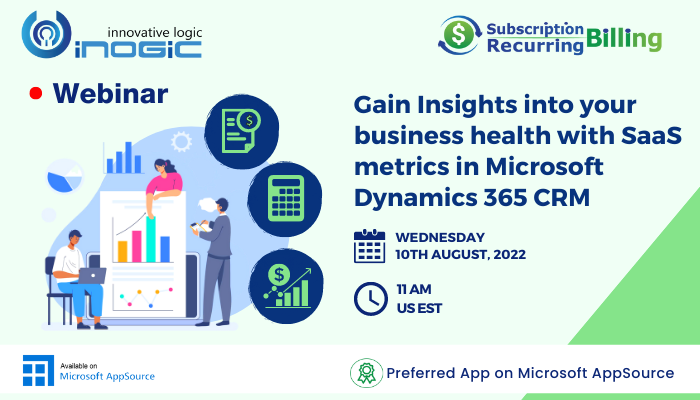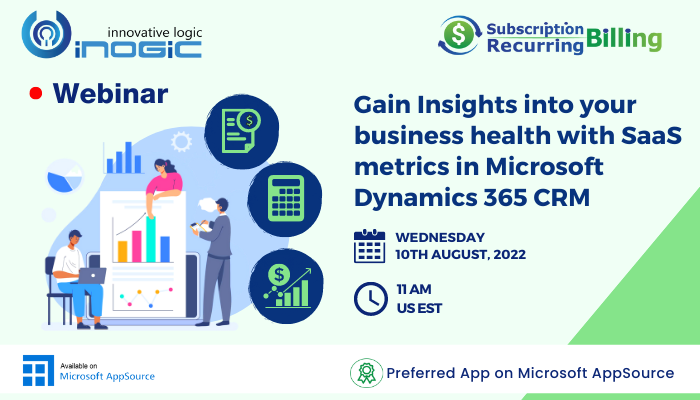 All small, medium, and large enterprises, involved in the SaaS business model have more complex finances as compared to traditional businesses. And because of this, SaaS metrics such as MRR, ARR, ARPU, Churn Rate, CLTV, etc. are important to analyze business health and find out the key factors that drive SaaS performance.
So, is there a way to measure these SaaS metrics automatically in Dynamics 365 CRM?
Yes, there is a way!
With Inogic's popular Subscription and Recurring Billing Management app, you will be provided with a comprehensive dashboard within Dynamics 365 CRM that shows these metrics which will help you to analyze the performance of your business for any given period of time.
To know more about this Microsoft Preferred App, just register for the upcoming webinar to be held on:
Wednesday, 10th Aug 2022 – 11am EST

In this session, you will get an in-depth demonstration of the following key features of Subscription and Recurring Billing Management:
Features:                               
Plans & Add-Ons: Define and introduce multiple pricing plans and add-ons for the customers to choose from.
Multiple Pricing Models: Supports a variety of pricing models to ensure a smooth billing process for all subscription-based businesses.
Subscription Schedules: Create a detailed framework of what, when & how much should be billed to customers.
Proration: Calculate subscription charges for products on a pro-rata basis.
Revenue Analysis: Indicate business health through detailed reporting of important SaaS metrics – MRR, ARR, ARPU, Churn Rate, CLTV, etc.
Renewal Reminders: Support to schedule automatic reminders to notify customers and sales person about subscription renewals.
Tax Calculations: Calculate tax for Opportunity, Quote, Order, and Invoices based on Tax Schedules.
Avalara AvaTax Integration: Integrate with AvaTax from Avalara for automatic tax calculations.
So, just click on the Register button and get ready for an illuminating session!
In the meanwhile, download and learn more about this wonderful app from our website or Microsoft AppSource for a trial period of 15 days.
And even if you are not able to attend – make sure to register so we can email you a link to the recorded session.
See you soon!