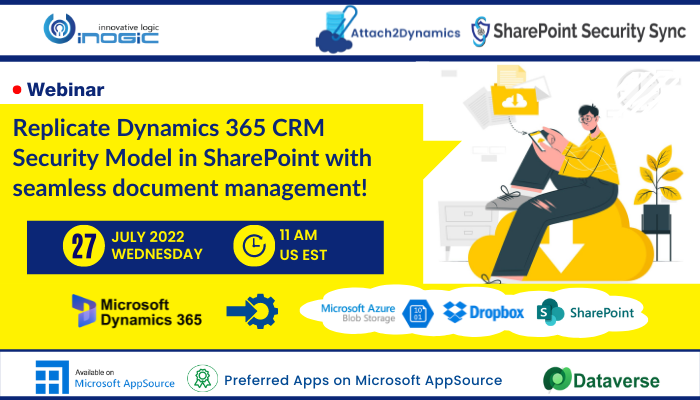 Managing documents and storage space in Dynamics 365 CRM is no mean feat given the volume of data in CRM. And most business professionals agree that this tedious task tends to hamper their productivity. In such situations, it becomes necessary to find new smart ways to tackle this persisting problem.
And this is exactly what our two popular document management apps – SharePoint Security Sync & Attach2Dynamics – do!
In the upcoming webinar, we will give you an in-depth demonstration of these amazing apps which will help you effectively manage CRM documents on the cloud, ensure enhanced data security on SharePoint and free up storage space in Microsoft Dynamics 365 CRM.
In this session, we will walk you through the following features of both Microsoft Preferred Apps:
• Integrate with SharePoint, Dropbox, or Azure Blob Storage as the cloud storage location for your files and attachments
• Drag and drop multiple files and folders to upload them all at once
• Generate anonymous links to the documents to share outside of the organization
• Directly email the files as attachments or links to documents from within CRM
• Upload, Rename, Delete and Search files from cloud storage
• Bulk Migrate Note/Email/Sales Literature attachments to the configured cloud storage
• Security Template to control user privileges to the various actions discussed above
• Access to SharePoint folders controlled by the security roles defined in Dynamics 365 CRM
• Sync the security privileges for existing folders associated with Dynamics 365 CRM record
• Connect and actively manage files and folders on more than one SharePoint site and folders
• Support to create customized document library structure within SharePoint
• Seamless integration with DocuSign for e-signature
So don't wait! Register now for this exciting session and learn new smart ways to manage documents and storage space in Dynamics 365 CRM.
Looking forward to an enriching and illuminating session.
See you soon!