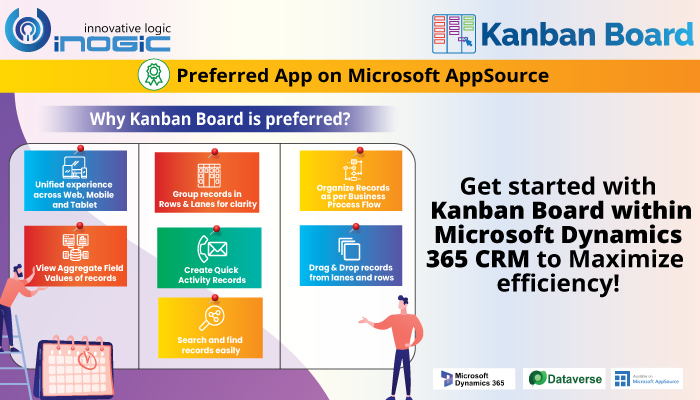 Let's get it straight – Visualization is the best way to interpret and analyze data easily. And one of the factors that help in maintaining efficiency, productivity, and agility in business processes is seamless data visualization.
This is why there is a need for robust visualization apps that help to interpret and analyze business data. And Kanban Board is one such popular visualization app that helps to visualize Microsoft Dynamics 365 CRM data in a Kanban View.
Quite interesting, isn't it? Then check out the infographic and find out what more this Microsoft Preferred app can do for you.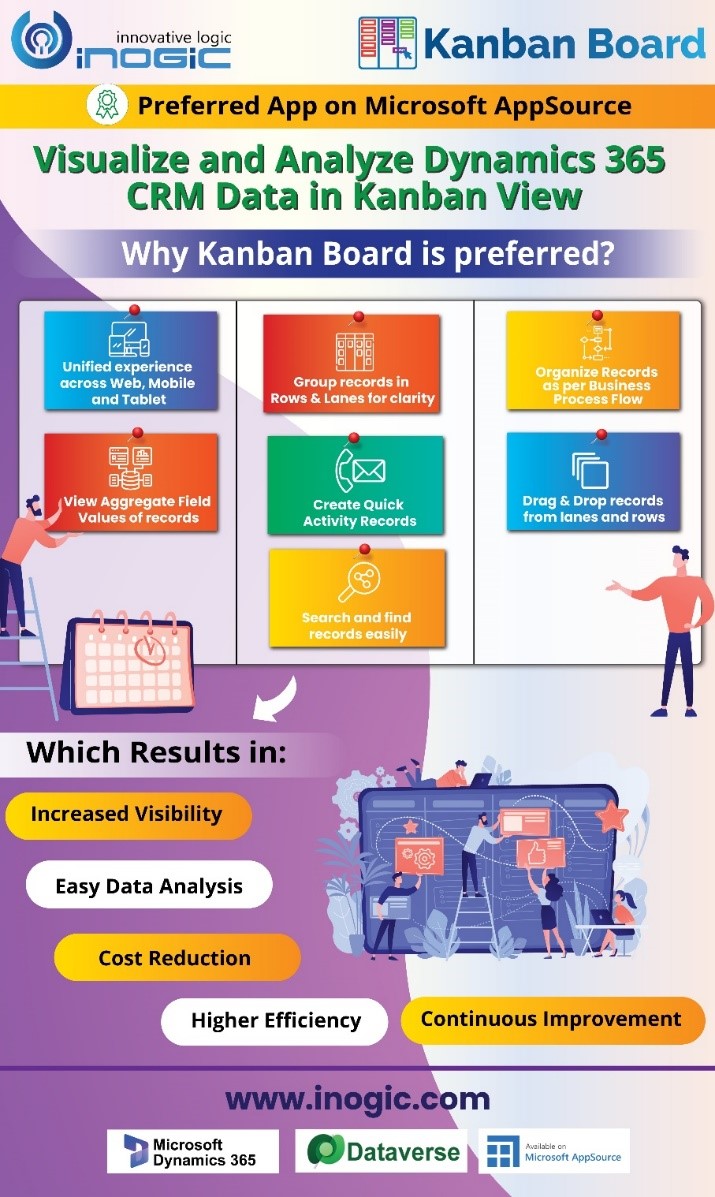 To be precise, Kanban Board provides you the following advantages:
Unified experience across Web, Mobile and Tablet: With Kanban Board, you have exclusive access to the cross-compatibility feature in the Kanban View. You can configure it in Web, Mobile and Tablet for a unified experience. It doesn't hinder your work and helps you to seamlessly visualize and analyze Dynamics 365 CRM data across devices.
Group records in Rows & Lanes for clarity: You can visualize any Dynamics 365 CRM View as lanes and rows just like in a physical Kanban Board. It helps you to easily track the progress of various projects assigned to your team as it categorizes the ongoing tasks according to their status – In Progress, On Hold, Waiting for Details, and Researching.
Organize Records as per Business Process Flow: A Business Process Flow comprises stages that are followed while any transaction goes through various transition phases. With Kanban Board, you will have the ability to easily organize and categorize records of a given entity in Kanban view as per the Business Process Flow defined for that entity.
View Aggregate Field Values of records: Kanban Board gives you the ability to calculate specific aggregate field values of records which can be then displayed on both Lane and Row headers. Here, you can define up to 3 fields which can be numeric, decimal, and floating-point or currency datatype; such as Estimated Revenue, Budget Amount, or Exchange Rate.
Create Quick Activity Records: With Kanban Board, you can easily define quick activity actions for the records. Each card supports defining up to 3 quick activity actions like Appointment, Email, Task, etc. You can create the activity record defined in a single click from this view.
Drag & Drop records from lanes and rows: With Kanban Board, you can easily drag and drop the cards across columns to quickly update the values of the underlying category field. Be it a larger screen or a smaller screen, you can easily make use of its UI-based drag and drop functionality.
Search and find records easily: Kanban Board works in the context of the native CRM environment and responds to all native ribbon actions available for traditional views. You can sort the records in the lanes, filter the data in the view, search through the native quick search available for views in CRM, etc. which helps you find records easily.
Now with all these amazing features, you can expedite the business process and enhance the productivity of Dynamics 365 CRM users in your organization.
So, don't wait! Make Kanban Board an integral part of your business strategy today itself!
Just go to our website or Microsoft AppSource and download this amazing app for a free trial period of 15 days. In the meanwhile, go through this video to get a visual demonstration on Kanban Board.
Also, check out our other popular visualization app – Map My Relationships – which provides a mind map view of Microsoft Dynamics 365 CRM data.
For any doubts or queries related to data visualization in CRM, mail us at crm@inogic.com
Ciao!