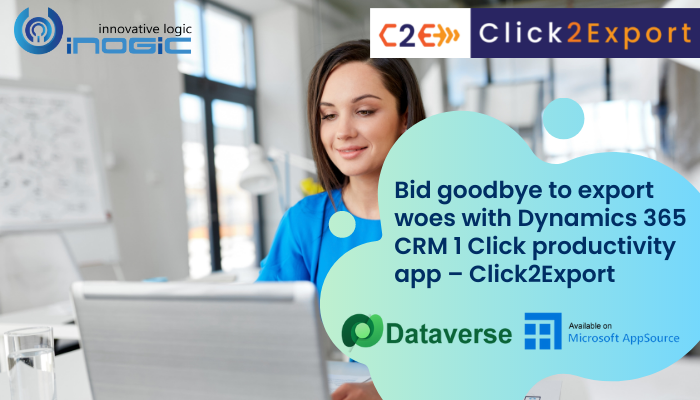 Did you know – employees spent roughly 25% of time per week on exporting data manually from CRM. Even with such sophisticated business application, a considerable amount of time is required to be invested in manual export of data. This can affect the productivity of employees in the long run.
So what can be done to minimize the amount of time spent by employees in exporting data from Dynamics 365 CRM?
The answer is simple – Automation!
You can easily use third party automation apps available in the market to fulfill this requirement.
And among them, you will also find our popular 1 Click productivity app – Click2Export.
So, before you go shopping for the apt app, let's reacquaint you with the advantages of using Click2Export.
With this Microsoft Preferred App, Dynamics 365 CRM users can –
Export CRM data in 1 Click
Organizations often require reports in different forms or templates depending upon the information extracted from Dynamics 365 CRM. With Click2Export you can create multiple templates with different filter options and parameter values for the report. Once you have configured reports and set the parameters, it just requires 1 Click to export data from Dynamics 365 CRM. Be it Reports, Word, Excel or Email (CRM Views) templates – All you need is just 1 Click!
And after exporting data, you can –
Attach the exported files to an Email and send it to required parties
As an internal back-up, attach the files as notes to respective Dynamics 365 CRM records
Store the exported files on SharePoint, or
Download them for offline consumption
Schedule export of CRM data
With Click2Export, you can now set parameters to export report for a particular entity at scheduled intervals. The exported report will be then auto-sent through email as an attachment to all the interested parties on daily, weekly or monthly basis. Just schedule and forget – rest will be done by Click2Export.
Automate export of CRM data
With automation being the in-thing, you can now automate the process of exporting Dynamics 365 CRM report or document templates using workflow. You can set the workflow which will be triggered when a certain action is performed on the record like updating records or changing the status of the record. And once it is triggered, the data will be automatically exported and mailed to the interested parties. This will save you a whole lot of time and effort.
Export CRM data in bulk
Exporting data in bulk is quite time consuming. But with Click2Export, you can export data in bulk which provides an edge if you have to export enormous amount of data from CRM at once. It enables you to export multiple records in a single report and compile huge scale of data with little effort.
These are just few of the advantages of using Click2Export. There are many more intricate features which will definitely improve your operational efficiencies when it comes to exporting data from CRM.
So, grab this opportunity to download the 15 days free trial of Click2Export from our website or Microsoft AppSource and learn more about this wonderful 1 Click productivity app. Also, watch these videos to get in-depth details about Click2Export.
In the meanwhile, check out our other 1 Click productivity apps – Click2Clone & Click2Undo. Cloning CRM records, undoing changes in CRM records, restoring deleted records, etc. is now possible with just 1 click.
Drop a mail at crm@inogic.com for any requirements related to exporting data from Dynamics 365 CRM.
Until then – Happy Exporting!