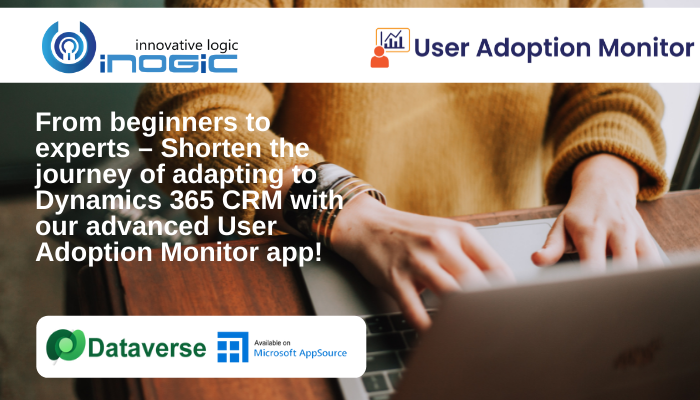 Tools make human life easy. Whether it is a mere spoon or latest model MacBook, it enhances the quality of our life and make us more productive. Same can be said about Dynamics 365 CRM. It is a perfect tool used by business organizations to maintain and nurture customer relationships. Wielded correctly by an experienced user, it is quite powerful. But when it is handled by an inexperienced user, it becomes blunt and useless.
Like any tool, until you get used to it – you cannot utilize it to its fullest extent. But the time and effort it takes CRM users to adopt this amazing application tends to vary from individual to individual. Therefore, it is hard to monitor, review, and determine how each individual has adapted to the system. Since manually monitoring each individual is out of question, the only way ahead is automation. And we have the perfect tool for you with which you can easily monitor the actions performed by enabled users in Dynamics 365 CRM – User Adoption Monitor.
A Microsoft Preferred App, with User Adoption Monitor you can –
Track user actions in CRM periodically
To determine the adaptability of CRM users, it becomes necessary to monitor various operations (Create, Read, Update, Delete, Win, Qualify Lead, etc.) over a period of time. Daily, weekly, or monthly monitoring of these actions or operations will give an overall insight into how well users are adapting to CRM in their daily work life. User Adoption Monitor enables periodic tracking of user actions with which you can easily track the progress of your team members.
Monitor user activities seamlessly
Individuals need to spend a good amount of time in their CRM in order to become adept in handling various functions. Apart from tracking the routine user actions in CRM, it is also necessary to monitor the amount of time invested daily by each user in the system. Further, there should also be a provision to keep track of time invested in CRM records by each user i.e. specific time invested in specific records by specific users. This would provide a clear picture of how each user is utilizing time in CRM. If a user is lagging behind or facing difficulties in adapting to CRM, then you will be in a position to take proactive measures before it's too late. This is where Login/Logout and Check-in/Check-out features of User Adoption Monitor can help you.
Track targets and goals effortlessly
Another way of monitoring user adoption of CRM is by setting job performance goals or targets that must be demonstrated in CRM. Even if it is posting a monthly or weekly sales target, the users will have to quickly adapt to CRM to handle their work smoothly. And when there is a competition, the natural urge to excel helps the users to overcome their initial shortcomings in handling CRM. It would also serve as a medium to assess the performance of users in the long run. Target tracking and Aggregate tracking features of User Adoption Monitor can be effectively used for this purpose.
Ensure Data Quality
Maintaining data quality is of utmost importance, and CRM is intended to support that goal by maintaining accurate customer information and keeping it within reach. However, if users are not proficient enough in using CRM, then the risk of incomplete customer data rises. To avoid such situations, the CRM solution should have check points that alert the users about the completeness of their data. For example, suppose you can set which of the fields from the records are mandatory to be filled in to ensure that you have complete information in the record. And in case if any of these defined fields are left blank by the users, then the status of that record will be reflected as 'Incomplete' until all the specified fields have been duly filled. This mechanism would ensure that each and every detail about the customer is procured and fed to the system on time. Data Completeness feature of User Adoption Monitor can help you to achieve this feat quite easily.
Fascinating, isn't it?
So, don't wait! Just go to our website or Microsoft AppSource and download this amazing solution for free trial period of 15 days.
Feel free to connect with us at crm@inogic.com for any requirements related to user adoption of Dynamics 365 CRM.
Also, check out latest upcoming app – Gamifics365 – a gamification app to enhance Dynamics 365 CRM productivity and user adoption by creating an enriching and motivating environment for CRM users through engaging games and activities.
Until then – Stay Safe, Stay Healthy!