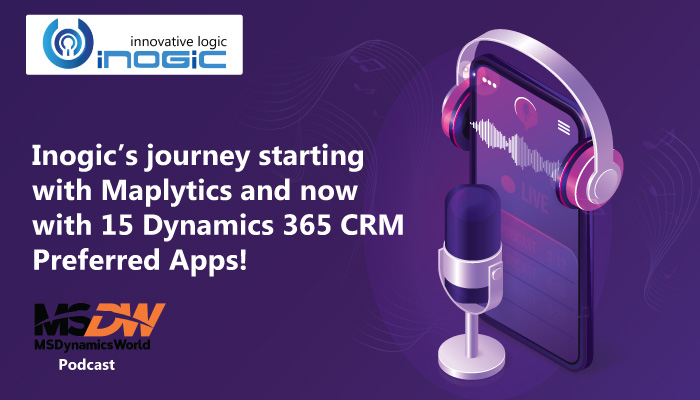 Team Inogic is here with their first-ever Podcast with Roohi Shaikh, Microsoft MVP & co-founder of Inogic.
Established in 2006, Inogic is one of the most experienced Microsoft Gold ISV for Dynamics 365 CRM & Power Platform (Power Apps, Power BI, Power Automate, Power Portal). It is a hub of innovation and cutting-edge technologies. Inogic delivers innovative services and products to enhance Dynamics 365 CRM & Power Platform performance and usability enabling organizations to transform their businesses and achieve high ROI.
No more discussion, hit the play button to hear more about your favourite ISV Inogic's journey!
Topics of discussion:
1:30 – Co-founder's professional background and history of co-founding Inogic
3:45 – The history of Maplytics, Inogic's flagship product
5:45 – Co-founder's approach to product management and development
7:30 – What kind of industries have perfect use of Maplytics with Dynamics 365/CRM?
9:00 – Interesting industry cases for geoanalytics
15:00 – The Maplytics roadmap: live tracking, geo-fencing, and more
16:15 – The implementation model for Inogic apps and the impact of the pandemic on deploying the solutions
18:30 – More on building a product roadmap and developing new product ideas
24:00 – Outlook on virtual and physical conferences
26:00 – Projected plans for the future of Inogic
27:00 – Working with Azure infrastructure
Its a Big Thanks to all our Partners and End Users for always being together with us in innovating the best of apps for Dynamics 365 CRM and Power Apps!