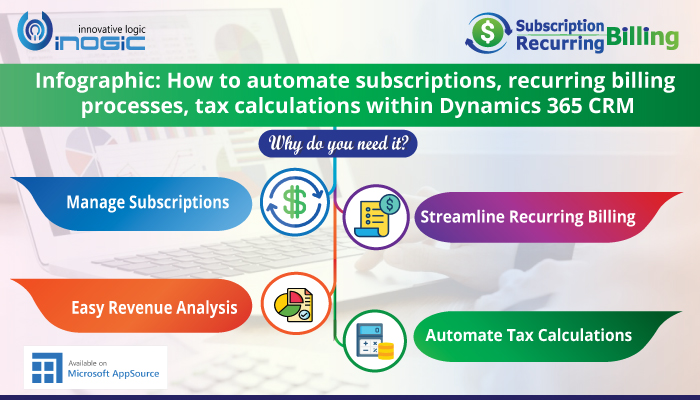 Managing subscriptions and recurring billing processes within Dynamics 365 CRM is no mean feat. And in the coming years, it is estimated that more than 50% of software revenue will be generated from subscription model. In such situation, wouldn't it be smart to automate all these processes which are now done manually?
If you think so, then check out the infographic and find out what our latest Dynamics 365 CRM productivity app – Subscription and Recurring Billing Management –  can do for you.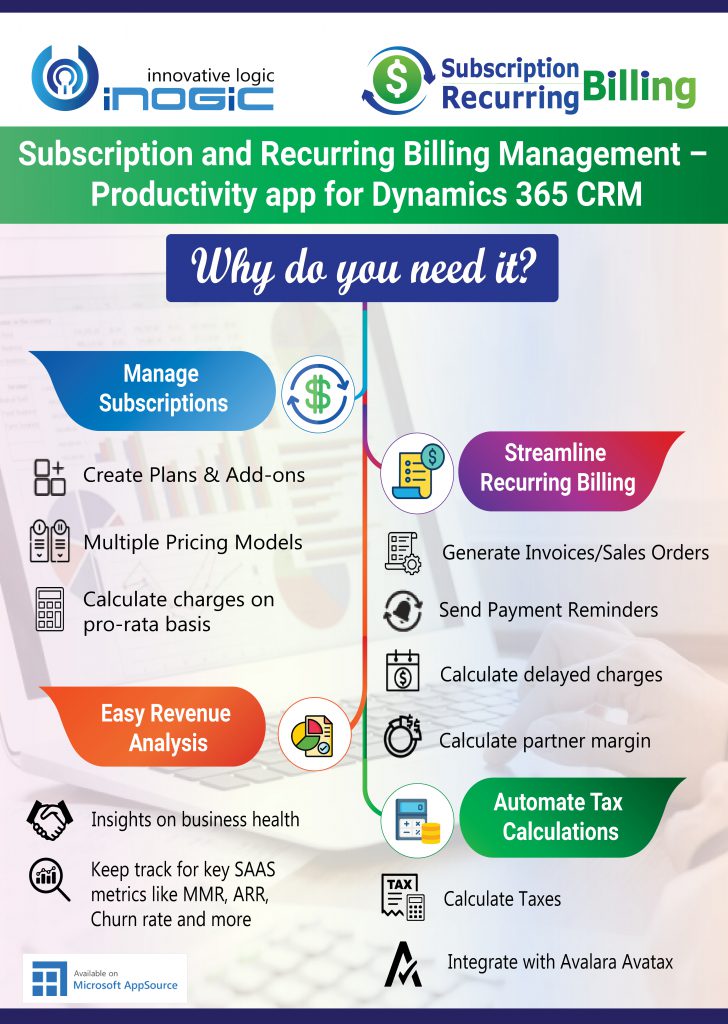 1. Manage Subscriptions
A great part of your time which was invested in managing n number of subscriptions within Dynamics 365 CRM can now be utilized for building and  enhancing customer relationships. With this latest app you can –
Create Plans & Add-ons
Use multiple Pricing Models
Calculate charges on pro-rata basis
2. Streamline Recurring Billing
The burden of generating Invoices/Orders, calculations, proration, discounts, credits, etc. will be taken over by this amazing app which will undoubtedly enhance your productivity where billing is concerned. With this app you can –
Generate Invoices/Sales Orders
Send Payment Reminders
Calculate Delayed Charges
Calculate Partner Margin
3. Easy Revenue Analysis
Keeping tab on your subscription revenue and identifying  pain areas in your business will now be much easier with this subscription & recurring billing app. Through its comprehensive dashboard reporting, you can –
Get insights on business health
Keep track of key SAAS metrics like MRR, ARR, Churn rate and more
4. Automate Tax Calculations
Eliminate manual calculations, increase accuracy and improve productivity by automating and managing tax calculations in Dynamics 365 CRM. With this wonderful app you can now easily –
Calculate Taxes
Integrate with Avalara Avatax
Quite handy app to have, isn't it?
Once you have this solution in your CRM, then you can say goodbye to all the day-to-day subscription and recurring billing challenges in a jiffy. From automating the management of subscriptions, streamlining recurring billing processes, calculating taxes to helping with revenue analysis; this app will take care of everything.
So, don't wait! Learn more about this amazing solution by downloading it from our website or Microsoft AppSource for a free trial of 15 days.
And let us know your views and suggestions at crm@inogic.com
Until then – Happy Subscribing!