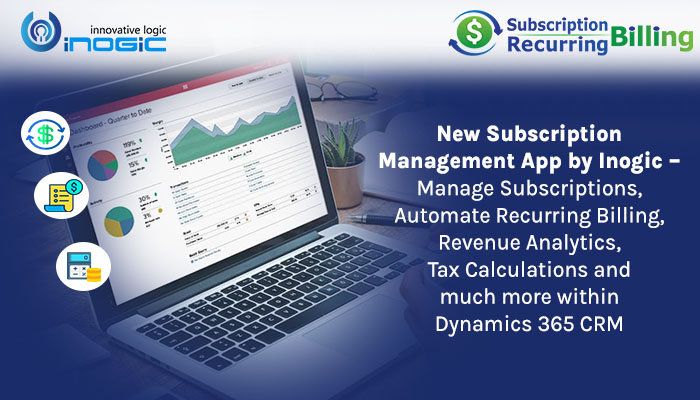 Integrations Apps, Document Management Apps, 1 Click Apps or Visualization Apps – Inogic has a wide range of distinct productivity apps for Dynamics 365 CRM / Dataverse (Power Apps). You can plot Dynamics 365 CRM data on map, clone records, export data, manage attachments in cloud, visualize CRM data in Kanban View or Mind Map View and do much more with the help of these productivity apps.
Whatever be the challenge – Inogic always has an innovative solution for you!
And keeping this spirit in mind, we are happy to announce the launch of our first ever Subscription Management App – Subscription and Recurring Billing Management. Download your free trial now!
To all our friends in subscription-based business – here is a solution which would be the answer to your daily subscription and recurring billing challenges.
So, what is Subscription and Recurring Billing Management all about?
A robust platform for all subscription-based businesses, it helps you to manage and automate the operational side of subscriptions and billing cycle right within Dynamics 365 CRM. You can now easily manage your subscribers, their preferences, product pricing, plans, add-ons, billing cycles, tax calculations and much more with this billing app.
Quite interesting, isn't it?
So, let's dive deep and see what this newly launched billing app has to offer.
Manage Subscriptions Smoothly
Managing n number of subscriptions in CRM for any billing cycle (annual, semi-annual,  monthly, weekly, quarterly, etc.) is now a piece of cake. With this app, you can define and introduce multiple plans & add-ons with a variety of pricing models – Flat fee, Per Unit, Tiered, Volume or Stair-step. You can regularly send payment reminders for overdue invoices without fail, calculate penalty for any delayed payments and ensure profit margin for your partners for the sales made through them. A great part of your time which was invested in such processes can now be utilized for managing and enhancing customer relationships.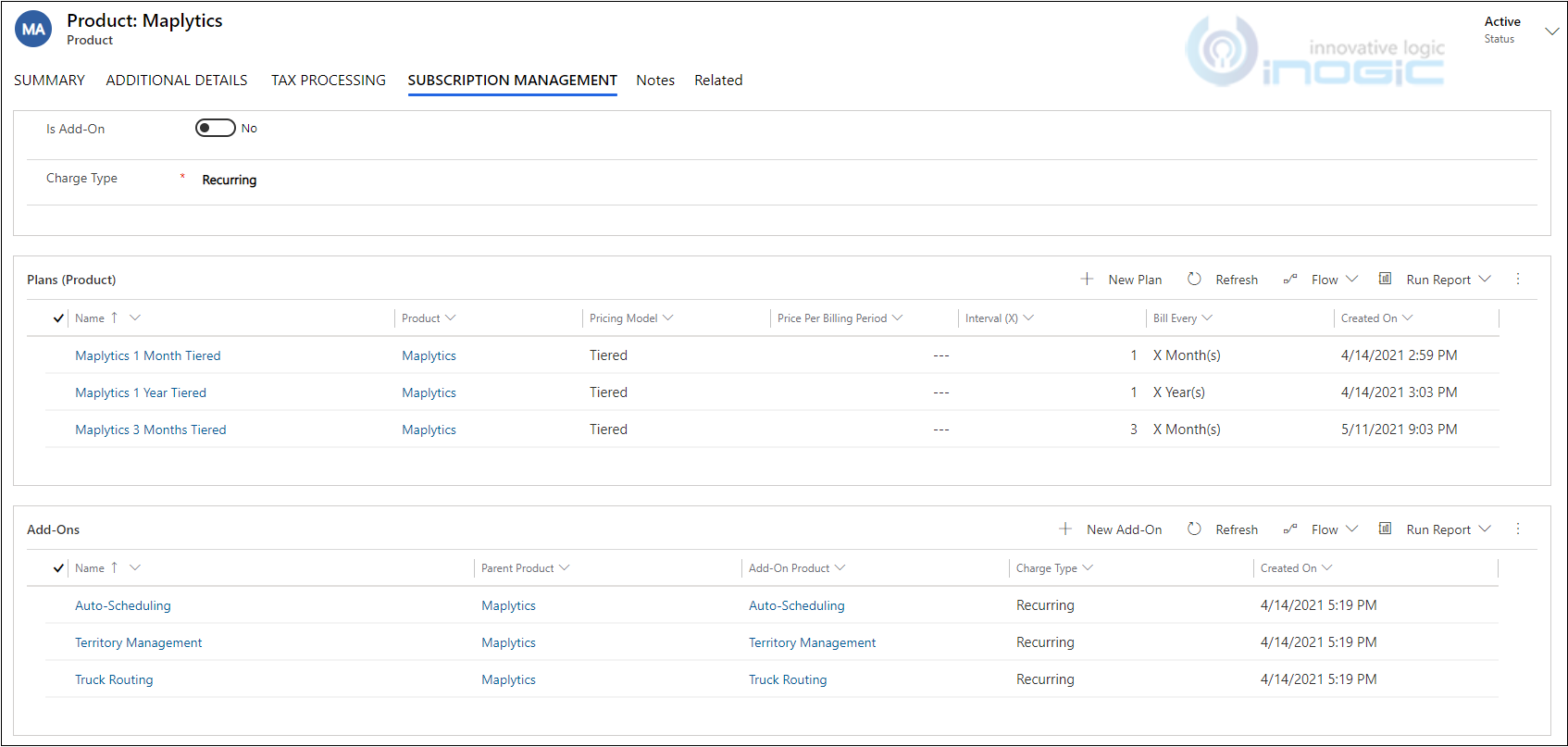 Streamline Recurring Billing Process
Customer is the king. In subscription-based businesses, you will find that the customers often upgrade, downgrade or cancel the subscriptions as per their requirement. And it is up to you to ensure that they are charged and billed accurately. When done manually, these processes tend to take time and are prone to errors. But with this app, you can automate the process of recurring billing and eliminate any billing bottlenecks. The burden of generating Invoices/Orders, calculations, proration, discounts, credits, etc. will be taken over by this billing app thereby, enhancing your productivity where billing is concerned.

Quick and Easy Revenue Analysis
It is important to have insight on your business health. MRR, ARR, ARPU, Churn Rate, CLTV, etc. are some of the important metrics which help you to gain this insight. With its comprehensive dashboard reporting, Subscription and Recurring Billing Management will help you to identify pain areas, take proactive actions to fine-tune your service offerings and maximize subscription revenue.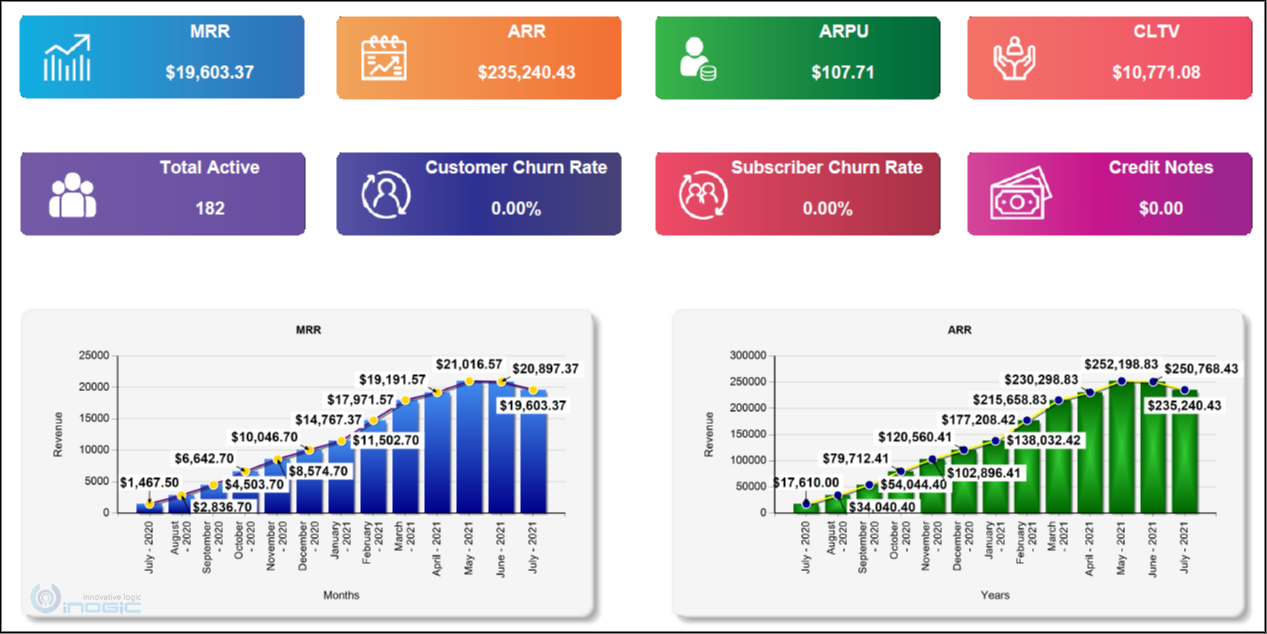 Automate Tax Calculations
Accuracy is a must while calculating taxes. But with customers spread all over the world, it is quite difficult to maintain accuracy when different products with different regional tax rates comes into the picture. But now you can eliminate manual calculations, increase accuracy and improve productivity by automating and managing tax calculations in Dynamics 365 CRM with Subscription and Recurring Billing Management. It also gives provision to integrate with AvaTax by Avalara for calculating taxes based on geography or region. In this way, by ensuring accuracy in tax calculations, you will solidify your goodwill among the customers.
That's not all!
What you saw now is just a brief glimpse of what Subscription and Recurring Billing Management can do for you.
So, grab this opportunity to download and explore this amazing app from our website for trial period of 15 days.
Feel free to mail us at crm@inogic.com  to schedule a personal demo or for more information related to this newly released subscription management app for Dynamics 365 CRM.
Until then – Stay Safe, Stay Healthy and do subscribe to our blog for first-hand updates on our innovations!