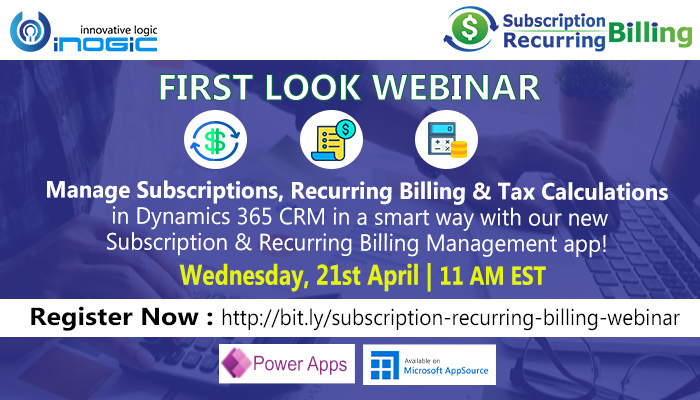 Finding difficulty in managing the large number of subscriptions? Tired of the daily workload of generating Invoices and Sales Orders in your CRM?
Want a way out from these manual recurring billing processes?
Then don't look further! Subscription and Recurring Billing Management is just what you need!
Specifically designed for Software Publishers and Value-Added Resellers (VARs) – it is the ultimate time-saving, cost-effective tool to end all your subscription & billing worries. Through automation, Subscription and Recurring Billing Management gives you the extra hand to manage subscriptions, streamline the billing process, and calculates taxes within Dynamics 365 CRM.
To further enlighten you, we have organized a FIRST LOOK webinar to demonstrate the variety of benefits of using this app.
So, don't wait! Book your seats now!
Wednesday, 21st April 2021 I 11 am EST I
In this webinar, you will be introduced to the following prominent features of Subscription and Recurring Billing Management:
• Automate Subscription Billing: Automate creation of Invoice or Sales Orders on a daily, monthly, quarterly and annual basis.
• Set Margins: Process margin for partners with finesse for B2B transactions.
• Send Payment Reminders: Send automated reminders for upcoming payments to customers.
• Plans & Add-ons: Keep track of various Plans & Add-ons with ease.
• Calculate Delayed Charges: Calculate penalty for overdue invoices and intimate the same to customers through emails.
• Automate Tax Calculation: Integrate with AvaTax from Avalara and automate tax calculations for various products based on the latest Tax Rates or ZIP codes.
So, get ready for an illuminating session on our new Subscription and Recurring Billing Management app with our team of solution experts.
All you have to do is click on the Register button for this upcoming webinar.
And even if you are not able to attend – make sure to register so we can email you link of the recorded session.
See you soon – Register now!