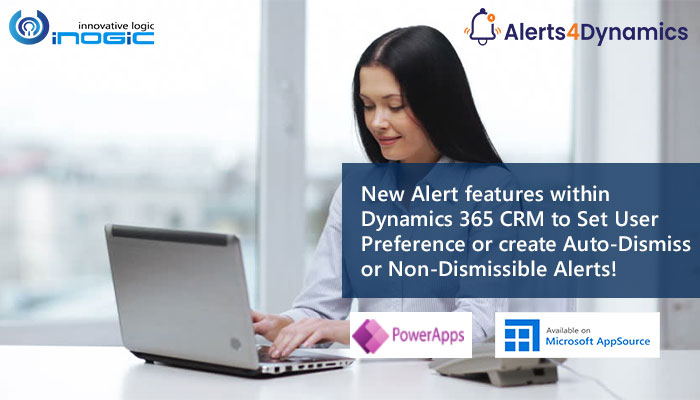 Alert! Alert! Getting the right information at the right time is always useful. So here we are, announcing the release of three new additional features of Alerts4Dynamics – your go-to app for managing Alerts & Notifications in Dynamics 365 CRM/Power Apps – a Preferred App on Microsoft AppSource!
So, without further ado, let us have a brief look into these newly released features of Alerts4Dynamics.
Set User Preference
Dismissible/Non-dismissible Alerts
Auto Dismissible/Non-auto Dismissible Alerts
Set User Preference
With the help of this feature, you can give Dynamics 365 CRM users in your organization the choice to select the mode in which they want to receive alerts and notifications in Dynamics 365. For example, let us say you have two users – User A and User B, where User A would like to receive alerts through Pop-ups and User B prefers Email notifications. Here, with Alerts4Dynamics, you can configure alerts and notify these two users by using the mode they have chosen for themselves i.e. User A will be notified through Pop-ups and User B will be notified through Email notifications.

Dismissible/Non-dismissible Alerts
This feature will allow the configurator to decide whether the alerts can be dismissed or not. While configuring alerts, if you are to select 'Yes' for 'Is Dismissible' field then the alerts can be dismissed by the users as per their convenience. But if you need the alerts to be displayed indefinitely or for a given period of time then you can select 'No' for 'Is Dismissible' field and the users will no longer be able to dismiss the alerts.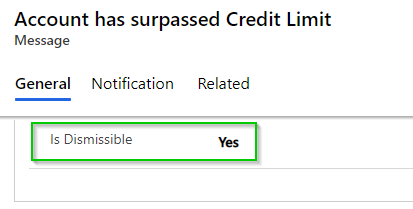 Auto dismissible/Non-auto Dismissible Alerts
With this feature, you can automate the dismissal of alerts and users will no longer have to manually dismiss the alerts. This feature is applicable to Rule-Based and Event-Based Alerts. In the case of Rule-Based alerts, when a record does not satisfy the specific rule anymore then the alert will be automatically dismissed. For example, if an Account record which was well under the Credit Limit, surpasses the allowed Credit Limit, then an Alert would be generated, however, as soon as the dues are settled the alerts will no longer be displayed for that particular record. Similarly, in the case of Event-Based alerts, the alert would be dismissed as soon as the condition is not satisfied anymore.

Fascinating, isn't it?
These latest features have added more finesse to the way one can send alerts & notifications in Dynamics 365 CRM / Power Apps.
You can now give the right information at the right time in the right way!
So, be quick and grab this opportunity to download and explore this popular notification app from our website or Microsoft AppSource for a free trial of 15 days.
For more information on how Alerts4Dynamics can be an integral part of your Dynamics 365 CRM, contact us at crm@inogic.com
Until then – Stay Safe, Stay Healthy!