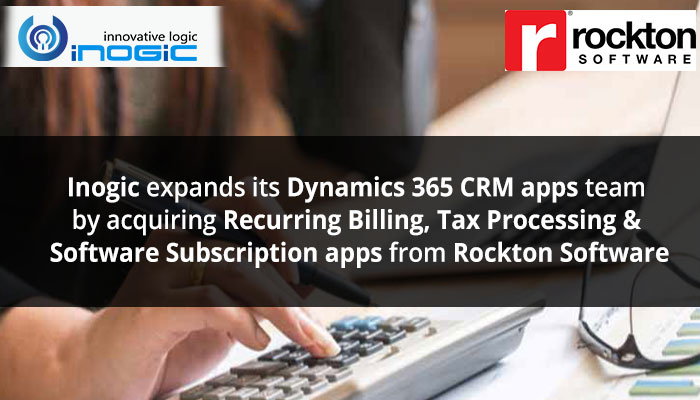 Thank you to our Dynamics and PowerApps community members, Partners, Friends and end users who keep our team always on field working on new innovation within Dynamics 365 CRM. Well this time, your favourite Inogic team has scored another goal but in a different way, we are glad to announce that Inogic expands its portfolio by acquiring Recurring Billing, Tax Processing & Software Subscription apps from Rockton Software
These apps offer end to end billing and tax calculation capabilities right within CRM strengthening our base to offer turnkey solutions to software VARs (Value Added Resellers) as integrated apps for Dynamics 365. We already have an app InoLink (QuickBooks integration) that offers accounting capabilities within CRM along with tax calculation and adding these apps will further enforce our commitment to automate and effectively manage the periodic billing required by businesses. These apps will also automate the process of billing and sending reminders, tax calculation for quote/order/invoice, penalty calculations, payment reminders, automated invoicing and others.
Let's delve deep and understand how these apps can be really helpful to you:
Subscription and License Management
This app is specifically designed to save time of Software Publishers and Value Added Resellers. It offers flexible billing schedules, instant invoicing, precise product licensing, sending payment reminders and accurate invoices. In case there is a delay in payment, penalty can also be calculated as well on the invoice. This is all done accurately and efficiently in the click of a button leveraging workflow functionality of Dynamics 365.
In any organization that sells products often taxes are applied on them. Since many organizations embrace Dynamics 365 for their Sales, with the help of Automated Tax Calculator now tax can be calculated directly within CRM. With this automated tax calculation there is increased accuracy by eliminating manual calculations and time and cost effective performance. Automated Tax Calculator app can also be used with integration of Avalara AvaTax app for calculating more complex tax structures. With AvaTax there is no need to maintain tax schedule and tax details and cloud storage of taxes applied is maintained.
It is designed to remove manual calculations of billing schedules, payment reminders and penalty calculations and make the process more accurate by automating them. Flexible billing schedule allows billing at any schedule whether daily, monthly, quarterly or annually. Similarly, invoices can also be created in the click of a button and same goes for reminders. Utilizing a set of Reminder Rules, you control when reminders are sent, the email templates used, and which contacts receive the messages.
Thus, you can see these apps offer complete solutions that will allow you to incorporate accounting right within CRM. To know more about these apps visit our website or write to us at crm@inogic.com.
It's a Goal!